Nazareth captures state title No. 23
What more can be said about the Swiftettes girls basketball reign over 1A at this point?
As impressive as Nazareth's 23 state championships appear on paper, it isn't easy sustaining that level of success over such a long period of time.
"If it were easy everyone would do it," appropriately read the back of Nazareth's playoff t-shirts that fans donned Saturday morning inside the Alamodome during their team's 54-33 win over Dodd City, a matchup that was the third consecutive meeting between the two teams in the state title game.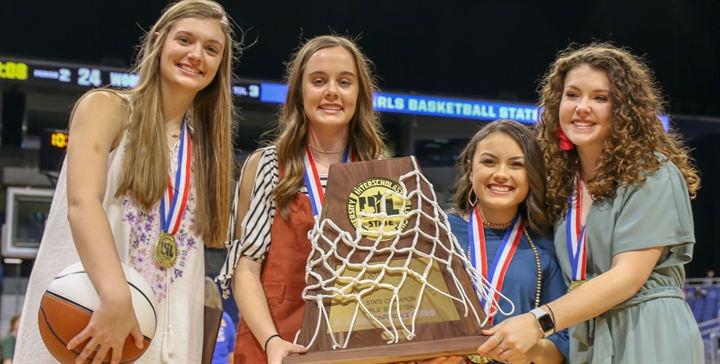 Some might've been surprised to notice how subdued the Nazareth celebration was as the buzzer sounded, but after the game was well in hand, the team had a good long stretch during the game to soak in the moment beforehand.
"That's kind of an example of how they handle themselves," Nazareth head coach Eric Schilling said. "They're not going to get overly excited because they do a good job of keeping emotions at an even-keel. That's just of how they are, they're very humble and they're definitely satisfied with what they've done."
The win didn't come without some adversity, though. Nazareth was held to just a single point in the second period and went 0-for-11 before shooting 48 percent from the floor in the second half led by game MVP Blakely Gerber with 18 points.
"We'd been in a hole before and we knew we couldn't keep digging ourselves a deeper hole," said Swiftette junior Cambrie Heiman. "We had to execute and even though things weren't going our way we had to still continue to do what we know how to do best and get the job done."

Mount Pleasant Chapel Hill finishes a perfect 37-0
What's better than finishing the season perfect? Well, doing it with your daughter is a good answer to that.
Lady Devils head coach Matt Garrett embraced his daughter junior Mason Garrett after Chapel Hill knocked off Woodville in a competitive 3A state championship, 55-46. Garrett contributed a team-high 19 points, most came from the free-throw line where she went a perfect 10-of-10.
"It's really unreal. I don't even know if I have words for it, our whole life we've been dreamed of this moment," Mason Garrett said of sharing the title with her father. "And it's not just me and (her dad), but it's these three right here, it's the rest of our team. If weren't for the rest of them, this wouldn't be possible."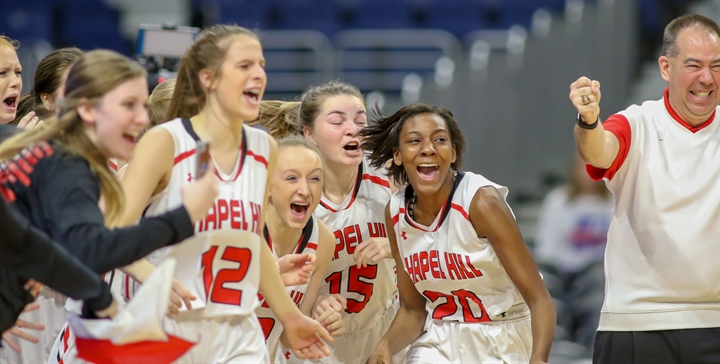 Woodville came out looking to get in transition and took a quick 17-5 lead to start the opening period. Garrett took responsibility for the early deficit citing an opening gameplan that called to guard Woodville's star post Jordyn Beaty straight up and force her to pass out of the paint. The Lady Devils switched up the strategy after the opening run and fronted Beaty for the remainder of the game. Beaty finished with a game-high 22 points and 10 rebounds.
"Sometimes we never really get into the groove of it," senior guard Ja'Mya Bishop said." But as soon as we get into the groove of it, we got it."
After a perfect season, coach Garrett wasn't shy to admit that there was some luck that was involved as well as the obvious skill. The Lady Devils dealt with numerous injuries throughout the season to key players such as Bishop, who played Saturday morning with athletic tape on her right shoulder that still wasn't 100 percent and still went on to be named MVP of the final. Early in the season, Chapel Hill even had to roster and dress out the team manager as an emergency sixth-man after the entire team came down with the flu.
"It's been a blessed year, we've been blessed more than we deserve," Matt Garrett said.
Shot clock debate rolls on
Toward the end of the 3A state title game and clinging to a slight lead, Chapel Hill began to run stall-ball early in the fourth period. Struggling with foul trouble already, Woodville was forced to see the Lady Devils take vital time off the clock. Chapel Hill took just five field goals during the entire fourth period.
This of course raised the inevitable question of future shot clock implementation into Texas high school basketball. When asked about his thoughts on the matter, Woodville head coach Troy Carrell voiced support for a shot clock.
"Absolutely, I'm on the board of the directors for TABC and that's been brought up numerous times and there's a big group of people that are very big-time advocates," Carrell said. "I think it's coming."