WACO — Kim Mulkey still remembers exactly where she was when she got the news.
The iconic Baylor women's basketball coach, days off winning her third national championship as a coach, was taking a bath at her Central Texas home when she got the call from Lady Bears trainer Alex Olson.
Everyone was prepared for the worst after All-American forward Lauren Cox crumpled to the floor with a knee injury just 11 minutes shy of a ring. With the way she fell, the assumption was a torn ACL. Even Cox expected it.
"Everyone had the same thought when they saw it. That's the kind of pain that I was in," Cox said. "I thought that I'd have to sit out next year, get surgery, do the rehab, all that."
"I just couldn't believe it," Mulkey said of Cox going down. "I was very emotional because you just saw a young lady who was down on the floor screaming in agony, and you couldn't do anything but put on a brave face."
A visibly shaken Baylor squad escaped the national title game with a one-point win with Cox sidelined. Not even 24 hours later, Cox had to put celebrating her first NCAA championship aside to get an MRI at Southwest Sports Medicine Orthopedics in Waco.
Which brings us back to Mulkey. She expected Olson to tell her about about ligament tears, timetables and surgery. Instead, he gave Mulkey the best news she never expected. Cox only suffered an MCL sprain and bone bruise. There would be some rehab – but no surgery.
"Are you kidding me?" Mulkey dumbfoundedly kept asking Olson. "Are you kidding me?"
No kidding. Mulkey gathered herself for a few moments, and then picked up the phone and called Cox, who was relaxing in her bedroom after getting the good news.
"Lauren Cox," Mulkey started. "You owe me 10 minutes of stress-free basketball."
Cox just laughed on the other end.
–––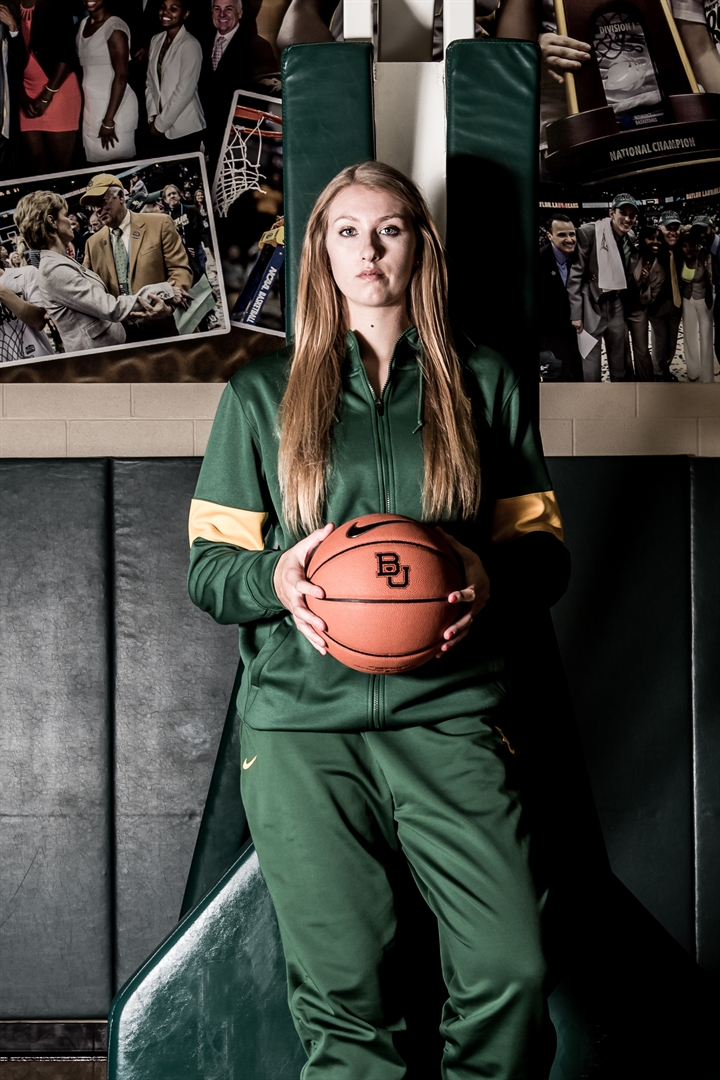 Mulkey has been planning for Cox, a 6-foot-4 post from Flower Mound, to become an integral part of her program for a long time. In fact, Cox was just a seventh grader when she first attended camp at Baylor. It only took that one look.
"We knew she was going to be tall, and she had skills that were just so much better than others her age in camp," Mulkey said. "You can tell as early and seventh and eighth grade about some of these kids."
Even at that age, Cox's natural basketball IQ stood out immediately. As she started to take the sport more seriously in high school, her competitiveness and broadening skillset made her an unmatched prospect. Even Cox's well-chronicled battle with diabetes couldn't keep her out. She began playing for the Team USA feeder teams, eventually winning MVP of the 2016 FIBA U18 Championship and even earning a shout-out from LeBron James. By the time she was a senior in high school, she was the No. 1 recruit in America.
"She really understands the game – you can tell that just watching her," said ESPN women's basketball writer Mechelle Voepel, who first started covering Cox during her sophomore year at Flower Mound. "She thinks like both a guard and a post player even though she has a post player's body. For someone who has such great individual skills, she's very team minded. She isn't out there to say, I need to score 25 points tonight, even though she could. She's out there to say, what is the best way for my team to win."
Mulkey and Cox seem like opposites at first glance. The future Hall of Fame coach is fiery and boisterous. The latter appears quiet and reserved. But underneath the superficial, the pair immediately bonded over their shared competitiveness.
"There's just something similar in the way we hate to lose," Cox said. "It sticks with us and is kind of a motivation. I really like that about her."
That connection with Mulkey convinced Cox to stay close to home and play at Baylor. Staying close to home allowed her to be there for her sisters, too. It wouldn't come without challenges. Baylor returned four-time All-American Nina Davis up front, and also had future All-Americans Kalani Brown and Beatrice Mompremiere waiting in the wings. But even as a high-profile recruit, Cox was unfazed by fighting for playing.
"The respect I have for Lauren is she's not afraid of competition," Mulkey said. "She saw how many post players were in our program when we were recruiting her. She knew she would have to battle for playing time as a freshman, she knew how tough it was going to be and she never wavered in her commitment. She had so much confidence in herself that eventually she was going to be on the floor."
Her patience paid off in a big way. After averaging 13.4 minutes per game off the bench as a freshman, Cox played 30.2 minutes as a sophomore and averaged 15.3 points and 9.7 rebounds per game to earn All-America honors. And as her role increased, so did her ability to be a leader.
"She's not afraid to tell you how she feels, no matter what it is," former Baylor All-American Kalani Brown said. "I think her and Kim are a lot alike in a sense when it comes to that."
–––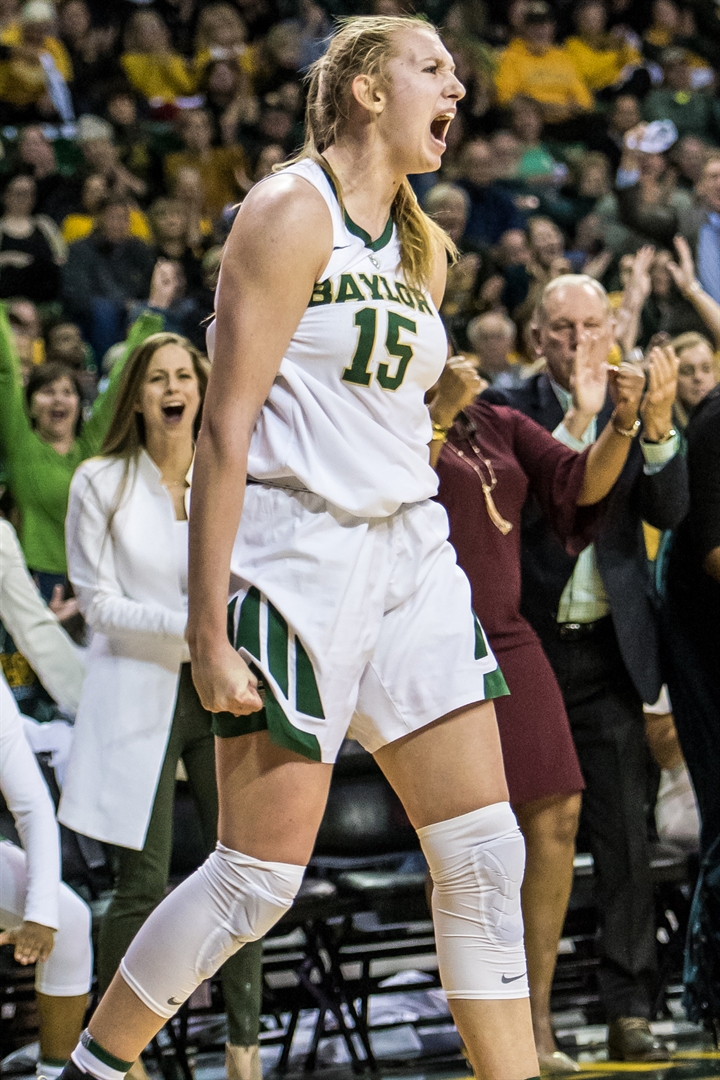 Numbers don't do justice to just how much Cox means to the Lady Bears. She ranked top 15 in the Big 12 in scoring, rebounding, assists and blocks, but her impact extends far beyond the box score. Teammates consider Cox to be an extension of Mulkey on the court with her ability to dominate both the physical and mental aspects of the game.
Nothing proved her value to the Lady Bears more than the national championship game. The Lady Bears had a dominant 62-50 lead with 1:22 left in the third quarter. Baylor was shooting 59.2 percent from the field and holding Notre Dame to 35.8 percent from the floor.
Even though Cox had a modest eight points, eight rebounds and three blocks when she left the game, her absence was felt immediately. Baylor wing Didi Richards said it best in the Lady Bears huddle: "Do we have a big enough lead to hang on?"
"That's how valuable Lauren is to our program," Mulkey said. "Her dominance on the defensive end of the floor, her presence in the paint, her knowledge of helping a teammate, all those things are what Lauren brings to the table. She's just an all-around tremendous basketball player, not just in one facet of the game."
Notre Dame scored seven unanswered points in fewer than 90 seconds to start the fourth quarter. The Fighting Irish hit nine of their next 14 shots after the Cox injury to take a 77-76 lead with just 3:17 remaining.
Brown felt the loss of Cox more than perhaps anyone else. Brown was already limited with a lower body strain heading into the title game. Without Cox's playmaking instincts on the floor, Brown struggled to find easy offense.
"She was a part of my game," Brown said. "We'd pick-and-pop, pick-and-roll, whatever. We're just picking teams apart. When she went off the floor, I felt like a piece of my game just fluttered off. I had to get myself together."
Cox limped out to the bench on crutches right after Arike Ogunbowale hit a free throw to give the Fighting Irish a 77-76 lead, their first since 3-2 in the first quarter. Mulkey called a timeout and Cox went into the huddle. Call it a coincidence, but the Lady Bears forced Notre Dame to miss its last five shots to set up a game-winner by Chloe Jackson with five seconds left.
"She was encouraging, coaching, telling us what to do, what the other team is doing – she was involved the whole time," Brown said. "It could have been the lowest point in her life, it could have put her in a really low place, but she didn't let it stop her. It says a lot about her as a person."
–––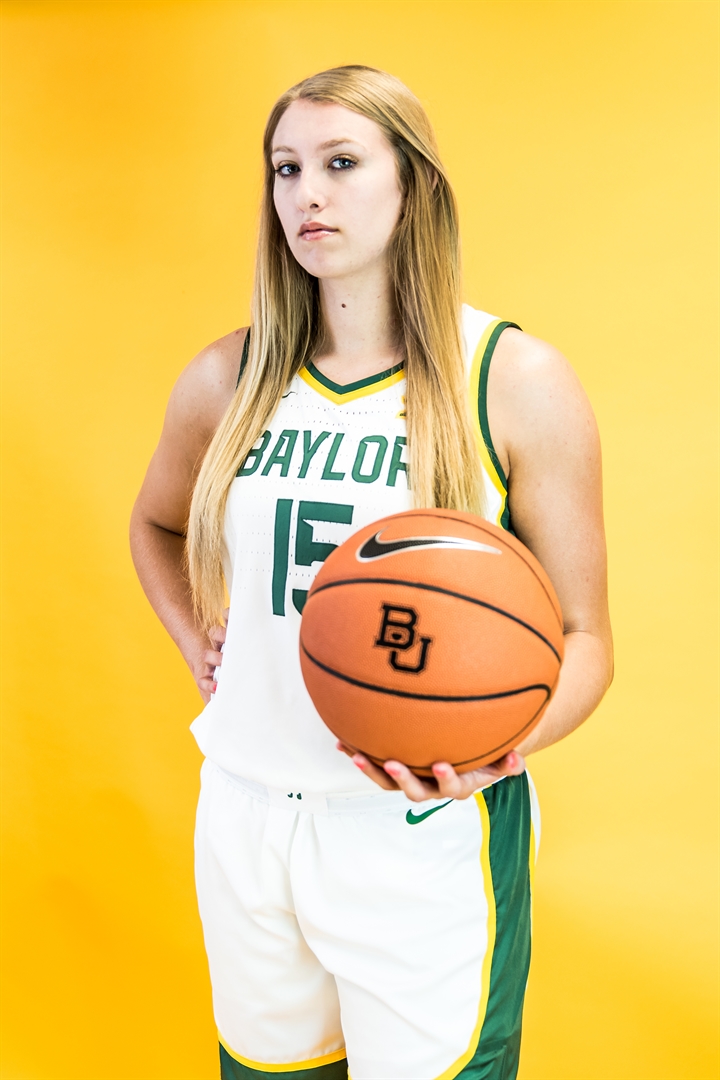 Since Mulkey arrived in Waco, only UConn has matched Baylor's success in women's basketball. Seventeen Lady Bears have earned All-America honors under Mulkey's watch. Immortal names like Sophia Young, Brittney Griner, Odyssey Sims and Nina Davis have led this team to the highest levels of the sport.
With Brown and Chloe Jackson off to the WNBA and with a clean bill of health, it's Lauren Cox's turn to lead Baylor to the top.
"[Cox is] the difference between them being a team that can defend a national championship and a team that you probably don't think would," Voepel said. "Taking her out of the equation...I'm sure Baylor fans don't even want to think about it. It had to be some of the happiest news they ever got that her injury wasn't as serious as everybody thought it was."
There's a little extra incentive to have a good senior year, too. Cox is expected to be a top pick for the WNBA draft in April 2020. While becoming Baylor's second ever No. 1 overall pick would be a nice honor, No. 2 might be even better. It's the hometown Dallas Wings. After spending her college years within driving distance, getting to stay close would be a blessing. The Wings desperately want her too.
"[The Wings] made no secret that even if they got No. 1, they would probably take her," Voepel said. "The Wings really want to strengthen their ties to the Metroplex, and they want to be the team of the folks down the road in Waco too.
"We don't see that often in the WNBA where someone gets to play for their hometown pro team. When you do see it, it's usually a really, really good thing for the franchise."
But for now, Cox's focus is solely on bringing her second championship to Waco. The Lady Bears have won three national championships during Mulkey's tenure. With seven years in between each of the crowns – 2005, 2012 and 2019 – no Lady Bear has won multiple. Cox embraces the chance to make history.
"I think that's everyone's goal coming into Baylor," Cox said. "It's a high level place. If you aren't a high level player, you wouldn't have been recruited to come here in the first place. I want my name to be remembered."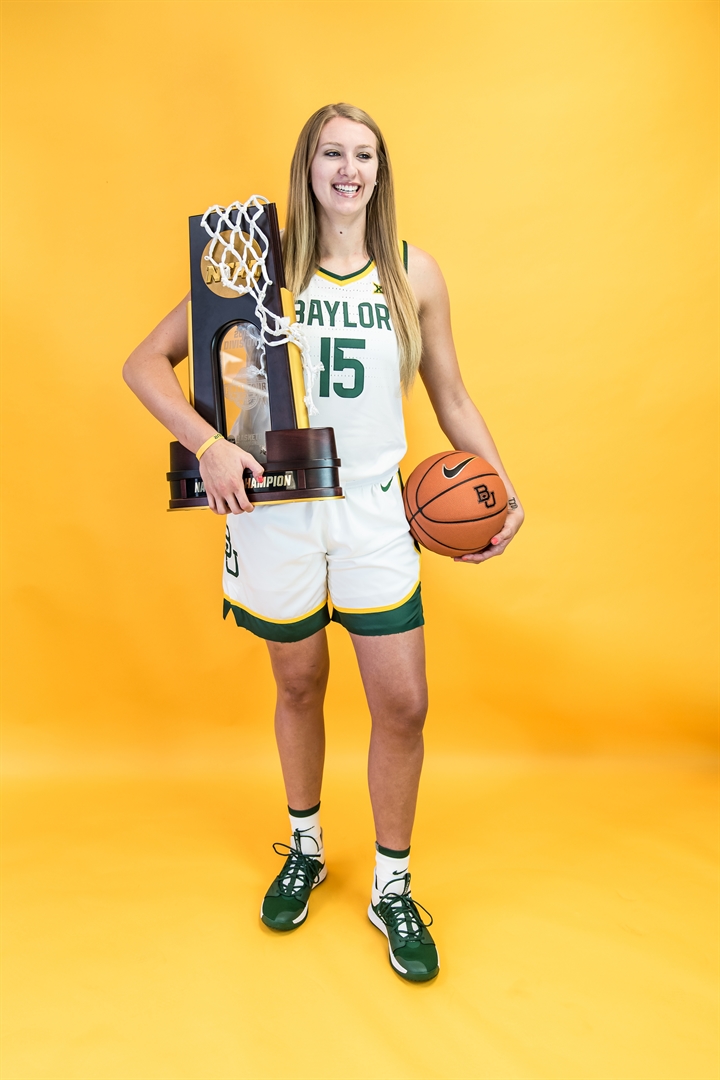 With three starters back and a pair of high-profile grad transfers on the roster, Baylor is considered a consensus top-two squad, along with Oregon. Cox and the Ducks' Sabrina Ionescu will be in a season-long battle for National Player of the Year. Perhaps even more personal, Cox has her eye on a third straight Big 12 Defensive Player of the Year award. All the expectations, all the accolades, all the attention – Cox is ready for it.
"She's been ready for this since the day she was born," Mulkey said. "At every level Lauren has been at, she ends up being the No. 1 player. Lauren is blessed with talent. Lauren is blessed with height. Lauren is blessed with leadership. If you want to pick teams, get on Lauren's team because she hates to lose."
Click here to pre-order the 2019-20 edition of Dave Campbell's Texas Basketball.