Coach Suzie Oelschlegel has seen some great ones during her nearly five decades as a head high school girls basketball coach.
But she has witnessed maybe less than five (or fewer in her opinion) standouts with the talents of Irving MacArthur HS point guard Sarah Andrews – the No. 7 prospect nationally for the 2020-21 college signing class and the No. 4 point guard nationally among 2019-20 high school seniors.
"I really hate to rate individual players," Oelschlegel began. "I have been fortunate to have so many down through the years. Sarah Andrews definitely is right up among the best."
The 2010-11 ESPN National High School Federation Girls Basketball Coach of the Year when MacArthur captured the Texas 5A state championship behind three All-State Tournament selections in tourney MVP Alexis Jones, Ayriel Anderson and Karmyn Jackson knows about champions and over-achieving squads. That team closed 37-2 and gave "The Mac" its first state title in any sport since the school opened in 1963.
"I have been fortunate to have so many good players down through the years that it is hard to single out certain players," Oelschlegel said. "I would say that Odyssey Sims (later led Baylor to 2012 NCAA Championship, WNBA standout 2014-19) and Sarah Andrews are among the top five."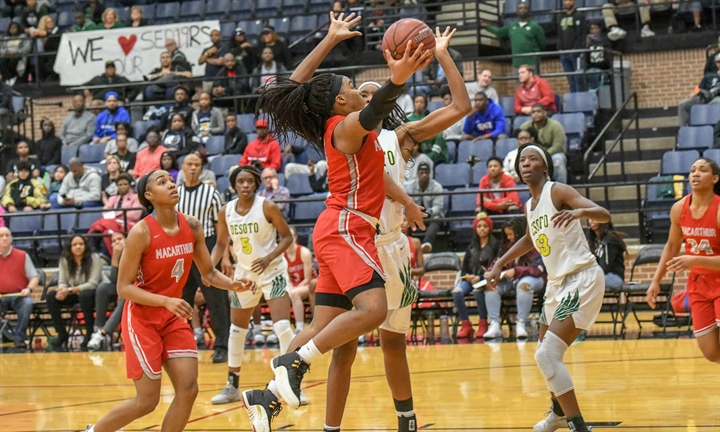 Oelschlegel, competing against such perennial area powers as Duncanville and others for years, capped a combined 134-10 MacArthur HS record for four seasons from 2007-11 while winning that crown.
That is what makes her guidance and relationship with Andrews even more special.
"She's a special player, certainly," said the veteran coach.
So special, in fact, that the projected four-year starting point guard had to miss the first 15 games of the Cardinals' 2018-19 season after breaking her wrist during preseason. The Cards' record over that span? 8-7. When the 5-foot-7 Second-Team USA Today High School All-American returned, MacArthur went 21-2 the rest of the way. That led to USA Today Second Team All-America honors again and back-to-back Texas Girls Coaches Association All-State honors in 2018 and 2019.
Andrews was so consistent down the stretch that she paced the Cardinals to a 14-0 district record and the undisputed crown in one of the state's toughest regions. She averaged 17.2 points per game in district activity (15.3 ppg overall), averaged 4.9 rebounds overall (5.1 average in the district) and dished out seven assists per game in both all games and district activity.
"Sarah Andrews is a very talented player and she has a great vision of the whole floor," Oelschlegel said. "Sometimes I wish she would be a little more selfish. I mean by that she needs to take it to the basket more often. She has great quickness and a really good knack for taking it inside.
"She really has worked on her on the ball defense and guarding people. She always has played pretty good defense, but she has improved every year in that aspect of her game."
The legendary Irving MacArthur head coach projects her splendid senior as a future college standout but has seen the difficult transition many high school players have while moving up one level on the hoops' staircase.
"Of course, she already has made five official visits to colleges," Oelschlegel stated. "And I can tell you if she signs with Baylor, she is in for a rude awakening, initially. There is a great difference in conditioning and intensity on the college level, but I believe Sarah is capable of adapting."
Young Sarah Andrews also realizes the responsibility of keeping Cardinals basketball at an elite level and that she cannot look ahead to the college ranks quite yet.
"For me, it all started back in the eighth grade," Andrews said in a national interview over the summer. "Now, I'm just trying to enjoy the process. Some people don't have the opportunities that I have, so I have to be thankful. I feel very blessed."
She has competed in such national events as the Nike EYBL in Louisville in June and later in multi-team, meets in Atlanta and then Dallas.
The attention paid by numerous college recruiters and scouts has not been a distraction to the mature senior.
"I try not to look at them too much," she said. "I just keep working. The coaches tell me not what I want to hear but what I need to hear. So, I just need to keep working behind closed doors to try and get better to play in front of them."
Yes, Sarah Andrews has proven quite a bit on the hardcourt, but she knows there are still team goals to be reached and more endless possibilities.
Her coach agrees and has set the bar high for 2019-20.
"Honestly, I can't say at this point whether we have a chance to go to the girls' state Final Four or state championship," Oelschlegel noted. "We need to be dedicated, ready to get after it in practice and ready to take our game to another level to even think of those goals. Sarah is an important part of this team, and we know she will make a difference again. Being healthy for the whole season will help her individual game, and I see some great things ahead for her."