Borrowing from ESPN's "30 for 30" series …
What if we told you that an often-ignored basketball program reached its first Elite Eight two years ago, lost most of its core players, rebooted and then came within 12 seconds of an unlikely national championship last season, again lost key players … and is considered a Top 10 team for this upcoming season.
That's Texas Tech. Before 2018, the Red Raiders had won just eight NCAA Tournament games. Last season, Texas Tech and Kansas State were Big 12 co-champs, ending the 14-year reign of Kansas. This season, the guns are still up.
Red Raider fans worried that a "big school" would come for coach Chris Beard are resting easy after athletic director Kirby Hocutt signed Beard to a six-year, $27.45 million contract extension in late April. Beard's scheme of dedicated and demonic defense along with an efficient and versatile offense makes his teams stronger than the individual parts.
Texas Tech will reload with the school's new-found profile attracting more talent. Junior guard Davide Moretti was a major factor last March and Kyler Edwards could blossom with more minutes. Freshman guard Jahmius Ramsey, the first 5-star recruit in school history, along with grad transfers in Chris Clarke (Virginia Tech) and T.J. Holyfield (SFA) are key newcomers.
"In three short years, we've had two special seasons," Beard told The Athletic. "Now we've got to try to do it again."
Baylor should join Texas Tech in chasing Big 12 favorite Kansas. The Bears were picked eighth last season but finished fourth plus reached the second round the NCAA Tournament. Baylor persevered despite losing top post player Tristan Clark to a knee injury in January. The return of Clark, a 6-foot-9 junior, provides coach Scott Drew with more depth than perhaps he's ever had. The Bears have 10 players that have played at least 25 Division I games. Mark Vital, Mario Kegler and Jared Butler are all-conference candidates.
Time might be running out for Texas coach Shaka Smart. The UT athletic program is about winning championships, but in hoops does the NIT really count? That trophy was nice but this season the Longhorns again must replace a big who was an NBA lottery pick. Junior Matt Coleman and sophomore Courtney Ramsey are a talented backcourt duo but they and their teammates need to learn how win the close ones.
TCU went from NIT champions to its first NCAA Tournament in 20 years then back to the NIT last season. Several departures remade the roster and this season will depend on how well coach Jamie Dixon can blend in nine newcomers. Desmond Bane considered the NBA Draft before returning for his senior season. He could average 20 a game. Sophomore center Kevin Samuel showed flashes and should provide low-post scoring, defense and rebounding.
Texas A&M basketball fans believe the hiring of Buzz Williams is as significant as the football program bringing in Jimbo Fisher. Williams has built winners at Marquette and Virginia Tech. The debut season in the shark tank of the SEC could be rocky. Four starters return from last season's 14-18 team but there's not much size or depth. The Aggies will need to be scrappy to win – which is exactly the type of team that Williams likes to coach.
Kelvin Sampson is enjoying a career renaissance in Houston. The Cougars won the AAC last season but need to replace their top three guards. Dejon Jarreau and sophomore Nate Hinton, two 6-foot05 guards, should be able to take up some of the slack in the backcourt. If Kansas transfer Quentin Grimes wins his eligibility waiver request with the NCAA, Sampson will have a third talented player at guard.
SMU coach Tim Jankovich faces a crucial season on the Hilltop. The Mustangs finished near the bottom of the AAC and recruiting has drilled a dry hole. The NCAA eligibility waiver appeals for guards Kendric Davis (TCU) and Darius McNeil (Cal) could determine SMU's ability to finish above .500.
UTEP coach Rodney Terry goes into his second season of remaking the program. A big reason for last season's 8-21 record involved just seven eligible scholarship players. Bryson Williams, a 6-foot-8 transfer from Fresno State, will team with sophomore 6-foot-9 sophomore Efe Odigie (who averaged a double-double last season) to give the Miners a formidable frontcourt.
UT-San Antonio finished in a four-way tie for second in C-USA last season and could challenge for the top spot again. Junior guards Jhivvan Jackson and Keaton Wallace form one of the nation's most productive backcourts, combining to score 43 points per game. The Roadrunners live and die by the three and live up to their name; they were 19th in Division I in adjusted temp.
North Texas has won 20-plus games in each of Grant McCasland's first two seasons in Denton. The Mean Green are mean on defense, but last season struggled offensively, finishing 256th in D-I in scoring. Junior-college transfer Javion Hamlet will likely take over at point guard and hopefully boost the cohesion and point production.
Rice has finished 7-24 and 13-19 in the first two seasons under coach Scott Pera but he believes that the reconstruction project is close to completion. The Owls return seven of their top eight players from last season including top scorers Robert Martin and Chris Mullins.
UT-Arlington got a lot of grief for dismissing coach Scott Cross, but Chris Ogden had a solid debut season, earning Sun Belt coach of the year honors. The Mavericks are maniacs on defense, but last season struggled on the offensive end. Leading scorer Brian Warren is one of seven top rotation players returning.
Texas State is always a good choice to finish in the top half of the standings. Veteran coach Danny Kaspar preaches defensive toughness. Guard Nijal Pearson is a candidate for player of the year honors and look for Alonzo Sule to have a breakout season.
Houston Baptist relies heavily on junior Ian DuBose. The 6-foot-4 guard is one of just two returning Southland All-Conference players and was the only one in league play to rank in the top 10 in scoring, rebounding, field goal percentage, three-point field goal percentage, assists and steals.
Sam Houston State will try to repeat as Southland Conference champions but must replace guard Cameron Delaney, the league player of the year. The lone returning starter is senior Kai Mitchell. The 6-foot-7 senior was the SLC newcomer of the year, averaging 12.5 points and 7.5 rebounds per game.
Stephen F. Austin lost over 100 player games to injuries. Coach Kyle Keller brought in three junior-college transfers – guards Roti Ware and Cameron Johnson along with forward Gavin Kensmil – who should provide instant production. They'll join returning senior starters Kevon Harris and Nathan Bain.
Lamar got bad news in July when point guard Jordan Hunter announced he wouldn't return for his senior season. His departure means it will be difficult for the Cardinals and veteran coach Tic Price to match or improve last season's 20 victories.
Abilene Christian made its first NCAA Tournament appearance last season but return just one of its top five scorers – senior guard Peyton Ricks. JUCO transfer Mahki Morris needs to provide scoring from Game One. This appears to be a rebuilding season for the Wildcats.
Incarnate Word coach Carson Cunningham's second season will be without three players who transferred, including his leading scorer. Sophomore guard Morgan Taylor averaged 11.5 a game last season and provides a building block for a roster that has just one senior.
Texas A&M-Corpus Christi must replace its starting backcourt and that's not good news for a team that struggled to score and was turnover prone. Veteran coach Willis Wilson typically has solid defensive teams but the key to this season's success will be producing points.
UT-Rio Grande Valley faces a major challenge to finish in the top half of the far-flung Western Athletic Conference. Junior point guard Javon Levi does a great job running the offense. Five junior-college transfers will need to mesh with the three returning starters.
Prairie View A&M dominated the SWAC, losing just one league game. The Panthers made their first NCAA Tournament appearance in over a decade, but three starters are gone. Returnees Devonte Patterson and Gerard Andrus will need to up their production.
In his first season at Texas Southern, coach Johnny Jones guided the team to 24 victories, including road wins at Baylor, Oregon and Texas A&M. The Tigers must replace three starters who combined to average 40 points a game.
Top 10 Texas Teams:
Texas Tech
Baylor
Houston
Texas
TCU
Texas A&M
UTEP
Stephen F. Austin
UT-Arlington
North Texas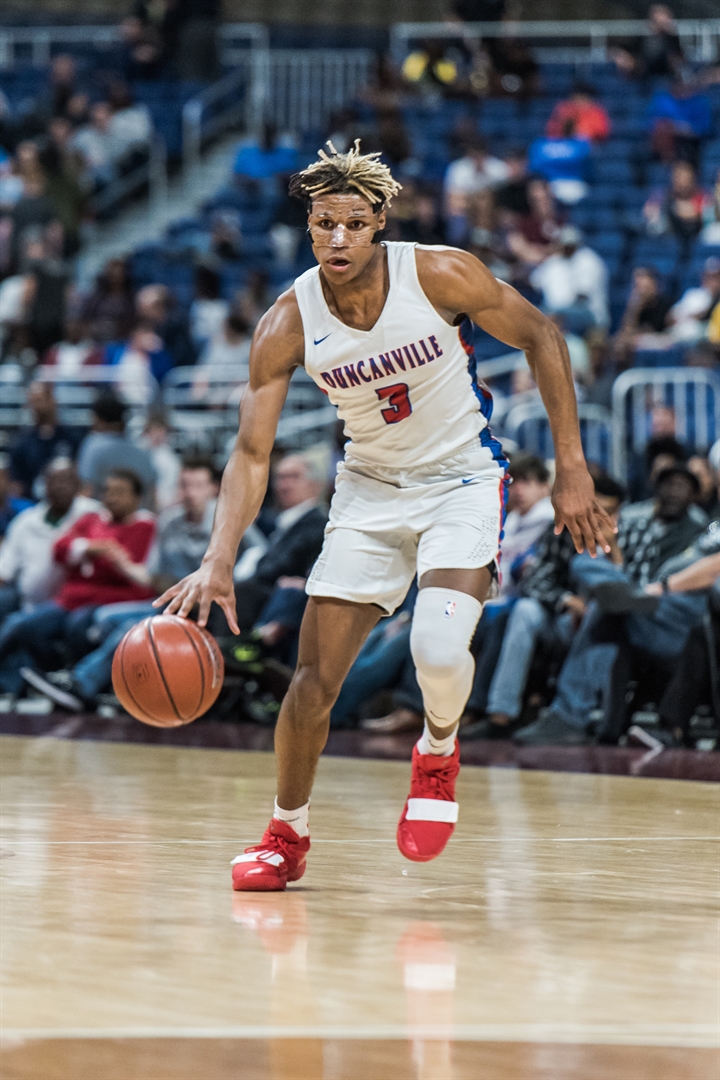 All-Texas Team:
Desmond Bane, TCU
Tristan Clark, Baylor
Davide Moretti, Texas Tech
Dejon Jarreau, Houston
Efe Odigie, UTEP
Courtney Ramey, Texas
Savion Flagg, Texas A&M
Jhivvan Jackson, UTSA
Kevon Harris, Stephen F. Austin
Kai Mitchell, Sam Houston State
Ian DuBose, Houston Baptist
Javon Levi, UT-Rio Grande Valley
Jahmius Ramsey, Texas Tech
Nijal Pearson, Texas State
Devonte Patterson, Prairie View

Barnhouse's Top 25:
Michigan State
Kentucky
Kansas
Duke
Louisville
Florida
Maryland
North Carolina
Gonzaga
Texas Tech
Villanova
Virginia
Seton Hall
Memphis
Baylor
Ohio State
Utah State
Oregon
Xavier
LSU
Saint Mary's
Purdue
Washington
Auburn
Arizona
Conference Projections:
Big 12
A year ago, in this space it said, "There's no bigger lock in college basketball than picking Kansas to win the Big 12." Wrong, obviously. KU was unseated by Texas Tech and Kansas State. While the Red Raiders and Baylor will challenge, expect the Jayhawks to resume their place at the top.
Kansas
Texas Tech
Baylor
Texas
Iowa State
Oklahoma State
Oklahoma
West Virginia
Kansas State
TCU
SEC
Much like in the Big 12 with Kansas, expect the SEC and Kentucky to return to form. The Wildcats are stacked with talent and should win their first outright regular-season title since 2017. Florida, though, is capable of challenging. Defending champ LSU, along with Auburn and Tennessee, will be solid.
Kentucky
Florida
Mississippi State
LSU
Auburn
Tennessee
Ole Miss
Georgia
South Carolina
Alabama
Missouri
Arkansas
Texas A&M
Vanderbilt

American Athletic Conference
Year two of the Penny Hardaway Era features the nation's top-ranked recruiting class. Harnessing and meshing the talent will be a challenge; the roster features one senior (who'll likely be a top reserve) and eight freshmen. Regular AAC challengers Cincinnati and Houston will try to trip up the young Tigers.
Memphis
Cincinnati
Houston
USF
Wichita State
UConn
Temple
SMU
UCF
Tulsa
East Carolina
Tulane
Conference-USA
Western Kentucky figures to be the class of the conference but will get challenges from UTSA and UTEP. Once a league that could earn an at-large NCAA bid to go along with its automatic, C-USA hasn't had an at-large team since 2011. As power leagues gobble bids, don't expect that to change this season.
Western Kentucky
UTSA
UTEP
UAB
Old Dominion
North Texas
FIU
Middle Tennessee
Louisiana Tech
FAU
Marshall
Charlotte
Rice
Southern Miss
Sun Belt
Coaching and roster changes created significant churn that makes predictions difficult. Just five teams finished league play with winning records last season. South Alabama is the best bet to finish first, UT-Arlington had a strong season under first-year coach, Chris Ogden, but roster losses and additions create considerable uncertainty.
South Alabama
UTA
Georgia Southern
Texas State
Coastal Carolina
Georgia State
Little Rock
Louisiana-Lafayette
Arkansas State
Troy
UL-Monroe
Appalachian State
Southland
Stephen F. Austin made four of five NCAA Tournaments, but last season was a nightmare. It's a good assumption the Lumberjacks and head coach Kyle Keller bounce back. However, the league race is a pick-names-from-a-hat uncertainty. Sam Houston State, which has won 20 games in five of the last six seasons, might successfully defend its regular-season title.
Stephen F. Austin
Sam Houston State
Central Arkansas
McNeese State
Houston Baptist
Nicholls
Abilene Christian
New Orleans
Texas A&M-Corpus Christi
Lamar
Incarnate Word
Northwestern State
SWAC
The SWAC had been the nation's guest in terms on payday non-conference games. But last season, first-year coach Johnny Jones and Texas Southern stunned Baylor, Oregon and Texas A&M, bringing attention to the league. Prairie View went undefeated in conference play and won the auto bid. Those two Texas neighbors should battle it out this season.
Prairie View A&M
Texas Southern
Grambling State
Jackson State
Alcorn State
Mississippi Valley State
Alabama State
Southern
Arkansas-Pine Bluff
Alabama A&M
WAC
This conference is alternately The Island of Misfit Schools. New Mexico State, though, is fine with being the dominant program in a league that has had 20 different members this decade. The Aggies return 10 of 13 players from last season. Grand Canyon could challenge with TCU transfer guard Jaylen Fisher hoping for a full season of health.
1. New Mexico State
2. Grand Canyon
3. Cal Baptist
4. Cal Bakersfield
5. Seattle
6. UTRGV
7. Utah Valley
8. UMKC
9. Chicago State