With a goldmine of homegrown prep talent to tap from, it is no surprise that year after year, Division I women's basketball teams in Texas make national headlines throughout the season. Their storylines intrigue fans and media alike.
Can anyone beat Baylor? Will Chennedy Carter propel Texas A&M deep into the NCAA tournament? Will Erica Ogwumike and Nancy Mulkey steer Rice through another undefeated conference season? Is Texas center Joyner Holmes ready and healthy for a breakout senior season? Can TCU be a consistent threat in the Big 12?
Baylor
No Kalani Brown, no Chloe Jackson, no problem for Baylor. The reigning national champions return a cadre of outstanding players that will make the Lady Bears just as lethal as last season. Senior forward Lauren Cox, recovered from a championship game knee injury, was last season's second leading scorer and top rebounder for Baylor. With her array of skills in the paint and on the perimeter, Cox will undoubtedly vex teams her senior season and is expected be a high first-round pick in the 2020 WNBA draft.
Coach Kim Mulkey's returners also include senior guard Juicy Landrum, the team's three-point shooting ace; assists leader, junior guard Didi Richards; and sophomore forward NaLyssa Smith who had an impressive first-year outing capped by scoring 14 points and pulling down six rebounds in the national championship game against Notre Dame.
In addition to the returners, Baylor adds two graduate transfers: point guard Te'a Cooper (South Carolina), and Waco native, 6-6 center Erin DeGrate (Texas Tech). Cooper led the Gamecocks in scoring at 11.9 points per game. DeGrate averaged 8.2 points and 5.3 rebounds last season. DeGrate and Landrum went to high school together at nearby La Vega High School and won the 4A state championship in 2014.
With talent that includes seven players that are at least six feet tall, the Lady Bears may run through the Big 12 again undefeated and find themselves back at the Final Four.
"It will be interesting to see how Baylor showcases [Lauren Cox] without Kalani Brown," says veteran basketball analyst Brenda VanLengen. "She is athletic, long, skilled and such an intense competitor and great teammate and the combination of Cox and NaLyssa Smith will be very difficult to contain."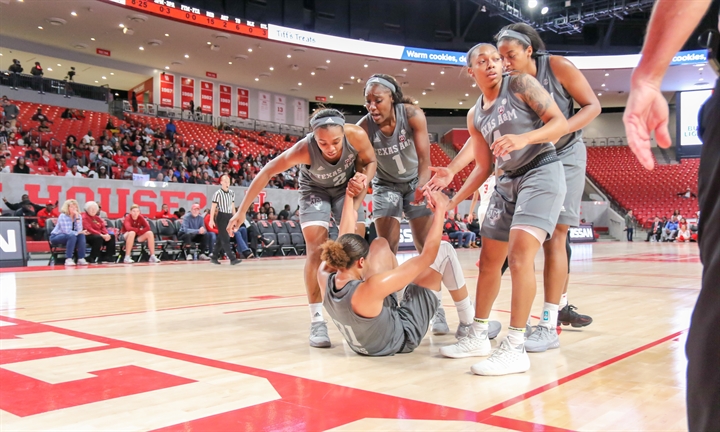 Texas A&M
Texas A&M has one of the most dynamic players in the nation, junior guard Chennedy Carter. The sharpshooter, who was sixth in the nation in scoring last season (23.3 points per game), is poised to help Texas A&M remain in the upper echelons of the SEC and the national polls.
"Chennedy Carter is a human highlight reel and has the ability to drop 30-plus points every night," says VanLengen. "She is practically unguardable and the only person that can stop her is herself."
However, the Aggies are not a one-person show. Four other juniors will help the squad vie for the top spot in the SEC. Prolific 6-4 center Ciera Johnson, forward N'dea Jones plus guards Kayla Wells and Aaliyah Wilson should see ample playing time and make strong contributions of their own. Texas A&M will also have the services of 6-5 junior center Anna Dreimane, who arrived from Colorado State but sat out last season due to NCAA transfer rules. With Johnson and Dreimane in the paint, the Aggies should be a dominant force against other Texas teams as well as their SEC foes.
"I do think Texas A&M has the potential to be very good (possibly Final 4) this year," say VanLengen. "Of course, it all depends on the chemistry around Chennedy. They have talent and consistency around her and if she even shares a little, they could be really, really good. I've put them at the top of the SEC, just because Mississippi State and South Carolina lost so much."
Texas
The Longhorns are fortunate to have two talented players return in full health to compete this season. Forward Joyner Holmes competed for Texas last season but not at 100 percent as she underwent ankle surgery in October 2018 and missed the first eight games of the season. Nevertheless, Holmes managed to contribute 11.8 points and 6.7 rebounds per game.
Just four games into 2018-19, starting guard Lashann Higgs suffered an ACL tear. Before the season-ending injury, she averaged 13.8 points per game. In her absence, guard Sug Sutton ramped up her production to lead Texas in points and assists, helping the Longhorns overcome an injury-laden roster. Now a senior, Sutton is expected to be a major force again.
With veterans leading the way and several promising underclassmen, Texas is among the few teams that may be able to pose a legitimate threat to Baylor's dominance in the Big 12.
TCU
While TCU lost the scoring production of Jordan Moore and Amy Okonkwo due to graduation, the Horned Frogs return three of last seasons starters, all guards. Junior Lauren Heard, and seniors Kianna Ray and Jayde Woods can help TCU strive to top last year's 24-11 season that ended in the semifinals of the WNIT.
However, it will be an uphill battle even before a tough Big 12 slate as the Frogs have a challenging non-conference schedule that includes showdowns with three Texas schools. Matchups against SMU, Texas A&M and Texas State will test the guard-heavy Horns in the first half of the season. With consecutive 20-plus win seasons under her belt and knowledge gained from working during the summer as an analyst for WNBA Dallas Wings games, head coach Reagan Pebley should be up to the task in her sixth season at TCU.
Rice
Make no mistake, Rice rules Conference USA. With the return of C-USA Female Athlete of the Year, Erica Ogwumike, and C-USA Defensive Player of the Year, Nancy Mulkey, the Owls have the key ingredients for another banner season that sees them end up in the NCAA tournament again. Under head coach Tina Langley, senior guard Ogwumike and junior center Mulkey led the Owls through an undefeated conference season all the way to the C-USA championship.
Texas A&M coach Gary Blair is a fan of Ogwumike. He says the younger sister of WNBA stars Nneka and Chiney Ogwumike is "just a 'basketball player'...doesn't have the size of her older sisters but has a knack for scoring."
And per VanLengen, Ogwumike "is an incredible rebounder, extremely talented, and has an exceptional work ethic."
Returning starters junior guard Sydne Wiggins and sophomore guard Jasmine Smith also contributed to Rice's 2018-19 success.
Langley, who arrived at Rice after being an associate coach at Maryland, has fans around the country paying attention to the studious Owls who also excel in the classroom.
"Everyone knew when Tina went to Rice, she would do great things there and she has met those expectations," says VanLengen. "An early season match-up between Rice and Texas A&M is an intriguing game to keep an eye on."
The Owls host Texas A&M Nov. 17.
Teams to Keep an Eye On
While the top fives teams garner a lot of attention around the country, there are several other programs that had outstanding seasons in 2018-19 and have the personnel to earn major upsets this season. Abilene Christian is the defending Southland Tournament champion. Lamar won the Southland regular-season title. UT Arlington earned the Southland Conference tournament title. Texas Tech returns Chrislyn Carr, the 2018-19 Big 12 Freshman of the Year, and Brittney Brewer, who won silver with the U.S. Pan Am Games team this summer.
Brenda VanLengen's Top 10 Texas Programs
Baylor
Texas A&M
Texas
TCU
Rice
Texas Tech
Houston
UTA
SFA
Abilene Christian
Others to watch:
SMU
North Texas
All-Texas Team:
Lauren Cox, Baylor
Chennedy Carter, Texas A&M
Didi Richards, Baylor
Juicy Landrum, Baylor
Kayla Wells, Texas A&M
Joyner Holmes, Texas
Sug Sutton, Texas
LaShaan Higgs, Texas
NaLyssa Smith, Baylor
Erica Ogumike, Rice
Kianna Ray, TCU
Brittney Brewer, Texas Tech
Chrislynn Carr, Texas Tech
Cierra Johnson, Texas A&M
Nancy Mulkey, Rice
Others to watch:
Te'a Cooper, Baylor
Celeste Taylor, Texas
Breanna Wright, ACU
Jasmyne Harris, Houston
Anisha George, North Texas
Pre-Season Top 25
Oregon
Baylor
UCONN
Stanford
Oregon State
Louisville
Texas A&M
South Carolina
Mississippi State
Maryland
Kentucky
Texas
NC State
Florida State
UCLA
Arkansas
Notre Dame
Indiana
Arizona State
Miami
Michigan
Gonzaga
Michigan State
Rice
South Dakota State
Conference Projections
Big 12
Baylor
Texas
West Virginia
Kansas State
Iowa State
TCU
Oklahoma State
Oklahoma
Texas Tech
Kansas
SEC
Texas A&M
South Carolina
Mississippi State
Kentucky
Arkansas
Tennessee
LSU
Alabama
Missouri
Georgia
Vanderbilt
Auburn
Florida
Ole Miss
Conference-USA
Rice
Middle Tennessee
UAB
Western Kentucky
Oold Dominnion
Marshall
North Texas
Charlotte
Southern Miss
UTEP
Louisiana Tech
FAU
UTSA
FIU
American Athletic
UConn
USF
UCF
Houston
Cincinnati
Temple
SMU
Tulane
Wichita State
Tulsa
East Carolina
Memphis
Sun Belt
UTA
South Alabama
Little Rock
Troy
Georgia State
Louisiana-Lafayette
Texas State
Appalachian State
Coastal Carolina
Arkansas State
UL-Monroe
Georgia Southern
Southland
SFA
Abilene Christian
Texas A&M-Corpus Christi
Sam Houston
Nicholls
Houston Baptist
Lamar
SE Louisiana
Central Arkansas
New Orleans
McNeese State
Northwestern State
Incarnate Word
SWAC
Prairie View A&M
Southern
Texas Southern
Grambling
Jackson State
Alabama State
Alabama A&M
Mississippi Valley State
Alcorn State
Arkansas-Pine Bluff
WAC
New Mexico State
Cal Baptist
UTGRV
UMKC
CSU Bakersfield
Seattle
Utah Valley
Grand Canyon
Chicago State