In its brief existence, Vandegrift High School has enjoyed limited competitive success. Opening just a decade ago, the school won state championships in boys golf and girls soccer in 2014 and marching band in 2013.
But most of the 2,500-plus students would agree: Five-star forward Greg Brown III is the biggest name to walk the halls of the school. And they've seen his star power coming for some time.
Brown, ranked anywhere from No. 4 to No. 10 among the major recruiting services, is a hybrid 6-8 forward with a long wingspan and a passion for dunking. Considered the top power forward prospect in the country, he first exhibited his potential as a freshman, starting for coach Cliff Ellis' team in all 31 games. Brown's first varsity triple-double (15 points, 14 rebounds, 18 blocks) came in an eye-opening performance against Hutto.
The expectations, like Brown's highlight reel, grew from there. His points and rebounds averages have grown from 17.2/10.7 as a freshman to 30.1/13.5 as a junior. Last season he shot nearly 55 percent from the field and 74 percent from the free throw line.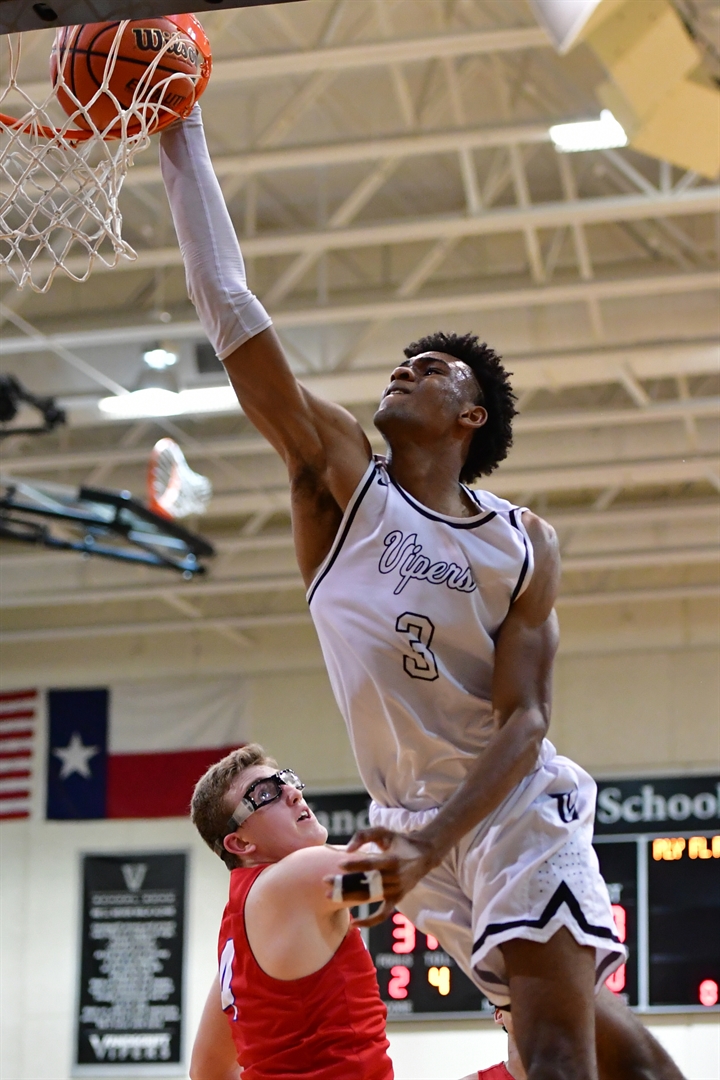 Perhaps the success isn't so unexpected. Brown's family includes others who have experienced what Brown could soon be facing. His father was a two-time all-Big 12 football player at the University of Texas and played three seasons for the Denver Broncos. An uncle, Roderick Anderson, played basketball for the Longhorns from 1993 to 1995. Brown's grandfather played wide receiver for the football team at Grambling University.
Has the legacy of next-level athletes made an impact?
"It has simply helped me prepare for whatever comes my way," Brown said.
Plenty of attention and expectations should be along the path, as he narrows his college choices from five to one. Still in the mix are Texas, Memphis, Auburn, Kentucky, and North Carolina, as he announced in the summer at the Nike Peach Jam in Atlanta. Despite his close ties to Austin and the University of Texas, Brown has left other options open. In fact, he and his family were able to keep under wraps an offer from Kentucky until late in the summer.
But, first, comes unfinished business for Brown and his Vandegrift teammates.
Despite Brown's gaudy numbers, the Vipers haven't finished at the top of District 13-6A race in his first three seasons, resulting in a difficult playoff path. With Hendrickson, Round Rock McNeil, and Leander also battling for the four playoff spots, Vandegrift hasn't been able to advance beyond the area round the past two seasons. In 2019, all four 13-6A teams were eliminated by the second round of the playoffs.
Brown's importance to his team became very apparent in the middle of the 2019 season. He sat out almost five weeks with a finger injury and the Vipers lost five district games. But Brown returned just in time, scoring 40 points and grabbing 17 rebounds in his first game back and Vandegrift rebounded to finish 9-7 in 13-6A.
Brown says his ultimate team goals include an undefeated district season, advancing to the state tournament, and winning at least two of the three tournaments scheduled for November and December, including an anticipated event at The Star in Frisco, home of The Dallas Cowboys. "We must stay focused, engaged, and hungry," Brown added. "Playing and winning one game at a time."
Since there's little doubt as to the focus of the Vandegrift offense, Brown says he has been working on his passing game with the idea of involving his teammates more in shooting and scoring. Without that, the Vipers may not see their playoff fortunes change.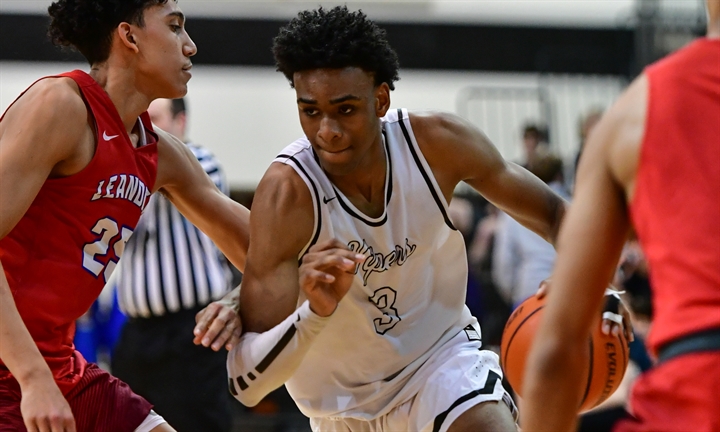 Individual goals don't seem to be as much on Brown's radar, though he does admit he can compare some aspects of his game to better known performers. "I would say (like) the 'Greek Freak' Giannis Antetokounmpo because of his dominance, but trying to be more like Penny Hardaway with his point guard skill, tempo and IQ," he said. That might explain why Memphis, coached by Hardaway, remains on his list of college considerations.
Brown says he wants to keep his senior season as the top priority in his focus, but there are significant factors that will affect where he chooses to land as a college freshman.
"I want to go to a school that has an opportunity to win with me added to their roster," he said. In addition, his role with the team, his relationship with the head coach, and his future teammates are variables Brown says are important."