For the first week of the college basketball season it feels appropriate to highlight a game from one of the state's preseason Top 25 schools. And while Baylor hosts Grambling and Texas visits South Florida on Friday, it's a Sunday afternoon game that I'm most interested in, as Texas A&M hosts Duke.
While Duke isn't ranked, it received four votes in the AP's preseason polls, so this isn't an instant win for the sixth-ranked Aggies. Duke's going to be a tough out.
Why? It starts with guard Haley Gorecki. The 6-foot combo guard received multiple votes for the AP's preseason All-America team and should prove to be a tough matchup for the Aggies defensively.
Gorecki averaged 17.2 points and 3.9 assists per game last year for the Blue Devils. He struggled with her efficiency, shooting just 27.9 percent from three on 208 attempts, but she's also just a season removed from shooting 42.3 percent on 104 attempts. If Gorecki can get closer to the efficiency she showed as a sophomore, she could be on her way to a huge year offensively.
But while Gorecki is the big name, she's not the only player who the Aggies will have to work hard to contain. Senior forward Leaonna Odom is Duke's most versatile player, someone who can play any spot on the floor aside from center. She averaged 13.1 points, 6.4 rebounds, 2.5 assists and 1.6 steals per game last season and ranked in the 85th percentile nationally in pick-and-roll scoring.
The key to A&M winning is this: keep the ball out of Odom's hands, as she's significantly less deadly on the offensive side when she's used as an off-ball scorer, and make Gorecki shoot in the half-court. Slow the game down. Don't let Duke — a team that scored in the 87th percentile in transition last year — get out on the run. The Blue Devils struggle when they're forced to run set plays, whereas the Aggies were successful both in transition and in the half-court.
The key for A&M? Well, it's the same key on Sunday that it'll be every week: Chennedy Carter.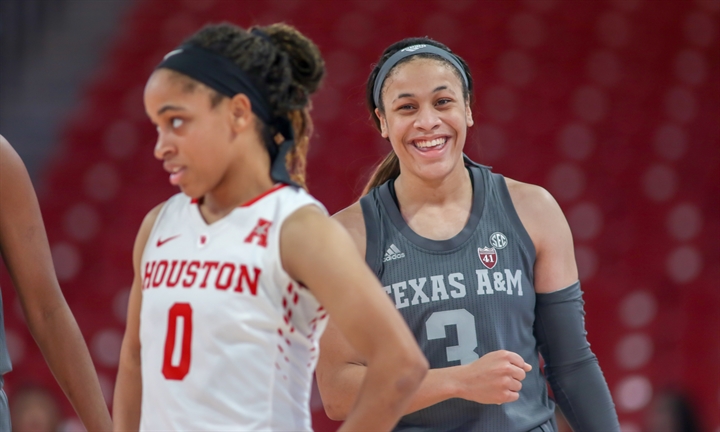 Carter — who I wrote about extensively earlier this week — is the heartbeat of the offense. Like Gorecki, Carter had efficiency issues last year, but Carter's ceiling as a scorer is a good bit higher. If a game happened to come down to which ball-dominant guard was able to take the game into their own hands, the smart money would be to trust that Chennedy Carter is the one who'd come out ahead.
But still, while the Aggies' track record last year suggests that they're the better team, early season contests can be tough as teams are still getting acclimated to any changes that have happened between seasons. This Duke matchup could be a trap game of sorts for A&M.
These teams face off Sunday at 3 p.m. at Reed Arena in College Station. You can stream the game live on SECN+.
Other Notable Games This Weekend
Friday
Grambling at Baylor
Texas at South Florida
Lamar at Oklahoma State
Saturday
Little Rock at Rice