Division II
The first half of the men's and women's basketball season for the expanded Lone Star Conference has been a resounding success. Sporting the largest conference in Division II with 18 teams, the LSC currently has five teams ranked in the Top 10 in the rankings.
West Texas A&M seeks another trip to the Elite Eight and has been outstanding this season as they are 13-1 and ranked No. 5.
St. Edward's is 21-1 this season and ranked No. 7 as it seeks to dethrone the Buffs and win the South Central Region this season. The Hilltoppers are the only team to defeat WT this year.
Dallas Baptist has been a pleasant surprise this year at 12-1 and ranked No. 10. The Patriots are an impressive 5-0 on the road this season but have two tough road games remaining with trips to both St. Edward's and West Texas A&M.
The women's side of the LSC already boasted the defending national champion and Lubbock Christian has been rolling this season with a 13-0 record and a No. 2 ranking. The Lady Chaps still face plenty of challenges this season with a home and road game against Eastern New Mexico and West Texas A&M who were both regional teams last year.
Texas A&M-Commerce has been the surprise of the nation this season as it is currently 13-0 and No. 5 in the country. Head coach Jason Burton recently won his 100th career game with the Lions. A possible Top 5 showdown awaits on Jan. 30 when LCU visits Commerce.
With so many great teams, finding the top five men and women in Division II this season has been a challenge. There are a number of worthy candidates but here are the ones who shine the brightest at midseason.
Men's basketball NCAA Division II Midseason Fab Five
Ty Glover, G, UT Tyler
The 6-foot-7 senior guard from San Bernardino, Calif. has been incredible this year averaging 16.3 points, 5.5 rebounds, 1.2 blocks and 1.7 steals to lead the Patriots in their first transition year to D-II.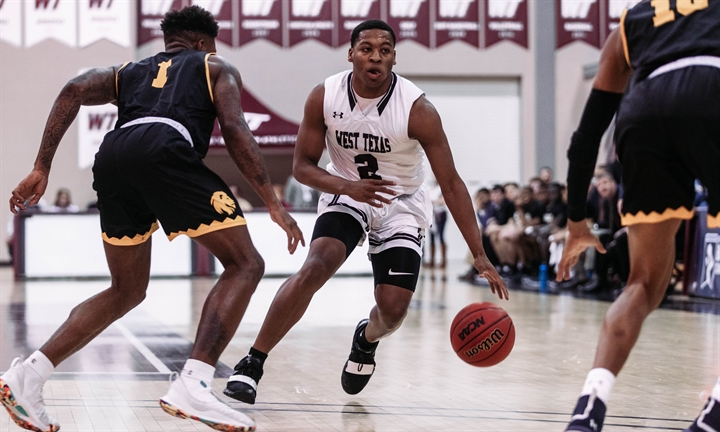 Qua Grant, G, West Texas A&M
The sophomore guard from Waxahachie High School has continued to shine in his second season. At only 6-foot-1, Grant has been a beast averaging 21.9 points, 6.9 rebounds, 2.8 assists and 2.6 steals.
Josh Hawley, F, Tarleton
No list would be complete without the 6-foot-7 senior forward from Irving MacArthur. He has nearly averaged a double-double with 17.2 points, 9.5 rebounds, 1.2 blocks and 1.9 steals. Hawley has been a pleasure to watch over the last four years and fans need to see him play before he graduates.
Collin Turner, G, Angelo State
Turner is another guard who may be smaller in height than other players, but he fills the stat sheet. The 6-foot-1 senior from Poolsville, Md. has averaged 16.7 points, 5.1 rebounds, 2.6 assists and 2.4 steals for the Rams.
Pat Dembley, G, UT Permian Basin
The senior from Minneapolis, Minn. has put on a show this season for the Falcons. The 6-foot-1 guard is averaging 22.4 points, 4.8 assists and 2.4 steals per game. He put up an incredible 42 points against Western New Mexico earlier this season.
Women's basketball NCAA Division II Fab Five
Mackenzie Hailey, F, Tarleton
Hailey has been a consistent force for the Texans over the previous three seasons and continues to dominate in her senior season. The Burleson native is averaging 15.8 points, 7.2 rebounds, 1.3 blocks and 1.6 steals.
Catara Samuel, G, Angelo State
The Amarillo High School product has been a consistent force for the Belles this season averaging 14.5 points, 6 rebounds, 2.5 assists and 2.5 steals. The 5-foot-6 senior will be a key player if ASU returns to the South Central Regional.
Carissa Moody, G, Texas Woman's
Moody made a splash in her first season last year and has only continued to improve during this season. The senior from Plano High School has nearly averaged a double-double with 11 points, 9.9 rebounds and 2.6 assists for the Pioneers.
Maddi Chitsey, F, Lubbock Christian
The Wall High School native was a key to the Lady Chaps winning the national title last season and is having another outstanding season. The 6-foot-2 forward is averaging 15.1 points, 6.3 rebounds, 1.8 assists and 2.7 blocks for the undefeated Lady Chaps.
Alexis Bryant, F, Texas A&M-Commerce
The senior is a huge reason the Lions are undefeated and one of the top teams in the country this season. The Pflugerville native has averaged 11.6 points, 8.8 rebounds, 1.3 assists, 1.2 steals and 1.8 blocks.
Division III
The 2019-2020 basketball season is already at the halfway point and conference games are in full swing.
The women's basketball teams in the state of Texas are continuing to shine again this season. Mary Hardin-Baylor is ranked No. 17 and seeking their second consecutive trip to the NCAA Division III tournament.
UT Dallas will once again be a big challenge to UMHB for the American Southwest Conference title and there are two other teams from Texas making waves in the Southern Collegiate Athletic Conference.
Austin College is 11-0 this season and moved into the rankings at No. 22 this week while Trinity is 9-2 and ranked at No. 21 this week.
While no men's basketball teams are currently ranked, the teams that make the national tournament will once again be a threat to upset a few teams and make a run.
UT Dallas is 9-3 and has overcome some key injuries to once again be a team capable of winning the ASC title. East Texas Baptist is 9-2 and receiving votes in the poll.
Mary Hardin-Baylor is 10-2 this season and on the cusp of entering the top 25. The Cru will be a favorite to win the conference title especially if they can win the division and host the tournament.
St. Thomas is in its first year of transition to D-III but is proving to be an outstanding team. The Celts are 13-0 but are not eligible for the postseason tournament.
Narrowing down this midseason list to only five players is incredibly tough due to so many great players. However, only five can be chosen and here are the selections.
Men's basketball Division III Fab Five
Nate West, G, LeTourneau
He may only be 5-foot-10 but he is one of the most talented players in D-III. The senior from Strake Jesuit High School is averaging 23 points, 6.7 rebounds, 7.4 assists and 2.1 steals for the Yellow Jackets.
Michael Holland, F, Austin College
Holland has been one of the most consistent players since he arrived on campus. The junior from Midlothian Heritage High School is having another stellar year averaging 14.4 points, 8.1 rebounds, 3.2 assists and 1.7 steals.
Cameron Gims, G, St. Thomas
Gims is having a tremendous first season in D-III for the Celts. The 6-foot-2 guard from Cy-Fair High School is averaging 11.2 points, 5.7 rebounds, 2.5 steals, 1.5 blocks and 1.4 assists while leading St. Thomas to an incredible start.
Casey Armour, G, Mary Hardin-Baylor
The Killeen native has been an outstanding addition to the Cru roster this season. The sophomore is averaging 13.9 points, 7.1 rebounds, 2.3 steals, 1.5 blocks and 1.3 assists for UMHB.
Sebastian Andrade, G, Texas Lutheran
The 6-foot-3 guard from El Paso Americas High School is having a breakout season for the Bulldogs. He is averaging 17.6 points, 7.2 rebounds, 1.9 assists and 1.5 steals to lead TLU.
Women's basketball Division III Fab Five
Sheridan Hopkins, G, St. Thomas
Hopkins was a consistent force in the Sooner Athletic Conference and has remained a challenge for teams in D-III. The Galveston native is averaging 22.1 points, 8.1 rebounds, 2.5 steals and 1.8 assists for the Celts.
Abby Holland, F, Trinity
She has continued to shine after a breakout season last year. The senior from Georgetown is averaging 17.5 points, 6.3 rebounds, 3.3 steals and 1.8 assists for the Tigers this year.
Skyler Reyna, F, McMurry
Reyna is having a tremendous senior season for the War Hawks. The Brackenridge High School product is averaging a double-double with 17 points, 11.3 rebounds, 2.2 steals and 1.7 assists.
Raenett Hughes, G, UT Dallas
It should not surprise anyone that Hughes is on this list. The junior from College Station is having another stellar season averaging 21.4 points, 4.3 rebounds, 4 steals and 1.9 assists for the Comets.
Hannah Holt, G, Mary Hardin-Baylor
Holt has picked up right where she left off after an All-American season a year ago. The senior from Lumberton is averaging 15.2 points, 5.1 rebounds, 2 steals and 1.9 assists while leading the Cru to another outstanding season.