As the college basketball season enters its final full month before the postseason arrives, figuring out what to think about the top of the Southland Conference is one of the toughest things in women's college basketball.
As of Monday, February 3rd, there's a three-way tie atop the conference, with Stephen F. Austin, Texas A&M - Corpus Christi, and Sam Houston State all sporting 9-2 conference record. A fourth in-state team, Abilene Christian, is right behind them at 7-3 in conference play. All four teams have an overall winning percentage of at least .700.
Let's try to sort through some things. First, I'll be taking a look at what each of these teams has done up to this point, and then we'll try to answer this: Based on everything we know, which team is most likely to end the regular season as conference champions.
Stephen F. Austin
The Ladyjacks haven't won the regular season conference title since 2015 and haven't won the conference tournament to advance to the NCAA Tournament since 2006. The men's team has gained a reputation for being a tough team to beat, and it's starting to look like SFA's women's team is on its way to being that kind of team too.
SFA allows just 54.5 points per game this season, and on the offensive end they rank 12th in the nation in 2-point field goal percentage. Stephanie Visscher is sixth in Division-I in 2-point field goal percentage, and her team-high 14.6 points per game have been a key part of the Ladyjack's performance this year.
Aiyana Johnson and Riley Harvey have hit the glass hard and helped SFA score in the 95th percentile on put back possessions, and Johnson's post up ability has also played an important role in the team's development.
Last year's Ladyjacks team finished second in the regular season to Lamar – who've struggled in conference play this year – and dropped a semifinals matchup against TAMU-CC, before winding up in the WNIT, bowing out of it in the first round for the second year in a row. This could be SFA's year, though, as they've already had double-digit wins over two of the other top three Southland teams, and they showed their might early in the year by keeping games against UCF and Oklahoma – Top 60 RPI teams – fairly close.
Texas A&M–Corpus Christi
While SFA is becoming more and more familiar with winning, this is a bit of a new experience for the Islanders.
TAMU-CC has finished under .500 in Southland play in three of the last four years, but at 15-6, the Islanders have their best chance to make their NCAA Tournament debut that they've ever had.
Like SFA, TAMU-CC's defense has fueled a lot of things. The team's 57.6 points allowed per game ranks 38th in the country, though their average margin of victory is just 3.2. Offense has been an issue for this team, and their Her Hoop Stats offensive rating ranks 233rd out of 351 teams.
They've beaten Abilene Christian and Sam Houston State, but it's worth noting those were their only two wins against teams that are currently over .500, and they'll still have to play both teams again. Those two games will be hugely important for the Islanders, whose struggles to put points on the board at times this year is something to worry about when the Southland Tournament arrives, which will make seeding important.
This isn't to say TAMU-CC is bad, or that they don't have players who can score. Alexes Bryant, Dalesia Booth and Emma Young have all played well, and it'll be important for the Islanders to keep getting strong contributions from them down the stretch.
Sam Houston State
The third team in that three-way tie is Sam Houston State, whose overall winning percentage of .700 is the lowest of the top four Southland teams.
But the Bearkats have some things going in their favor, with one of the biggest ones being that they just beat SFA this weekend. After back-to-back losses to Abilene Christian and TAMU-CC, that win kept SHSU from spiraling out of the lead and kept SFA from pulling away.
After opening the season with a four point win over Louisiana, things got fairly bleak for the Bearkats, who lost by 42 to Texas Tech and 24 to Oklahoma during non-conference play. But the start of Southland games was the perfect medicine for this team, as they started conference play 8-0.
Unlike the other teams they're tied with, defense hasn't been the key for SHSU. They rank 258th in points allowed per game, but have made up for that with strong shooting by Faith Cook and Jaylonn Walker, and some great play by the team's leading scorer, Amber Leggett.
The biggest issue for this team is their schedule, as they face Abilene Christian, TAMU-CC, and SFA all in a row to end the year, with two of those games on the road. Getting all of those games in a row isn't great for the Bearkats, though they have a good chance to win all their games before that three-game span.
Abilene Christian
The Wildcats lost by one to Incarnate Word on Saturday, a game that put them down in the loss column to the other top teams and hugely complicated their path to a conference title.
But even if that's the case, ACU belongs in the conversation when we discuss the Southland's best teams. They were picked to win the conference in the preseason poll and have the second-best winning percentage of all the teams in the Southland.
The Wildcats only dropped one game in the non-conference part of their schedule and have been a very good offensive squad, ranking 21st in points per 100 possessions. They rank in the top 30 nationally in the following categories: field goal percentage (29), 2-point field goal percentage (13), 3-point field goal percentage (24), points per scoring attempt (6), free throw rate (1), 3-point rate (10). Their shot distribution is very conducive to high-quality offensive play, and they have three players – Breanna Wright, Makayla Mabry, and Dominique Golightly – taking at least five threes per game and making 39 percent or better.
This team's Synergy profile is just...really good.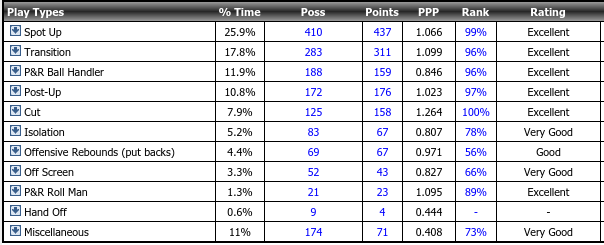 Which is why, despite the loss to Incarnate Word, I remain optimistic about Abilene Christian. They're the best offensive team in the Southland, their games against the other contenders are fairly spread out, and two of those three games are at home.
Their two-game losing streak is a concern, especially with the offense scoring under 60 points against SFA, which was just the second sub-60 point game for the team all year. The margin for error is smaller than the other teams. But it's hard to bet against the Wildcats.
Predictions
Based on how these teams have been playing, I think you have to consider SFA the favorite to win the Southland's regular season title. The Ladyjacks have been playing consistently good basketball and have a 22-point win over one of their fellow Southland contenders, TAMU-CC. Their biggest hiccup – a loss to New Orleans – isn't quite as bad a hiccup as a loss to Incarnate Word and their schedule is more favorable than Sam Houston's.
Whatever happens, the Southland Tournament is shaping up to be a great battle between these four teams, hopefully.