COMMERCE – This was billed as the biggest challenge to date for No. 4 Texas A&M-Commerce as it played host to reigning national champion, No. 8 Lubbock Christian.
The Lions used a dominating performance in the first half and showed their toughness late in a 59-54 win over the Lady Chaps.
TAMUC opened the game with a 17-0 run at the end of the first quarter and the start of the second quarter. However, LCU are the reigning champs for a reason and used a big third quarter to make the game tight down the stretch.
"We knew they were going to make a run," Texas A&M-Commerce head coach Jason Burton said. "We're talking about a national champion ball club. It's a team that's going to make a run. They're a well-coached ball club, they're poised but so are we.
"I thought that we slacked off in some areas, our ball pressure wasn't as good, we just had to get back to doing what we do. Our defense picked up and we held them to 9 points in the fourth quarter and that's what won us the game. I'm proud of how we got stops down the stretch."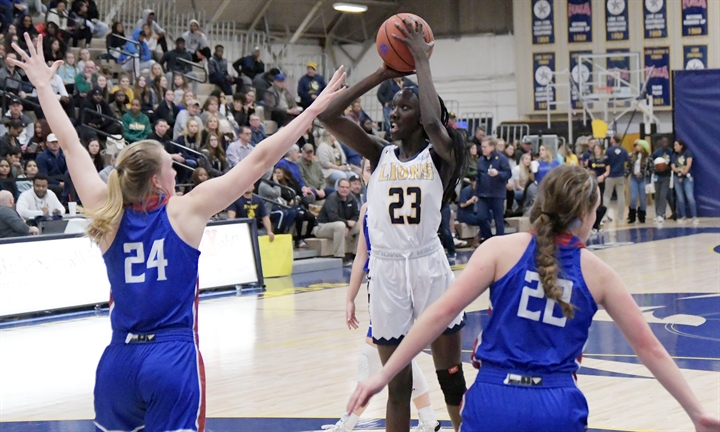 The big key for the Lions in the first half was their ability to own the offensive boards and take care of the ball. TAMUC had a 10-0 edge in offensive rebounds at the half and held an 11-1 advantage in turnovers.
"The game is not confusing," Lubbock Christian head coach Steve Gomez said. "Most of these games at the against teams at the high level – it's not a confusing multi-layered strategy. It's do the basic things well – block out, pass to your team, take the right shot and play on balance.
"The second half we did that better. We figured it would be a close game but the first half we just didn't fight very good. We didn't score in the paint, didn't rebound so we dug a hole in the road (and) it's going to be hard to come out of."
Commerce knew it had to make every possession count and force second-chance opportunities.
"We talked about that. You have to find a way to get extra possessions and I thought we did a great job of having that mindset to value the possession and not turn the ball over," Burton said. "I thought if we could pressure them a little bit that we could force some turnovers and that would hopefully lead to some easy buckets. We had to get back to rebounding.
"Recently, we haven't been great on the boards and that was something we had to do today. Lubbock Christian is so good on second-chance points. When they get offensive rebounds, they have shooters spotted up and it's either a wide-open three or a layup, so we had to make sure we took care of the boards and we did a great job of that."
TAMUC have won the most conference wins in a row in program history (14), own the longest single-season win streak by any team in Texas A&M-Commerce history (20), have the highest ranking in program history and are one of only three undefeated teams in the country.
The Lions had only had two opponents stay within 10 points this season prior to this game and owned an incredible 25.5 point margin of victory in LSC play.
Despite all those accomplishments, questions remained about the strength of schedule the Lions have played to date. The Lions didn't feel the same way.
"We never felt like we had to answer the questions," Burton said. "Everybody on the outside might've thought we had to answer questions, but we knew what we were doing. We've been beating teams by a huge margin and that's no fluke – I don't care what your strength of schedule is.
"We've had so many games where we've come in and taken care of business and we knew that this game was going to be a big game for the world to see. We know who we are and we're going to continue to be the same team and find ways to get better.
Lubbock Christian is in its first season in the LSC and suffered its third conference loss in this game.
"You have to play good on the road and you have to play good at home," Gomez said. "You don't automatically win your home games. (Commerce) shot it really good the first half especially, 5-of-9 from three and they did a good job.
"We can't play less than our ability on the road and think we're going to win. If we play as good as we are, we will have a chance to win and even tonight – we had a chance to win."
The Lady Chaps understand their goal of another national championship remains within grasp and Gomez believes the tough conference schedule will be beneficial in the playoffs.
"We have a lot of good games left and then we have to be ready for a conference tournament and then for what's after that," Gomez said. "It's going to come down to a few possessions late in the year. Last year we lost two games in a row in the regular season so it's not like we aren't going to lose games.
"It's a matter of playing better and late in the year. Last year, at the end of the season, we weren't thinking back to the drudgery days we weren't playing good – we grew up and we got better. That's what we do now – we just get better, stick together, take it one day at a time and see what's next."