To find the last player in UTSA history that put up buckets like Jhivvan Jackson, you have to go all the way back to the 1980s and the first family of San Antonio basketball.
Derrick Gervin, brother of "The Iceman" George Gervin, dominated the Roadrunners 1985 schedule to the tune of 25.6 points per game. But 35 years after the lanky 6-foot-8 wing patrolled the city, a 6-foot, 170-pound Puerto Rican sharpshooter is on track to rewrite the Roadrunners record books.
Jackson has exploded past the 30-point plateau eight times this season, including a 37-point outburst against Louisiana Tech and a 41-points outing against Illinois State. His 26.3 point per game mark is on pace for the best in program history – and this is against a Division I conference schedule.
Jhivvan Jackson plays basketball like the Energizer Bunny. While his defender gets exhausted chasing him around screens, staying in front of him or closing out at the 3-point line, Jackson never relents. That's why he's able to keep scoring, even as he takes more and more shots. The quicker the game goes and more confused defenses get, the better Jackson scores.
"He can do it on his own, he can do it coming off of screens," UTSA coach Steve Henson told Texas Basketball. "He's just born to score."
No one in Texas – either men's or women's basketball – scores more points per game than Jhivvan Jackson. No one in Division I men's basketball has scored more points than Jackson. Only Marquette senior Markus Howard averages more than Jackson's 26.3 points per game.
Jackson is the undisputed best scorer in the Lone Star State.
"To me, it doesn't mean nothing," Jackson told Texas Basketball. "Honestly, I really don't care about it because I've been doing this scoring things since I got to UTSA. It's nothing new."
–––
When Jackson moved to Texas from his native Bayamon, Puerto Rico, buckets didn't come quite as easily. As an undersized point guard, he focused more on trying to facilitate than score. That continued during his freshman year at EulessTrinity, where he played with Indiana Pacers big man Myles Turner.
But soon, Jackson started watching undersized shooters like Ben Gordon, Eric Gordon and – his favorite – Lou Williams become dominant scorers at the NBA level. He decided that he wanted to be a game-changing shooter too. He shot hundreds of jumpers and tried to simulate game situations during practice.
"I just started working on my offensive craft and I tried to translate everything I worked on, the shots I worked on into the game," Jackson said. "It just worked really well."
Luckily, Jackson's shift came right as basketball was changing too. Without the dominant post presence of Turner in the lineup, Trinity coach Mark Villines moved more towards an open perimeter offense. Jackson never looked back.
"That was the first time that I ever tried to be a great offensive player throughout a season," Jackson said. "It worked and I kept expanding and getting better every day."
His first season in a starring role, Jackson captured District 7-6A co-MVP, along with future Missouri point guard C.J. Roberts and over Texas football standout Lil'Jordan Humphrey. Over his four years at the school, Jackson cleared 2,000 career points, earned all-district four times and led the Trojans to the playoffs.
The summer before his senior year, Jackson played for the U18 Puerto Rican national team in the 2016 FIBA Americas U18 Championship. It was an honor, but meant he missed some exposure on the camp circuit.
At that time, though, UTSA was desperate to find some shooters. Henson's first team at UTSA surprised some people by jumping from just five wins under the late Brooks Thompson to 14-19 in his first season. But that same year, the Roadrunners ranked last nationally in 3-point shooting. UTSA found Jackson late in the process, but his shooting immediately became a draw.
"I didn't see him as much as some of the other guys [on staff] but they were adamant that he could score for us," Henson said. "He can just stand there and knock down shot after shot after shot after shot both pre-practice and post-practice. You can just see that certain guys are gonna be able to do that."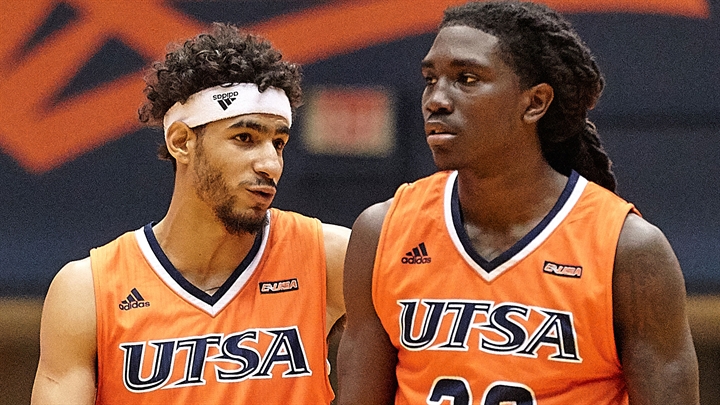 Jackson signed with UTSA, his only major offer. It took only one day on campus for everyone to realize that he was going to be a game-changer right away.
"We had practice and workouts, and we got after it," said Keaton Wallace, a fellow UTSA guard and Jackson's roommate as a freshman. "The moment we stepped on campus, I knew he was a good player."
The impact was immediate. Jackson led the Roadrunners with 18.4 points per game as a freshman and led them to a 20-win season for the first time since they were a member of the Southland Conference.
"We almost expected him to be our leading scorer as a freshman, which is kind of crazy," Henson said. "Right away, it was apparent that he was going to score a lot for us."
–––
Jackson, along with Wallace, have completely changed the way UTSA (10-13, 4-6) plays basketball.
Henson's first team at UTSA in 2016-17 slowed the game down and ground it out on the defensive end. The Roadrunners ran a below-average pace and ranked near the bottom nationally in average possession length. That meant poor things for the offense, which ranked No. 323 in KenPom offensive efficiency.
But with an electric scorer like Jackson in the lineup, Henson knew he had to adjust to take advantage of his personnel.
Jackson's shooting ability is off the charts. He ranks top-five nationally in 3-pointers made and Synergy puts him in the 92nd percentile of spot-up shooters. But to build an offense, Henson looked past Jackson's shooting to take advantage of his entire skillset.
"I think certainly he can shoot the ball, but his speed is a big factor," Henson said. "He's so quick, so fast. He has a very quick release and elevates on his shot even though he's a smaller player. The fact that he can continue to keep backing up and backing up puts the defense in a tough spot. He can do it in a variety of ways."
To use Jackson's speed, Henson instructed his team to push the tempo to roadrunner pace. Now, UTSA ranks No. 25 in offensive tempo. Jackson and Wallace take 69 percent of UTSA's shots and are responsible for 57 percent of the Roadrunners' points – it's translated into the No. 84 offense in the sport, the best at UTSA since KenPom started tracking data in 2002.
"We feed off each other's energy," Wallace said. "Once he gets going, it boosts my energy and makes me play harder and makes me want to play before, and vice versa. We play well with each other."
Of course, there are nights where a game plan is pointless. Against Western Kentucky in 2019, for example, Jackson dropped 46 points and hit eight 3-pointers. He posted eight 3-pointers and went to the free throw line eight times against Louisiana Tech in a 37-point outburst earlier this year. Some nights, Jackson is just an unstoppable supernova, and everyone else is left to watch in wonder.
"You just let him go, really," Henson said. "A lot of those big nights, he's getting those points on his own. Sometimes you're not sure whether you should try to calm the situation down, but [he thrives] in chaos."
With four regular season games left to play, Jackson is just 113 points away from breaking UTSA's single-season scoring record. He's only 120 points from Devin Brown's career scoring record. We're only a few games away from calling Jackson the greatest scorer to ever put on a Roadrunners jersey – and he still has a whole year of eligibility remaining.
"When we got here, that was our plan – to win games and play at the highest level that we could," Wallace said. "Everything is happening just as we planned it to."
When Jackson is asked about ranking among the top two scorers of Division-I basketball, he thinks back to all his years of grinding in the gym and working on his game, just hoping for an opportunity to compete at the highest level.
"I wasn't the best [scorer], but I wanted to be," Jackson said. "And now, I guess I can say I am."
Follow Dave Campbell's Texas Basketball on Twitter and Facebook.