While the schools and players in the state's larger classifications usually seem to dominate conversations around high school sports, there's a lot of great basketball being played at the 1A, 2A and 3A levels.
We got to see some examples of that down in San Antonio on Saturday, and while there were plenty of players at the smaller classifications who deserve some shine, we wanted to spotlight one of those players: Shallowater Fillies sophomore Bree Brattain.
Brattain's final stat line for Saturday's 61-43 win over Woodville is pretty absurd. 29 points on 11-for-15 shooting, plus six rebounds, the second-most boards on the Fillies team.
The analytics of her day might be even more impressive. Brattain had a usage rate of 33.8 percent, and despite that high usage, still managed to have a true shooting percentage of 81, highest of anyone on Shallowater's team that took more than one shot. That Brattain could handle an extremely high workload while still maintaining her efficiency is the mark of a truly talented guard.
After the game, head coach Chuck Darden talked about how Brattain could "score all around the floor," which is one of the things that made Brattain's game stand out so much. She was a true three-level threat in this one, capable of getting to the basket, of pulling up from the midrange, and of shooting the three-ball, finishing 2-for-4 from deep.
But the 5-foot-8 guard also did something that might seem rare from players as talented as her: she impacted the game without needing the ball in her hands.
Darden said that an injury to Tynli Harris led to Jenna Willer getting the starting nod at point guard over the past few games. Having other capable ball-handlers allowed Shallowater to continue using Brattain off the ball, letting her use her agility and her eye for the court to work to her spots and get open. After the game, Brittain said that it was her "job to finish," but praised her teammates for the work they did to get her open. It's what made her so lethal in this game — with the ball in other players' hands, Brattain wasn't being constantly hounded by the Woodville defense, and that allowed her to get the looks she wanted to get.
That's not to say that Brittain wasn't able to score with the ball in her hand, especially in transition. Brattain is a gifted ball-handler, someone who was consistently capable of either driving to the bucket or getting a pull-up look in transition. Even if Shallowater's goal is to move the ball around and not depend on Brattain to be a playmaker for them, Saturday's game showed that she's more than capable of being that playmaking lead guard, and as she continues to grow as a player over the next couple of seasons, we should see even more examples of Brattain being able to do things like this: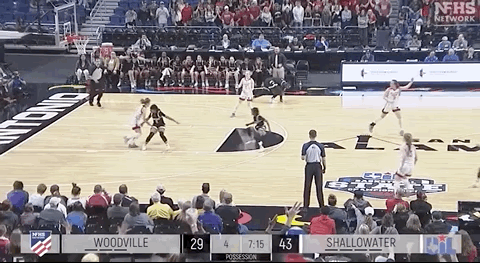 Brattain also just plays some really smart basketball, like on this play where she positions herself well to get the second-chance points:
On this play, Brattain gets the catch-and-shoot look from deep, but the ball bounces off the rim. But Taylor Moravcik gets the offensive board here to keep the Shallowater possession alive, and by the time the ball is in Moravcik's hands, Brattain is already cutting towards the hoop, sensing that there's room for her to get inside. She's right, and Moravcik is able to find Brattain, who has gotten right up to the basket and past all the Woodville defenders, netting herself the easy bucket.
Saturday also wasn't the only time in San Antonio that Brattain excelled. In the semifinals against Schulenberg, Brattain had another dominant performance, scoring 21 points. It wasn't as efficient a showing as Saturday, but as Roy Report's Nick Alvarado said in this tweet, it was a great introduction to her play:
Here's that same three look from the left wing as the play above, but on this one Brattain is money, swishing the ball right into the hoop. If/when Brattain plays at the next level, her versatility will be huge, as she could develop into an incredibly catch-and-shoot threat.
And again, she's only a sophomore! We have two more years of Bree Brattain tearing things up in high school basketball and two more chances for her to lead Shallowater back to San Antonio.