After Texas State's triple overtime win over UT-Arlington on Feb. 28, the team received the highest praise from their head coach.
"You son of a guns are tough," Danny Kaspar shouted to his exhausted players.
Calling his team "tough" is probably the biggest compliment Kaspar has in his lexicon and it didn't come unearned following a hard-fought road victory that notched 20 wins on the season.
Seconds later, Nijal Pearson rushed in and embraced the 65-year-old veteran coach. The normally stoic Kaspar let out a smile as the rest of the team joined in and tousled his notoriously well-kept hair. It was just a little glimpse into Pearson and Kaspar's relationship that's come to define this era of Bobcat men's basketball.
The player-coach duo has ushered in Texas State's winningest stretch of men's basketball since the late 70s and early 80s with back-to-back 20-win seasons. The pair only has one losing record since Pearson, the program's all-time leading scorer, signed with the Bobcats out of Beaumont Central in 2016. Since his freshman year, Texas State has won 82 games and counting. That's the most since the program won 85 between the 1977-78 and 1980-81 seasons. And it's fitting that this stretch of success has happened while the program has had a player who's the perfect poster child for its style of play. Pearson embodies everything that Danny Kaspar set out to make Texas State basketball.
The 30-year veteran coach was hired in 2013 to bring Texas State something–anything–from its men's basketball program. Before Kaspar, not only had the Bobcats not had a winning season since 2002-03, but their identity on the court proved to be broken. While the team often posted the conference's best or second-best scoring output in terms of points per game during that span, the team sputtered on a game-to-game basis, never won more than 16 games and never managed even a league-average defense. The man-to-man, hard-hedging defensive focus that Kaspar brought was an ideological 180 from what the program was used to. He exchanged the freestyled fast tempo for meticulous motion sets and tenacious fighting over ball screens.
Point blank, it's not easy to play for Kaspar. For fans it can be hard to watch on any off night. He repeatedly clashed with the returning seniors during his first season and until the past few years, it was normal to see players transfer after just a year or two whether due to playing time or not meshing with the style of play.
His defensive philosophy is blue collar and he's recruited to that. It just so happens that Pearson fits that mold better than anyone.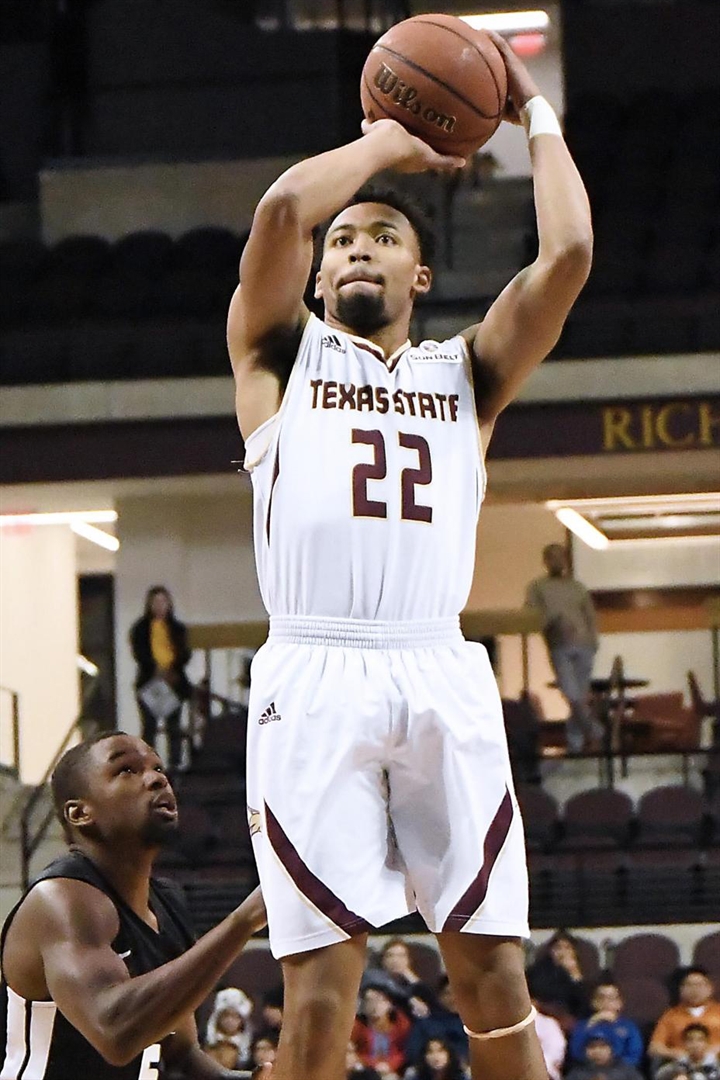 If someone described the prototypical Kaspar player, it's often a player that's underrecruited, has a high-motor and is willing to commit to defense in substitute of a flashy offensive display. It's why Kaspar's often found his big successes in the JUCO ranks, players that are typically more seasoned and ready to take advantage of their shot at Division I basketball after possibly being passed over out of high school. But in recent years, Kaspar's found that same appeal with more high school players, starting with Kavin Gilder-Tilbury back during his first year and now with Pearson. Gilder-Tilbury and Pearson are still the only players to play four full seasons under Kaspar since he took over. Junior Marlin Davis could potentially be the third next season.
Pearson averaged nearly a triple double (18.5 points, nine assists and seven rebounds) as a senior in high school and yet, aside from Texas State and his hometown Lamar University, he wasn't highly sought after. He's not the most explosive athlete as a 6-foot-5 guard and he struggled with a consistent jump shot, but anyone who watched him saw it. They saw a player who always looked like he was playing for something. Whether it was for the 409 — his hometown of Beaumont that he proudly reps — his late brother Nico or now, his daughter Nova, Pearson always plays like he knows something or someone is counting on him.
Even though he didn't have a consistent jumper early on, he relied on his drive to the basket and off-ball cuts. He was relentless on defense and he got inside the paint to clean the glass.
Pearson first came to be a key contributor as a freshman on a team spearheaded by a trio of seniors. But the moment they left; he was instantly the face of the program and has served as captain every year since his sophomore season. With him, conference championship runs have been the expectation when they used to be the hope. Not making the Sun Belt Tournament finals feels like a letdown as opposed to a pipe dream.
This year, he was named the Sun Belt Player of the Year while averaging nearly 20 points per game (the only player in double figures) and still rebounding at a high rate. All of that while becoming a reliable 3-point shooter over the last two seasons (38 percent and 35 percent from 3-point). Pearson is still at his best when he's using his strength and going to the rim, but he's added a reliable mid-range pull-up game along the elbow that's become his go-to.
Thrust into the leadership role early, he never shied away from it and embraced being Texas State's face of the program.
Pearson is the engine that's fueled this run and has been for four years. Texas State definitely won't be the same team after this year, but hopefully it's the stepping stone for what it'll be going forward.