4A STATE CHAMPIONSHIP: FAIRFIELD 40, ARGYLE 39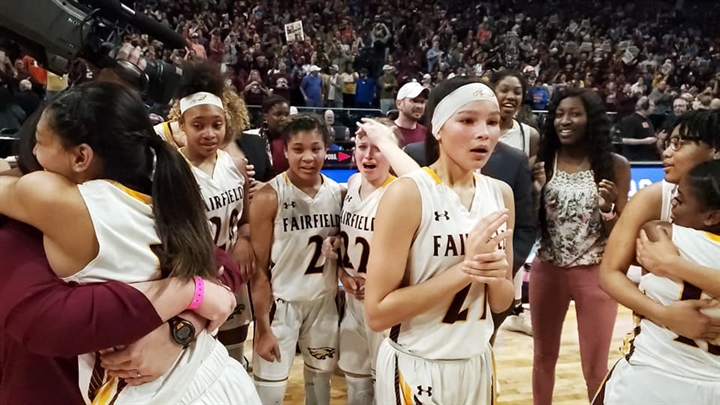 Only one team has won six consecutive state titles in Texas girls basketball and Saturday night showed why.
It's not easy.
Fairfield didn't let the heavily favored reigning five-time 4A state champion Argyle Eagles knock them off their axis. Not even being down 16-3 in the first period shook the Eagles. They scratched and clawed every point back. They forced overtime. And they only led for seven seconds the entire way…but it was the final seven seconds of the game.
"I think that just shows the toughness of our team," senior Braden Bossier said. "I'm just so proud, they played amazing. I'm just so proud of everyone coming back like that, that was incredible."
In the closing moments of regulation, freshman McKinna Brackens, playing like an experienced veteran all game, tied the game at 34 to send it into overtime on an aggressive drive to the basket. Playing tough on both ends and even defending Argyle star and SMU signee Rhyle McKinney for stretches of the game, she was named the game MVP and finished with a double-double of 15 points, 10 rebounds and three steals.
"I just saw a wide open lane and I was like, 'Now I gotta go take it'," Brackens said. "And then when I made it, we were still in this and we can win this. So I had to get back on defense."
In overtime, senior Jada Clark was fouled and hit another big-time bucket in the lane following a McKinney turnover to give her team their first lead and hand the Eagles their first title.
"Any win at state we'll take, we don't care who it is, it just so happened that we had to play two really experienced state tournament teams," Fairfield head coach Sally Whitaker said. "And to beat Argyle is a pretty big deal. It would take a team like this to do it and I'm proud of them."
After the game, Argyle head coach Chance Westmoreland took the blame for the team's loss pointing to their stall-ball tactic when Fairfield switched to a 1-2-2 zone. It was already the second chance at the coveted state six-peat for the young head coach.
"We quit attacking and that's my fault," Westmoreland said. "Hats off to Fairfield, they never quit fighting.
"We were just in that fine line of being up 14 and do you keep attacking and take layups," Westmoreland said. "Or with a 14-point lead, I thought we did a pretty good job, we didn't turn it over a whole lot. We were in that situation and that's where I failed."
6A STATE CHAMPIONSHIP: DUNCANVILLE 63, CY CREEK 47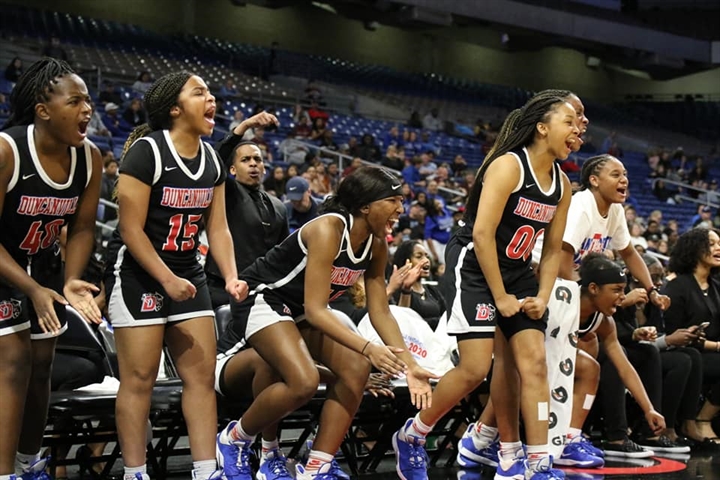 Replacing a legend is always tough.
How about replacing a mentor too? Also tough.
Last spring, LaJeanna Howard took over the Duncanville program where she originally played for and coached under Cathy Self-Morgan following Self-Morgan's resignation and retirement. She had to take over a program with sky-high expectations coming off of a bi-district loss, something not to the standard of the City of Champions.
Saturday night, Howard and senior guard Deja Kelly helped bring title No. 11 to Duncanville beating previously unbeaten Cy Creek, 63-47, inside the Alamodome.
"It means everything," Howard said. "Coming over, that's a big chance, coach Self's an amazing woman and she's been (at Duncanville) for 20 years with a great legacy behind her. To be able to come and take over and knowing that she believed in me as well, she's always supported me and to be able to take over and make her proud as well, that's really big for me."
There was one thing Howard wanted to establish back at Duncanville when she took over and that was its historic identity – defense. The top-ranked Pantherettes only surrendered over 50 points once in the post-season and against the No. 3 team in the state, forced 19 turnovers and cashed in for 22 points.
"Duncanville defense has been strong throughout the years and we wanted to make sure we got that back on point," Howard said. "And when we did, I knew it was going to be able to bring us back here to the state tournament."
The game was also the fitting ending to her star guard's career. Kelly, who is signed with North Carolina, poured in a team-high 23 points in a highly anticipated clash with Cy Creek's junior guard Kyndall Hunter who scored 24. Kelly and Howard embraced for a long hug as Howard subbed Kelly out one last time with the game well in-hand.
It's safe to say that the City of Champions is back.