*This story was completed before the final two games of the night in 4A and 6A, a separate story on the latter two games will be poster later.
On Saturday, Dave Campbell's Texas Basketball went down to the San Antonio for the UIL Basketball State Championships. Over the course of six games, we saw a lot of great performances from a lot of great players. Let's shine the spotlight on some of those outstanding showings—win or lose—from the first four games of the day.
Class 1A
Emma Kleman — Nazareth
With Lubbock Christian signee Cambrie Heiman hampered by an ankle injury that she described as "awful" and playing more of a complementary role on Saturday, the Swiftettes needed someone to step up and help them win their 24th state championship. While it was largely a team effort, junior guard Emma Kleman helped lead the way, earning her the MVP award for 1A. She finished with a game-high 11 points and grabbed five boards, and she did that while finishing fifth of Nazareth's six players to see 10 or more minutes of action in usage rate. Kleman's efficiency played a key role in the victory.
Chelsea Lott — Lipan
While Lipan wasn't able to knock off Nazareth, we did get to see some huge moments from a first-year player. Freshman guard Chelsea Lott's shooting helped the Lady Indians — who had to deal with foul trouble from their star post, Maggie Peacock — keep things competitive. Lott finished with 10 points, and she was 3-for-3 from deep, making all of Lipan's three-pointers. While the game ended in a loss, Lott's performance shows why this team made it here, and should help them make a return to the state tournament.
Class 2A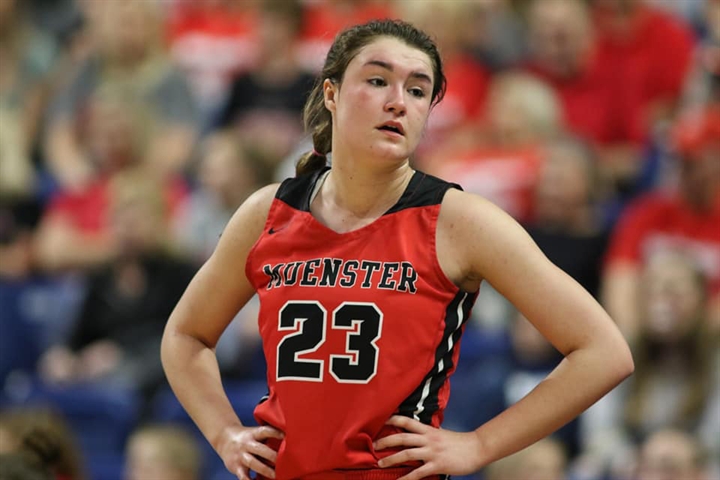 Martie McCoy — Muenster
Muenster played a tight rotation in this game, with just six players getting on the floor, and McCoy was among four players who played the entire game. Her 13 points paced the Lady Hornets, and a 6-for-9 performance at the charity stripe plus four rebounds and four assists helped Muenster keep this game close until the end.
Camryn Armes — Gruver
It took a little bit for Armes to get going, but Gruver needed big buckets in the fourth quarter, the sophomore stepped up. Armes scored eight of her 16 points in the final frame, taking charge for the Lady Hounds. None of those points were bigger than a free throw to give Gruver a three-point lead in the final second, a shot that Armes said was just her "being the shooter I've been." Her fourth quarter helped cement her as the 2A MVP.
Class 3A
Jenna Willer — Shallowater
We have a longer breakdown of 3A MVP Bree Brattain's game here, but Shallowater's win was really a team effort. Point guard Jenna Willer finished with 14 points — second-most on the team — and four assists, but the biggest reason I want to highlight Willer is that she did all of this despite not being the team's primary point guard. After the game, Shallowater head coach Chuck Darden said that Willer's been filling in for Tynli Harris, who suffered a bone bruise earlier in the playoffs and has moved to more of an off-guard role since then. So, major credit to Willer for being a sophomore who managed to make the shift to the point guard role during a state championship run!
Jordan Beaty — Woodville
It wasn't the best shooting night for Beaty, as she finished just 4-for-12 from the field. But Beaty was able to make a key impact on the glass for the Eagles, grabbing 12 rebounds to go along with her 13 points. Beaty's first made shot of the game was a three-pointer, and while a 4-for-14 performance from the free throw line marred her day some, Beaty was a major presence on both ends for Woodville.
Class 5A
Jazzy Owens-Barnett — Frisco Liberty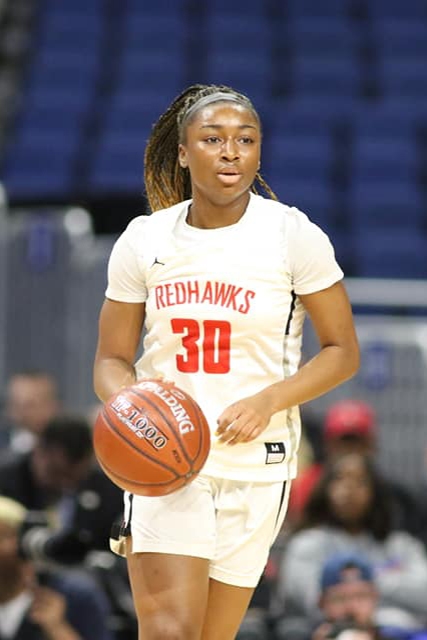 The sophomore guard scored 14 points and claimed the MVP, but some of her biggest contributions came without scoring. First, Owens-Barnett played exceptional defense on Veterans Memorial star Sahara Jones and held Jones scoreless for the entire second and third quarters. Second, Owens-Barnett's ability as a ball-handler helped Frisco Liberty slow things down, draining important time off the clock that enabled the Redhawks to slow the game down to their pace in the fourth quarter and come away with the state title. After the game, head coach Ross Reedy said that Owens-Barnett will be "one of the best two-way basketball players in the state." After watching her on Saturday, it's hard not to agree.
Sahara Jones — Veterans Memorial
Saturday wasn't the best game from the Texas A&M signee, who dealt with an ankle injury. She started off strong, scoring eight points in the first quarter and using her combination of size, speed, and handles to get her shots. But Liberty put a lot of effort into slowing Jones down, clogging her driving lanes and forcing other players to beat them. It worked, though Jones did get back into rhythm in the fourth quarter. But while it wasn't Jones at her peak, she did finish with 15 points and eight rebounds, and it's clear why she'll be joining the Aggies next year.