The 2019-20 college basketball season should have ended on April 5 in New Orleans, in a championship game that could have featured the defending national champion Baylor Lady Bears, but the spread of the COVID-19 virus has forced the cancelation of sporting events around the country, including the men's and women's NCAA Tournaments.
The cancelation is frustrating for players, coaches and fans of the sport, but was also a necessary step to protect America's most vulnerable populations from the further spread of COVID-19. It's left us with a lot of questions about what the next month of basketball might have looked like, as well as a way-too-early chance to look back on the season that was.
To celebrate the successes of the players in the state of Texas this year, Dave Campbell's Texas Basketball is excited to announce our first Texas Basketball Awards for women's college basketball in the state. After a full year of watching teams around the state, we'd like to recognize the following players for their strong play on the court this past season.
Texas MVP:
Lauren Cox (Baylor)
Texas Defensive Player of the Year:
DiDi Richards (Baylor)
Texas Freshman of the Year:
Mikayla Woods (UTSA)
Texas Sophomore of the Year:
NaLyssa Smith (Baylor)
Texas Junior of the Year:
Chennedy Carter (Texas A&M)
Texas Senior of the Year:
Lauren Cox (Baylor)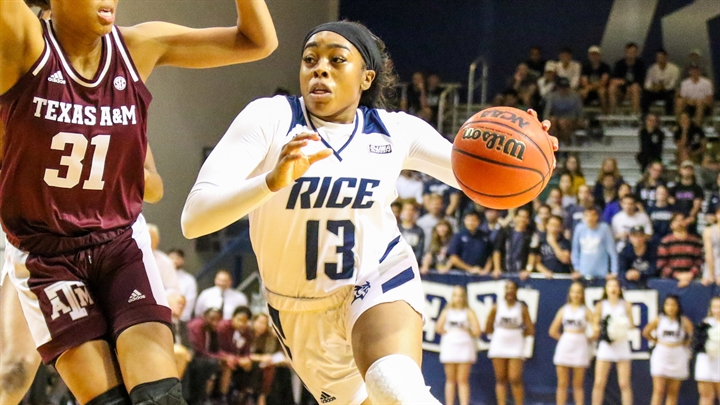 All-Texas First Team:
Lauren Cox (Baylor)
NaLyssa Smith (Baylor)
Erica Ogwumike (Rice)
Te'a Cooper (Baylor)
Chennedy Carter (Texas A&M)
All-Texas Second Team
Nancy Mulkey (Rice)
Charli Collier (Texas)
Brittany Brewer (Texas Tech)
Breanna Wright (Abilene Christian)
Lauren Heard (TCU)
All-Texas Third Team
Marie Benson (UT-Arlington)
N'dea Jones (Texas A&M)
Stephanie Visscher (Stephen F. Austin)
Ciani Cryor (Texas Southern)
DiDi Richards (Baylor)
All-Texas Honorable Mention
Dominique Golightly, (Abilene Christian), Juicy Landrum (Baylor), Imani Robinson (Incarnate Word), Anisha George (North Texas), Amber Leggett (Sam Houston State), Kianna Ray, Jayde Woods (TCU), Joyner Holmes, Sug Sutton (Texas), Alexes Bryant (Texas A&M-Corpus Christi), Niya Mitchell (Texas Southern), Chrislyn Carr (Texas Tech), Katarina Zec (UTEP)
All-Texas Defensive Team
Nancy Mulkey (Rice)
Brittany Brewer (Texas)
Alexes Bryant (Texas A&M-Corpus Christi)
DiDi Richards (Baylor)
Erica Ogwumike (Rice)
All-Texas D-II Team
Maddi Chitsey (Lubbock Christian)
Alexis Bryant (Texas A&M-Commerce)
Deijah Blanks (St. Edward's)
Abby Spurgin (West Texas A&M)
Soteria Banks (St. Mary's)