A year after the Baylor women's team won a national title, the Baylor men were on tap next.
Scott Drew's 2019-20 Bears were arguably the best team in the nation before COVID-19 canceled the season. Guards Jared Butler and MaCio Teague chose to return to school and give Baylor arguably the best starting five in the country with fellow returning starters, Mark Vital and Davion Mitchell. The sixth edition of Dave Campbell's Texas Basketball features the returning four on the cover.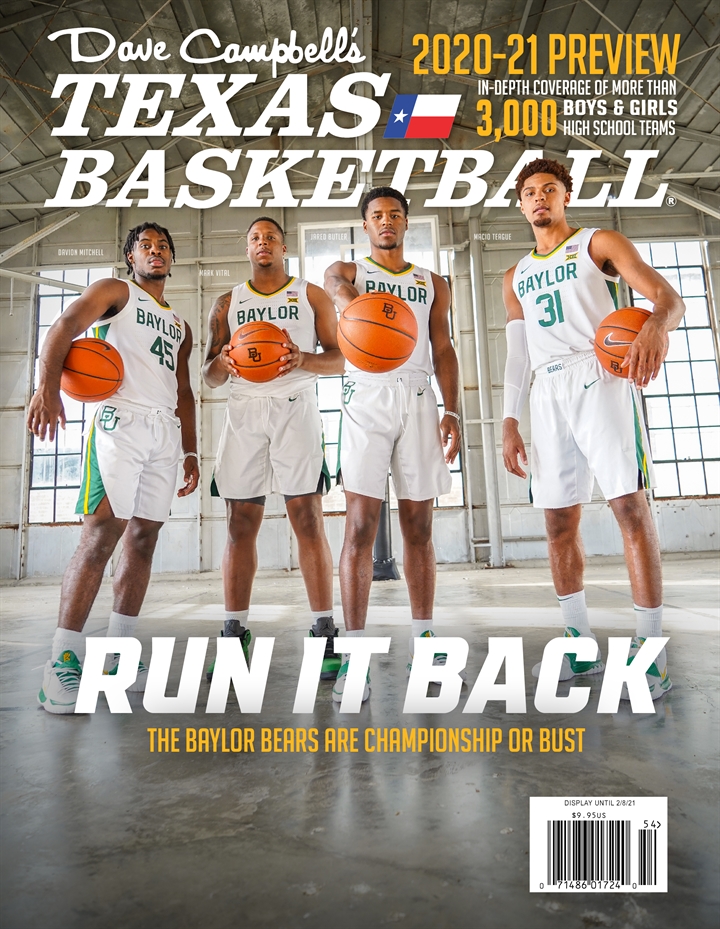 This year marks the fourth time Baylor has graced the cover of Texas Basketball but Butler, Mitchell, Teague and Vital are the first men's basketball players to be featured on the cover after Lauren Cox became the first solo player last year.
The headline says all it needs to about Baylor's expectations for this season. "Run It Back: The Baylor Bears are Championship of Bust".
"First off, a big thanks to Josh Fralick and David Kaye from Baylor Athletics," managing editor Ishmael Johnson said. "Due to the COVID pandemic, their collaboration and efforts helped make our vision come to life. This shot perfectly encapsulates the tough attitude of Scott Drew's team. A year after the Lady Bears returned to the mountaintop of college basketball, the men had an unparalleled opportunity to do the same. Their chance getting cut short was disappointing end for an all-time group who surpassed expectations."