By Bo Carter | Tex Preps Basketball
Famed Major League Baseball player and manager Leo Durocher once said: "Nice guys finish last."
Well, Cypress Creek High School all-state guard Rori Harmon disproves Durocher's statement in a slightly different way.
Nice young women often finish first – or second in the state tournament last March for Harmon, head coach Jennifer Alexander and a talented crew of 41-1 Cougars girls basketball squad.
Now, it's the stated goal of the top-rated college basketball prospect in Texas — Harmon — and Cy Creek to get back to the UIL Class 6A finals and to avenge a 63-47 setback to a multi-talented Duncanville quintet.
Harmon, a 5-foot-6 point and shooting guard, rated as the No. 1 girls basketball prospect in Texas for the class of 2021, and verbally committed to play for the Texas Longhorns, has both the teammates and credentials to accomplish the lofty goal.
Harmon, already a three-time first-team All-State selection and selected to play for U.S. Junior National age group all-star squads in each of the last three seasons, has won the admiration of coach Alexander and Cy Creek fans nationally.
"Rori and Kyndall (Hunter) obviously are two of the best guards in Texas and the country," Alexander said. "They are both highly recruited and highly sought after by colleges, but they are really such good kids."
Hunter, another highly-touted guard and arguably the second-best basketball prospect in the state, adds an elite and complementary scoring talent to the Cougars alongside Harmon. The pair are virtually unguardable on the floor at the same time.
Coveted by their teammates and appreciated by doting fans, the "H girls" (Harmon and Hunter) certainly have the opportunity to create March Madness at the high school level with their multiple unique talents.
"Yes, they are talented and skilled," noted Alexander, "but they are fun to coach, they compete every day in practice, and they make each other better every day. They're special kids, but even more they are great people."
Harmon especially can be a one-person show when she runs the laser-like fast break that made the Cougars unbeatable for 41 consecutive contests in 2019-20.
Her all-state statistical line last season included 15.6 points per game, 5.6 rebounds each outing (the latter especially impressive for a 5-foot-6 guard who has to run back on defense to prevent the opponent's fast break), 5.2 assists per game, 4.7 steals per game, and just 54 turnovers in 42 games while bringing the ball up the court practically every possession.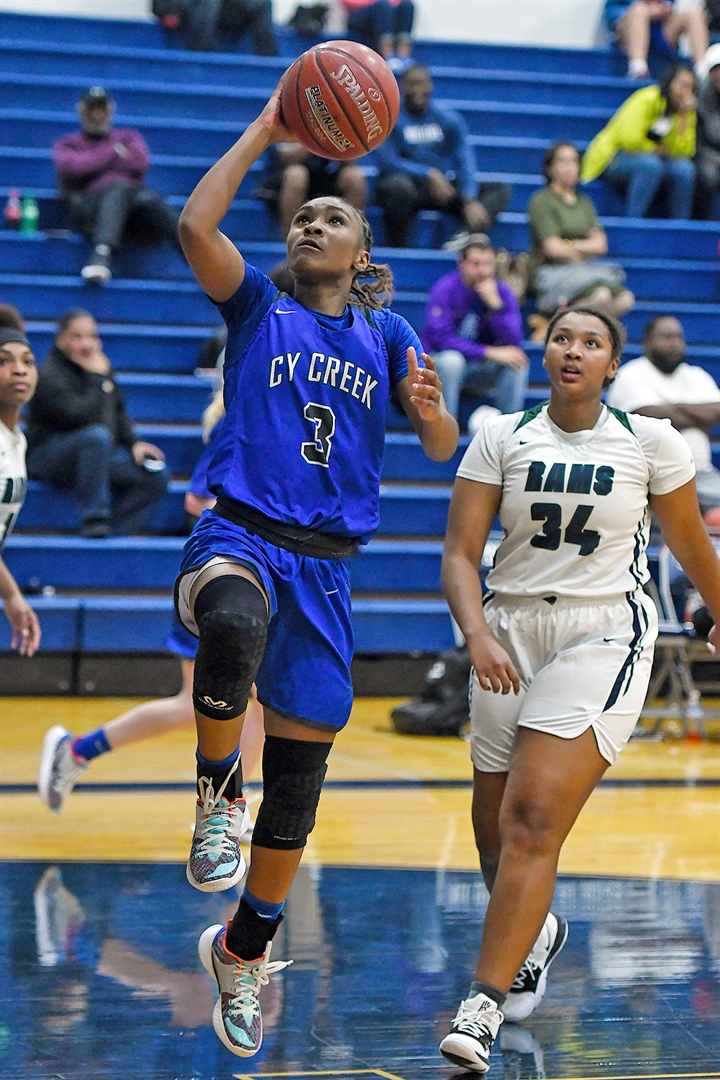 "She has proven she can score, too," Alexander related, "and she had 35 points in one game last year against Mansfield Timberview in the Mansfield Holiday Tournament. She had had some multiple 30-point career games and is capable of that almost every night."
Harmon, a humble hero, has averaged double figures in scoring for three consecutive seasons on squads with a combind overall record of 109-12 and state semifinals' appearances in two of the last three campaigns, falling to 2018 state champion Plano 64-53 in that year's semis.
Her sunny attitude and ability to generate large outputs of offense whether scoring, making steals or doling out assists have helped her establish national prep credentials.
Rated as the No. 6 point guard nationally by HoopGurlz.com and ESPN and the No. 20 overall prospect for the Class of 2021, Harmon has drawn accolades such as "explosively athletic lead-guard with a scoring punch; tough to contain, elusive playmaker, weaves through defenders and finds the rim with regularity; quick off the bounce, exploits the defense off the bounce, rises on jump shot in mid-range game to the arc; up-tempo contributor" according to ESPN.
And the ESPNW Olson Ratings claim that Harmon is an "athletic lead-guard pushes tempo, brings attack mode in transition game; 1-on-1 creator with range beyond the arc; electrifying in transition, tough to contain; and the No. 1 girls prospect in Texas."
USA TODAY also placed Harmon on its prestigious All-USA TODAY team for 2019-20.
Coach Alexander could not agree more.
"I truly am blessed by the Lord above to have two players the caliber of Rori Harmon and Kyndall Hunter," she acknowledged. "Again, it is about getting better every day and growing together, and this entire team has shown that is the goal of every practice. I am just grateful to be part of this successful program and to have these dedicated players."
Harmon is just as dedicated to her top personal goal for the 2020-21 season.
"We want to get to state and win it this time," she said in a recent interview. "We have been so close, and we hope this is the year."
For young women of superior character and natural talent such as Rori Harmon, that goal definitely is attainable. Maybe nice kids can finish first.