Earlier this week, I briefly touched on Texas A&M and its strong play to start the 2020-21 college basketball season, but the 8-0 start for the Aggies deserves a deeper look. How is a team that lost its top player from last season playing better basketball than they were in the 2019-20 season?
Depth, for one. While two key players from last year — Chennedy Carter and Shambria Washington — have moved on, the team returned the rest of the key rotation pieces and then added some highly-regarded transfers in Jordan Nixon, Destiny Pitts, and Alexis Morris. Another transfer, Zaay Green, hasn't played yet but was a top-10 recruit out of Duncanville.
The depth is so strong that a very good freshman like Sahara Jones — the No. 75 recruit last year according to ESPN — is playing just 8.7 minutes per game. This team is deep. Very, very deep.
But they're also more than just deep. Depth doesn't get you to 8-0; talent does. And the Aggies are just a supremely talented team from top to bottom.
Let's start by looking at their achievements from the macro level.
Per Her Hoop Stats, the Aggies rank 17th in the country in field goal percentage, which includes ranking 28th in two-point field goal percentage and 78th in 3-point field goal percentage. That they've been efficient at both levels has been key, even if they've taken a more limited number of threes, with just 16.7 percent of their points coming from behind the arc, a number that ranks 305th in the country.
But as I talked about when I was addressing some of Baylor's early-season issues, you don't have to take a ton of threes as long as you shoot well enough on the ones you take to force defenses to account for them. The Aggies are doing that, which is how they've pulled off wins against some really good teams.
Breaking the team's shooting down further, we can see just how efficient the Aggies have been vs. the NCAA average:
Really, really good. And while some of the volume stats cut down on exactly how good those numbers look — the Aggies are shooting more from the left side than the right side, which helps account for some of those struggles on that side of the court — the picture overall is still that A&M has a very efficient offensive attack, in large part because they have a strong mix of players who can score inside and players who can stretch the floor.
Every A&M player who has taken enough shots at the rim to qualify for the leaderboards on CBB Analytics is in the 69th percentile or better in field goal percentage at the rim.
Every A&M lineup that has played at least 10 minutes together has a net rating of at least +24.8, with the most used lineup — Nixon/Wells/Wilson/Jones/Johnson with 69 minutes — averaging 110.4 points per 100 possessions while allowing 74.7.
On an individual level, it's been N'dea Jones who has really propelled the Aggies this year. Just look at all the green here, which represents her percentile rank among Division I players: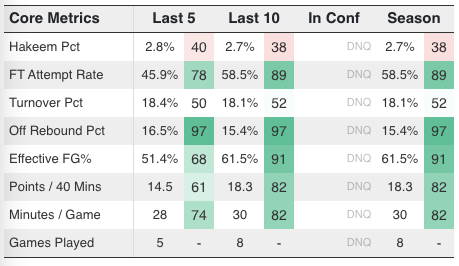 While her Hakeem Percentage — a metric that combines a player's block and steal percentage -- isn't great, her other core metrics rate really well against the nation as a whole. She gets to the free-throw line. She generates second chance opportunities. She's efficient.
Jones is shooting 73.5 percent at the rim this year, which is 13.8 percent better than average. She's taking 52.3 percent of her shots there, plus another 30.8 percent of her shots in the other part of the paint. Her shot profile helps draw defenders inside, which helps space this offense for its shooters.
On the defensive end, Jones is averaging just 0.4 blocks and 0.8 steals per game, but she does rate fairly well in blocks per foul and steals per foul, showing that she at least isn't just committing fouls in place of blocks/steals, something that can be an issue for some bigs. (For example, Houston's Tatyana Hill is first in the state in personal fouls per game, and because of that she rates worse than Jones in blocks and steals per foul despite being better at recording the actual stats. Being a good shot blocker only gets you so far if you also get into foul trouble and are taken off the floor.)
Now, let's talk about the guards.
Kayla Wells has had a down year compared to her numbers last season, with drops in points, minutes, field goal percentage, 3-point field goal percentage, rebounds, and assists. But her activity on the defensive end has kept her value up, with her Hakeem Percentage ranking in the 70th percentile.
But it's been the transfers who've made some of the biggest difference: Jordan Nixon and Destiny Pitts.
Pitts has been coming off the bench and isn't getting the same level of work that she did at Minnesota, where she was the focal point of that team and averaged over 30 minutes per game in each of her seasons and was one of the nation's top scorers the past two seasons. Pitts is settling into a different kind of role in College Station as the microwave off the bench.
Her scoring is down this year -- from 16.3 points last year to 7.6 points this year — but she's shooting 47.1 percent from three and has seen her role transform into almost exclusively being a spot-up shooter, with her 3-point attempt rate rising from 45.4 percent last year to 73.9 percent this year. Per Synergy, 40.4 percent of her possessions have come via spot up and 24.6 percent via transition. She's had just eight total pick-and-roll possessions and zero isolation ones.
Gary Blair has found a role for Pitts that isn't what those of us on the outside expected — I think it'd be fair to say that many analysts thought she'd be used a lot like Chennedy Carter last season — but that has worked perfectly for the Aggies.
And then there's Jordan Nixon. Nixon spent her freshman season at Notre Dame, where she appeared in 26 games with three starts. Nixon's numbers weren't great on the surface there — 2.5 points and 1.3 assists with 1.8 turnovers per game — but the highly-regarded recruit who has been on USA Basketball's U19 and U18 team — was still a huge get for the Aggies.
She's only shooting 21.7 percent from three so far, but her 66.7 percent mark from two ranks in the 93rd percentile, and she's been excellent at every level offensively when inside the arc, even though her volume on those shots has been fairly low. Nixon's passing has also been key for this team, as she averaged 3.8 assists per game.
There's so much more that's happening for the Aggies that we could focus on, too. Let's just run through some interesting team and individual numbers really quick:
A&M gets 12.3 second-chance points per game
Aaliyah Wilson is shooting 55 percent in the paint
Wilson has also been among the most mid-range heavy players in the country, ranking in the 98th percentile in mid-range attempts per game at 5.6. She shoots 37.8 percent on those, which is 6.7 percent above average.
Ciera Johnson doesn't have much of a game when she gets out of the paint. She shoots 12.7 percent above average at the rim.
Alexis Morris has an effective field goal percentage of 68%, which ranks in the 98th percentile. She's shooting above average from every zone of the floor where she has attempted a shot.
In arguably their toughest matchup of the year on the road against DePaul, the Aggies shot 61.1 percent from the floor, their top mark of the season.
The Aggies have had double-digit steals in three of their games.
The 8-0 Aggies should be a major threat in the SEC this season. Sure, the SEC has some really good teams — right now, South Carolina, Arkansas, Mississippi State, and Kentucky are all ranked — but A&M should be able to hang with all of them.
Losses will happen, as this team isn't going to go undefeated in SEC play like South Carolina did last year, but when the season ends, the Aggies have a good a chance as anyone of hoisting the conference championship.