As a freshman, UTEP point guard Katia Gallegos averaged 9.8 points, 5.3 assists, and 1.8 steals per game as the Miners finished 16-14, a huge improvement from the 2018-19 campaign where they were 9-22. Gallegos helped provide a steady hand at the point, finishing 33rd in the country in assists.
This year, Gallegos is still leading the point for UTEP, but she's also seen her scoring mark rise to 17.4 points per game. Just 14 players in the country average at least 17 points and five assists per game. If we add in her 2.3 steals per game, only seven other players equal or better her in those marks.
And while Gallegos is turning the ball over a little too much — 3.9 times per game — you can still make an argument that she's been the best point guard in Texas this season. You could make an even stronger argument that she's been the most underrated player in the state. The sophomore guard is having a stellar second season. She's got UTEP's future looking incredibly bright. We need to talk more about what Gallegos is doing in El Paso.
Breaking Down The Strong Start For Katia Gallegos
While it was her passing that got Gallegos placed on the preseason watch list for the Nancy Lieberman Award, which goes to the best point guard in women's college basketball, it's been Gallegos' strides as a scorer that have really caught my attention this season.
Gallegos is scoring 17.4 points per contest. She's got a 24.1 percent usage rate and ranks in the 95th percentile nationally in field goal attempts per game. Gallegos takes a lot of shots, in other words. That's aided by the quick pace of this team, as they rank in the 78th percentile in possessions per 40 minutes.
The sophomore guard has been able to score both inside and outside this season.
Let's start by talking a little about her inside game.
On this play, Gallegos is on the wing. Elina Arike comes up and sets a screen to free Gallegos from the Southern Miss defender. It works, but Gallegos is almost instantly met with a situation that you, uhh, probably don't want to be in when you're trying to drive to the bucket: traffic. That initial defender is able to work past the Arike screen, which then leaves Gallegos driving into a double, with another USM defender down in the paint already too.
But Gallegos deals with the traffic like she's Jeff Gordon driving down a busy highway, weaving her way through this mess and getting deep into the paint, where she's able to put up the layup.
It's early, but Gallegos is currently shooting 68 percent at the rim on 25 attempts. That field goal percentage is 8.3 percent above the average field goal percentage at the rim. Her finishing ability is a huge part of what the Miners are doing. Defenses have to account for her at every level of the defense, plus have to be prepared for her to pass the ball back out. Her presence warps things for whatever team she's facing. You can't ignore her.
Another thing about her game is that she doesn't necessarily have to be running the offense in order to make things happen. She's a dangerous off-ball shooter and is shooting 41.7 percent on corner threes this year. She can establish herself deep in the corner while running down the floor, then can lift up for the catch-and-shoot three. Per Synergy, Gallegos is scoring 1.111 points per possession on catch-and-shoot looks, which ranks in the 71st percentile. She's scoring 1.714 points per possession on unguarded catch-and-shoots — defenses really, really can't afford to lose her in the corner.
Also:
I mean, I don't have a ton to say about this shot except to just marvel at how good her step-back game is. She moves so fluidly with the basketball in her hands, and here she gets some space and instead of firing up a long two, makes this perfect stepback to get behind the arc. Just watch this play on repeat, forever.
Gallegos can also initiate a lot of offense via her defense:
We already saw in the first clip that she's a great driver. That becomes even more apparent in transition, and her ability to swipe away the ball from opponents just adds to that. Her 2.3 steals per game rank in the 96th percentile nationally. Get a steal in the open floor like the play above, and Gallegos is going to have a great chance of gliding down to the other end of the court and getting some more points on the board.
The other big thing with Gallegos: her passing.
Here's another play where her defense really sets up things offensively. Gallegos gets the steal and leads the break heading the other direction, and then as she gets to the basket and the New Mexico State defenders are turned around to defend against Gallegos putting a shot up, she sneaks the ball over to a teammate for the layup.
Gallegos seems to just have a great eye for finding the right pass. When you watch her play, you can just tell that she sees all the various passing lanes and the angles and that while she is making a more concerted effort to score this season, she's always ready to deliver a well-timed pass to one of her teammates.
The Miners have used a lot of lineup combinations this season, but the vast majority of them have featured Gallegos, so it might not be very useful to look at on/off splits with her. For example, here — per CBB Analytics — is the team's player playing time breakdown: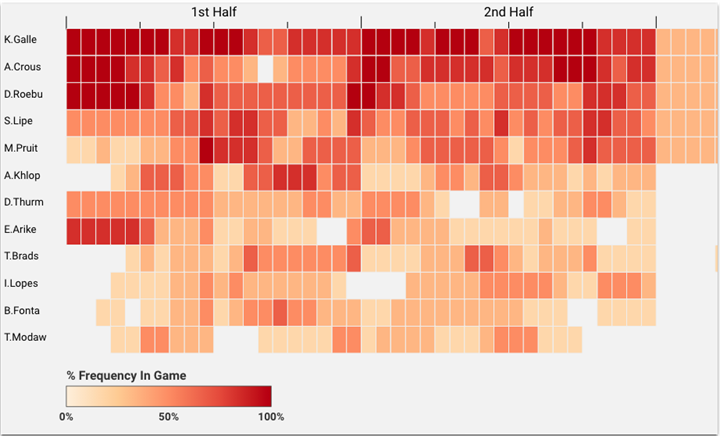 See, Gallegos is almost always on the floor. But it should be noted that the most used lineup for this team so far, which features Sabine Lipe, Avery Crouse, Dejanae Roebuck, and Michelle Pruitt playing with Gallegos — has a net rating of +41.2 on the season.
The Miners still seem to be searching for that right combination of players and minutes, but things are made easier when you know that you have the point guard position already figured out and that that player can be on the floor for 35-40 minutes per night if needed.
And let's not forget: Gallegos is a sophomore. In addition to rest of this season, UTEP could still have three more years of her since this current season isn't counting against player eligibility. Gallegos is already this good — imagine what she and this team can do if she can get more experience and also start to cut down on turnovers. The sky's the limit when it comes to UTEP's ability to compete for Conference USA titles over the next few seasons, especially as the rest of this young team matures too.