About a month ago, I wrote about the battle atop the Southland as we got ready for conference play to tip-off.
At the time, it seemed we were headed for a two-team breakaway from the rest of the conference with Stephen F. Austin and Abilene Christian. But it turns out that there might have been one team too many in that prediction because the Ladyjacks are just blowing away every conference team that go up against. On Wednesday, they had their toughest test of the season, heading to Abilene to face the Wildcats.
SFA won by 21. It was its closest contest of Southland play. Here, per Her Hoop Stats, is their conference record so far: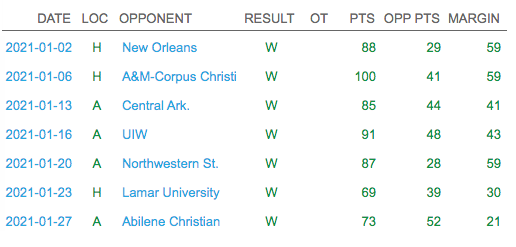 We're beyond the point now of the Southland Conference regular season champion being up for grabs. In the final year for the Ladyjacks before they depart for the WAC along with ACU, Sam Houston, and Lamar, SFA is going to win the conference. The only question is if they'll do it in undefeated fashion and if someone can trip them up in the conference tournament and steal away their NCAA bid. And even if that happens, could they end up with a resume strong enough for an at-large bid after wins over Saint Mary's, VCU, and Auburn and their two non-conference losses coming by a combined 11 points to Arizona State and Houston?
Still a ways to go before we get to that. But how did we get here? After a 2019-20 season that saw the Southland be a four-team slugfest, how have the Ladyjacks managed to just run off with things?
How did we get here?
The Southland standings last year were really, really close:

But this year, things aren't so close. So before we talk about why SFA is so good, let's talk about why the gap between them and the other teams has widened.
The easy place to start is with A&M Corpus. The Islanders lost basically everyone from last year's team. Alexes Bryant and Dalesia Booth headlined those losses, but they entered this season with their best returning scorer being Alecia Westbrook, who averaged 5.5 points per game.
The Islanders are 3-10 on the season and 1-4 in conference play. That's not much of a surprise. This is a rebuilding year.
As for Abilene Christian and Sam Houston, both teams are still really good, but are also a clear step below SFA.
Sam Houston hasn't had its chance to face the Ladyjacks yet — it's coming on Saturday at 2 p.m., though, and you should find a way to watch it — but they've had an uneven start to conference play, losing to Nicholls and SELA and barely getting past Central Arkansas and Lamar before posting a convincing win over ACU.
The Bearkats not having an important glue piece from last year, La'Sha Haynes, has hurt, as has the fact that Faith Cook has shot poorly in her expanded role. In eight games against Division I opponents, Cook is shooting 30.3 percent from the floor and 29.4 percent from three. Sam Houston needed her to excel in a larger role, but so far that isn't happening, leaving Amber Leggett and Courtney Cleveland to shoulder too much of the load.
As for ACU, losing last year's leading scorer, Breanna Wright, was tough. The Wildcats shot their way to the top last year, with Wright making 42.1 percent of her threes on 7.3 attempts per game. An increased role for Anna McLeod has helped soften the blow, but Makayla Mabry has missed some games and this team's offensive rating has dropped from 106.8 to 97.3.
The Wildcats are still good, but their offense isn't playing at the level that it was last year. And because this team isn't built around its defense, they need some outlier-good offense to be a 20-win team again. They aren't getting that, yet.
But, what is SFA doing?
Now, those other Southland teams losing key pieces wouldn't matter so much if SFA hadn't returned its top five scorers from last season. But the Ladyjacks did, which is a big reason why they're just so good right now.
For example, look at their current rankings in core metrics, per CBB Analytics: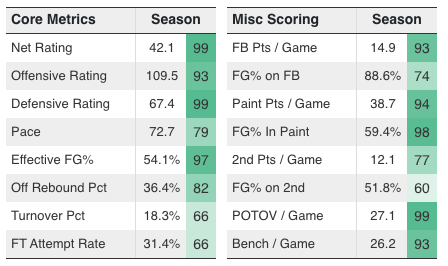 There's nothing that the Ladyjacks have struggled with this year. They have one of the best net ratings in the country. They allow just 67.4 points per 100 possessions, with only UConn and North Carolina A&T posting a better defensive rating. Their net rating is third in the nation behind UConn and Baylor. And considering both Baylor and SFA have been blowing out Southland schools this year, that isn't a huge surprise.
SFA's solid mix of players has been a big key too.
Zya Nugent, Stephanie Visscher, and Marissa Banfield all provide some solid outside shooting, though Nugent's 3-point shooting has been a bit of an issue at times. Still, the fact that the five players who've played the most for the Ladyjacks — those three plus Aiyana Johnson and Alyssa Mayfield — all rank in the 90th percentile or better in two-point field goal percentage makes it impossible for defenses to stop this team. You can't take away the inside, the outside, and the midrange, where they shoot 15 percent better than the DI average. This team can beat you in so many levels.
Also important is how they're scoring. They can beat you in the midrange if they have to, but they've also taken just 7.6 percent of their shots there. Head coach Mark Kellogg has the Ladyjacks playing a smart brand of basketball that has them shooting from the outside or working the ball into the paint. It's clear that this team understands the ways that basketball is changing and that they're embracing that direction.
It's all of these things — a style of play that's conducive to winning basketball games, a group of experienced players who are highly efficient on offense and strong contributors on defense, and the gap between them and the rest of the conference — that have this team looking unbeatable.
Of course, no one is really unbeatable, and ACU did play them close for the first three-quarters of Wednesday's game. But by the end of that one, the Wildcats were still shooting just 34.7 percent from the field and had held key players like Anna McLeod to below-average performances.
The Wildcats remained without Makayla Mabry for this one, though. It's hard to know how the game could have changed with her playing. or if it would have changed.
But still, SFA powered through, surviving an uncharacteristic night from Visscher to win by 21 behind a combined 46 points from the Nugent/Banfield/Johnson trio.
And that's something else terrifying about this team: even if a player has an off night, they have so much talent there to pick up the slack. Not many teams are as deep as the Ladyjacks. It's part of what makes them.