On October 24th, Baylor guard DiDi Richards collided with teammate Moon Ursin during practice. Richards suffered a spinal cord injury that left her briefly paralyzed, but when the Lady Bears took on South Florida on December 1, Richards was ready to go, playing 30 minutes off the bench. She's been in the starting lineup ever since and has looked just like her old self.
And what was that old self? Richards is easily the best on-ball guard/wing defender in the country.
She's also one of the state's top pro prospects. Over the next couple of months, we'll be taking a look at how certain players around the state translate to the next level ahead of April's WNBA Draft. While the NCAA's rules this year about eligibility mean that seniors can come back for another senior season, we'll operate under the assumption that top players will declare for the draft.
Today, let's talk about DiDi Richards.
ISO Scouting Spotlight: DiDi Richards
Projected Draft Stock: Late first round/Early second round
As mentioned in the intro, Richards is arguably the best perimeter defender in college basketball. I can't understate this: Richards is just a destructive force on the defensive end, someone who can disrupt any play and can create offense via her defense. Any discussion of Richards needs to start on that side of the ball.
As I've mentioned before, defensive tracking data from Synergy isn't nearly as reliable as their offensive tracking data, but last season, when Richards was the Naismith Defensive Player of the Year, she ranked in the 95th percentile in points per possession allowed on plays where she was tracked as the primary defender. She was particularly strong defending spot-up shooters and the pick-and-roll.
Per CBB Analytics, Richards has an 80th percentile Hakeem Percentage, which is a combination of a player's steal and block rate. Last year, she was in the 88th percentile, thanks in large part to her 1.7 steals per game.
Let's turn to some video to get a sense of what Richards is capable of on that end.
Like this play, which ends with Richards getting the steal from Ashley Joens. For some context, the Iowa State junior is one of the best scorers in the country and on this play Richards basically just said "Yeah, this basketball? It's mine now."
We should note that Baylor has no concerns putting Richards on the opposing team's best player. While she's played point guard on offense, she's played a more free-safety defensive role, working to limit the top players on the other side.
On this play, Joens starts off the ball, but the Cyclones hand the ball off to her on the perimeter, with the initial ball-handler then setting a screen to knock Richards out of the play. But if it was that easy to stop Richards, she wouldn't be such a highly-regarded defender. She quickly disengages and gets back to Joens, pressuring her to keep her from attempting a dribble jumper. From there, Joens looks to drive, and with all of the Cyclone offensive players out on the perimeter, there's a good chance she could have dished it off to an open shooter once Baylor has to send a defender into the paint.
Surprise: she doesn't get that far. Richards forces Joens to keep dribbling out at the perimeter, then times a reach for the ball perfectly, poking it away for the steal and instantly igniting a fast break for the Lady Bears.
Here's another example of Richards making a big play on defense.
TCU does a good job of generating a second opportunity, with the ball eventually ending up in Lauren Heard's hand. Heard's a good player, but even good players can get in some serious trouble when guarded by Richards. Initially, Richards is one-on-one out on the wing on Heard, but TCU calls for the ball screen to try to slow Richards. That doesn't happen, as Richards is able to keep moving through the screen and stay in front of Heard. That forces the TCU guard to readjust at the top of the key and then start a drive inside. But again, Richards is there, sticking with Heard every step of the way. Heard puts the shot up inside, and Richards gets her arms up and blocks it.
I mean, look: I have full confidence in Richards on the defensive end. There are definite Jordin Canada vibes going on here.
Of course, the worry with Richards in those Canada comparisons could be too accurate, especially when it comes to shooting the ball.
Richards' spot-up possessions have generated 0.567 points per possession, which ranks in the 21st percentile. Her jump shots overall come out to 0.76 points per possession, which is the 44th percentile.
Her best shooting has come off the dribble, with Richards actually scoring more points per possession on dribble jumpers than on catch-and-shoot jumpers, something that doesn't usually happen since dribble jumpers are a lot tougher to convert. Richards' game also doesn't extend out to 3-point range, as she's never made a three for Baylor.
Not that Richards hasn't shown some strong things on offense. She's been a good shooter inside of the arc, especially in the area between the arc and the restricted area: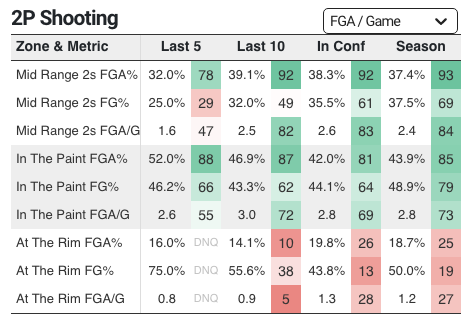 Obviously, the struggles at the rim are concerning because a player whose primary offense will come via drives needs to be able to finish at the rim. But Richards has been excellent in the mid-range, putting to doubt some concerns about her jump shot. Even if she doesn't extend that out to three-point range, she's still showing that there are plenty of ways she can impact the game as a scorer, not just as a defender.
Richards also makes up for her shooting issues by showing a growing command of the offense in her new role as a point guard.
On this play, Richards uses her defense to propel the transition attack for Baylor. She gets into the paint and pokes the ball loose, then immediately gets going the other direction. Richards is tough to slow down in the open court, and she's able to find a cutting NaLyssa Smith at the end of this play to get the bucket.
Richards is currently eighth in Division I in assists per game, but more importantly is that her assist-to-turnover ratio ranks 17th and was 11th last season. She's a smart passer who can find the right players. I know Richards isn't a natural point guard and really only played the position this year because of necessity for the Lady Bears, but she's showing that she can initiate offense in the WNBA.
In fact, I think Richards would have a better chance of sticking in the W if teams viewed her as a point guard candidate. Having a player who primarily plays on-ball who can score off the dribble but isn't a three-point threat and struggles as an off-ball shooter is something you can manage, especially when that player is just a devastatingly good defender.
I come back to Jordin Canada again. Canada has never shot above 18.6 percent from three in a season, but her intense defense and smart passing have helped her carve out a solid role in Seattle. That, I think, is the role I see Richards playing best in at the next level, and I think she's shown enough lead-guard skills this year for Baylor for me to feel relatively confident in her being able to fill that role.
Not that it isn't risky. Whether she's a point guard or a two-guard, her inability to shoot from deep is something teams will have to plan around, and Richards will need to be just as good of a defender at the pro level as she is in college. Can we guarantee that? Nope. But watching Richards, it's hard to not see her defense translating. And if it does, it's hard not to see her sticking around the league because of her defensive versatility, her passing ability, and her ability to score in the mid-range and paint.