On Friday, the Sun Belt Conference Tournament begins in Pensacola with four first-round games. Texas State will open the tournament against Georgia Southern, while UT Arlington will play its first game on Saturday, facing the winner of the App State/ULM game.
Let's take a quick look at what to expect in the Sun Belt tourney.
How'd we get here: UT Arlington
The No. 2 seed in the West Division, UTA finished the regular season at 13-6, with an 11-4 conference record. Despite finishing behind Louisiana in the division, UTA had the second-best net rating in the conference at +11.6, behind just Troy. Mostly, that success was because they sported an elite defense, with an 80.4 defensive rating that was the conference's best mark and ranked in the 96th percentile nationally.
This Mavs team has some struggles offensively, struggling on the offensive glass, turning the ball over too much and getting the free throw line ledss than any Sun Belt team.
But players like Katie Ferrell, Misty Dossey and Michaela Wright have anchored a versatile defense, while Terryn Milton provides high-end shooting to help UTA win games. They've also gotten strong offensive production from Bre Wickware and Shyia Smith.
This team has also dealt with a lot of COVID-related issues. The most-used lineup for the Mavs played 71 minutes, which was the 17th-most used lineup in the Sun Belt. That lineup had a +16.1 net rating.
This team's path to winning the conference tournament is pretty simple: if they're as close as possible to full strength, they can beat anyone, but this team hasn't really been at full strength as much as they've needed to be.
How'd we get here: Texas State
Speaking of lineups, Texas State had the Sun Belt's most-used lineup this year, with 188 minutes. No other lineup in the conference played more than 144 minutes. While UTA's 2020-21 season was a story of winning despite adversity, Texas State's story was more about the team's core jelling together to take a team that went 13-17 last season to a 10-10 record this year. Last year's Bobcats won 33.3 percent of their conference games; this year's team won 46 percent of them.
Like UTA, Texas State's defense was a big part of its success. They had the fifth-best defensive rating in the Sun Belt. They were third in the conference in defensive rebounding rate, and while this team's lack of blocks hurts some of their metrics, the team played some active defense and kept teams from scoring.
Offensively, the Bobcats are led by Da'Nasia Hood, the third-leading scorer in the Sun Belt at 16 points per game. Hood's in the 96th percentile nationally in points and defensive rebounds per game and is shooting 48.9 percent from two-point range. She's struggled from long-range, connecting on just 25.5 percent of her 5.1 attempts per game.
Texas State faces an uphill battle to win this tournament, but the 2020-21 season saw this team take a strong step forward. If it can get a first-round win on Friday, it'll help set them up for a strong 2021-22 season.
Looking around the conference
Which teams present the biggest threats to UTA in the battle to win this tournament?
Two names come to mind: Louisiana and Troy.
Let's start with Troy, who the Mavs would face in the semifinals. The teams didn't play during the regular season, but Troy was the Sun Belt's best team from a statistical perspective. 19-5 overall and 15-2 in conference play, Troy posted the conference's best net rating at +17.7, led by an offense that was leaps and bounds better than the rest of the conference: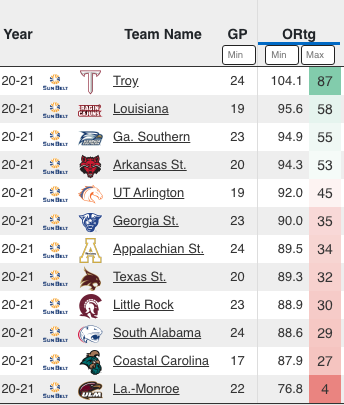 The Sun Belt is a defensive-minded conference, which makes Troy's showing even more impressive. They put up 79-plus points in their final nine games of the regular season.
The other team to worry about is Lousiana. Texas State handed them their only loss in conference play in the teams' conference openers, winning 71-63. Since then, the Ragin' Cajuns haven't lost, though a series of postponed games against UTA might have aided in that. The one time those teams faced off, the Mavs were held to 48 points, losing by nine. Louisiana played a ton of one-score games, so while they have the best conference records, they don't feel as threatening as Troy does.
So, who wins?
I want to pick UTA, but Troy has been playing some high-level offensive basketball. I know the old saying is that defense wins championships, but Troy is consistently putting up huge scoring nights against good Sun Belt defenses. They're my tournament pick.