There are a lot of players on the Texas A&M women's basketball team who could hear their names called on April 15th when the WNBA Draft occurs, but chances are that the first Aggie name said will be N'dea Jones.
The 6-foot-2 senior from Lawrenceville, Georgia is A&M's all-time rebounding leader, as well as the all-time leader in double-doubles. She's been one of A&M's best players since her sophomore season and has taken another step this year, shooting a career-high 52.4 percent from the floor.
Next up for Jones is the NCAA Tournament, as she'll try to lead Gary Blair's squad their second NCAA title.
ISO Scouting Spotlight: N'dea Jones
Projected Draft Stock: Late Second/ Early Third Round
Jones is part of A&M's really good senior class, many of whom could see their names called on draft night, including Ciera Johnson, Kayla Wells, and Destiny Pitts, but Jones seems like the player most likely to be drafted early. That makes sense, as she's been the most important player on an Aggies team that has succeeded despite not really having a go-to scorer this year. Jones has helped anchor a team that is winning because of their depth.
Before we look at some film and think about how Jones fits at the next level, let's just explore some of her numbers this season.
On the season, Jones averages 12.3 points and 10.3 rebounds per game. She ranks in the 97th percentile in offensive rebounds per game and 99th percentile in defensive rebounds per game. She combines for 1.6 stocks — combined steals and blocks — per game and had a 53.1 effective field goal percentage, which ranks in the 86th percentile.
Essentially, the numbers on Jones show that she does plenty of things really well. She has some issues with turnovers and fouls, but those are both things that can be worked on.
One thing about Jones that stands out is that she doesn't need a ton of usage to be effective. Her 20.2 percent usage rate is virtually identical to last season, with her rise in scoring not being about taking more shots but about optimizing the shots she takes. This season, 84.5 percent of Jones' shot attempts have come in the paint or at the rim; last season, that number was 73.8 percent. Jones is using the mid-range less and working on getting her shots closer to the hoop.
We can see here that Jones makes that extra push at the end of the play to get closer to the paint. She's posting up just outside of the paint with a couple of Tennessee defenders on her, but instead of firing away a contested turnaround jumper, Jones gets physical, wedging her way in between the two defenders and getting right to the basket, where she's able to make the easy shot instead of the more difficult one she could have taken earlier.
That's something that stands out with Jones: physicality. Tennessee has some stout defense, but Jones is able to bump her way through it and get the bucket.
Jones also ranks in the 90th percentile in scoring off cuts:
Just another smart offensive play here. Love this big-to-big passing for the Aggies, with Ciera Johnson drawing the defensive attention in the post and Jones seeing that and then cutting to the hoop as soon as her defender sags off of her to go double Johnson. Another big word about Jones: awareness. It's hard to quantify this, but watching her, you can just tell that she's an incredibly smart basketball player.
The fact that Jones' offensive game is so reliant on the post makes her a bit of an anomaly among bigs in this upcoming draft class, should Jones declare. Texas center Charli Collier — who we'll be writing about in the near future — has 3-point range. Oklahoma State's Natasha Mack has an efficient mid-range game. Lorela Cubaj is probably the big most like Jones in terms of shot profile, but even Cubaj takes about 10 percent more mid-range shots than Jones, and she isn't as efficient at the rim as Jones.
That what makes it hard to predict a draft range for Jones. I've seen her sneak into the first round in some mocks. I've seen her not even on some draft boards. How do we make sense of this? Maybe it's just about what the people putting these mocks together value in players?
And while Jones might not have the shot profile that some teams that have embraced spacing might want, her tenacious rebounding is a key reason why she should still be on everyone's draft boards.
Per CBB Analytics, Jones' offensive and defensive rebounding percentage charts really well against the rest of the SEC, a conference that has a lot of size with players like South Carolina's Aliyah Boston: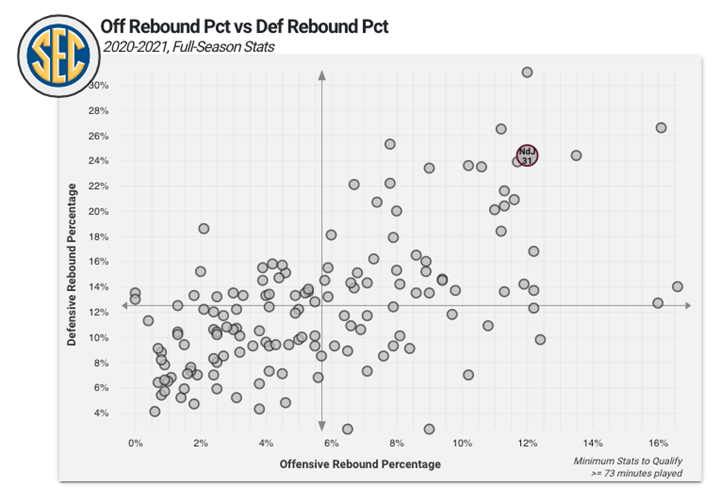 The players who are comparable to Jones on this chart? The aforementioned Boston plus Auburn's Unique Thomspon and Missouri's Aijha Blackwell. That's some really good company to be in.
There are still WNBA teams who'll value what Jones brings on the boards, especially coupling that with her efficiency inside, as she shoots 8.4 percent above average at the rim. Jones probably could have started at the five for the Las Vegas Aces last year, though in 2021 they'll have Liz Cambage at that spot. Still, Jones has the ability to be a better version of a Carolyn Swords or a Reshanda Gray: a player whose offensive game is fairly limited, but who brings toughness and rebounding to the floor. The good thing about Jones, though, is that she should be able to finish better than those two players, raising her ceiling.
Are there things we'd like to see Jones add to her game? Sure. But when she does the things that she's good at, she's incredibly good. She's efficient and can dominate the boards. Assuming the senior declares for the draft and doesn't choose to run it back at A&M one more time, she's one of the best bigs in this class, though with this year's draft being full of wings and guards, Jones is unlikely to see her name called until the second round. But whoever does pull the trigger on drafting her will be getting a real winning player.