On Sunday, the first round of the women's NCAA Tournament begins. 64 teams — all playing in the San Antonio area, with some first and second-round games in Austin and San Marcos — will compete for a national title. Among those teams are four Texas teams: Baylor, Texas A&M, Texas, and SFA. While it looked like teams like Rice, Houston, and UT Arlington had chances to get in either via conference tournament bids or, in Houston's case, an at-large, we end up with just these four.
At least two of these teams are poised for long runs, though. Let's take a look at the forecast for the four Texas teams in this year's tournament.
Baylor: No. 2 seed, River Walk Region
In the interest of fairness, let's get this out of the way first: I picked the Lady Bears to win it all in my bracket. I really like the path that the committee laid out for them to move forward through the field, and I think the one-seed in the River Walk, UConn, is the one-seed that's most likely to lose early, or at least early-ish.
Baylor's whole thing is that they're one of the best interior teams in the country. Just look at their core metrics and their percentile ranks in those metrics: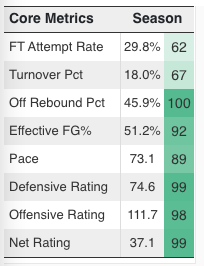 Baylor just pummels opponents inside thanks to the combination of NaLyssa Smith and Queen Egbo, who clean up misses — not that Baylor even has a ton of misses — and help generate one of the most efficient offensive attacks in the nation. The Lady Bears are second to Delaware in second-chance points per game.
Baylor scores 46.5 points in the paint per game, the best mark in the country. (And let's also note that the other three teams in the top four in that stat are UConn, South Carolina, and Maryland — scoring in the paint is a huge key to being a good team in women's college ball.)
But while Baylor's interior game is what gets the most attention, they also have a lot of other things going in their favor. They have the lowest 3-point attempt rate in the country, but have a 67th percentile 3-point field goal percentage. Players like Moon Ursin and Dijonai Carrington can get hot from deep when needed, but this team will normally just move the ball a ton until they find the right path towards attacking inside. They're also a good mid-range team, plus have DiDi Richards playing defense out on the perimeter. If you're a basketball team, you don't want DiDi Richards guarding you.
Baylor opens the tournament against Jackson State. The SWAC champs were pretty clearly the best team in their conference this year and their 81.6 defensive rating is in the 94th percentile, but they aren't a great offensive team and their non-conference resume had holes, including a pair of 30-point losses to Mississippi State and SFA. The Lady Tigers' only non-conference win came against Nicholls State. Don't look past anyone, but this has the looks of a game that Baylor should roll in.
In the second round, Baylor faces the winner of Virginia Tech and Marquette. The Hokies are always a good offensive team, but the team's defense took a bit of a step back this year and they posted their lowest winning percentage since 2017. They're a good team, but a flawed one. As for Marquette, this is a well-rounded team on paper that had the 18th-highest field goal percentage in the country. Like Baylor, they hit the offensive glass well. I could see them upsetting Virginia Tech, but upsetting Baylor this early is another story entirely. Expect the Lady Bears to head to the second weekend of the tournament.
Texas A&M: No. 2 seed, Mercado Region
The Aggies looked like they were heading for a No. 1 seed before an early exit in the SEC Tournament as they fell to Georgia by six.
A&M has a lot in common with Baylor in that both teams rank high in offensive and defensive rating, though Baylor's numbers are a little above A&M's in both of those. Both teams play the same kind of basketball, with a focus on working the ball inside and staying away from reliance on the 3-ball.
On paper, the Aggies don't have the same talent on the inside as Baylor, but N'dea Jones and Ciera Johnson are both still very good. Both rank in the 93rd percentile or better in field goal percentage and the 94th percentile or better in rebounds per game. Jones in particular is a strong rebounder, averaging 10.3 per contest.
In terms of scoring, Aaliyah Wilson is the team's leader at 12.6 per game. She shoots 44.4 percent from three, but as I said, the Aggies don't shoot a ton of threes -- more than Baylor, but still not too many.
Depth is really the story for the Aggies. This is a team that can beat you because they have so many players capable of stepping up. Jordan Nixon has been a revelation this year. Kayla Wells is a great veteran presence. Destiny Pitts has been that sparkplug off the bench.
In terms of the tournament, the Aggies get Troy in the first round. Don't look past Troy, a team that ranked third in Division I in points per game. They can push the pace and make things uncomfortable for A&M, but their offense doesn't look as great on a per 100 possession basis, so if A&M can control the pace — and I don't see why they wouldn't — then the Aggies should roll. Per Her Hoop Stats, Troy is 0-2 against teams with a top 100 HHS Rating, while A&M is 16-2 against such teams. Which brings up something else: A&M has a great resume!
In the second round, they'll face the winner of Iowa State/Michigan State. I don't know a ton about the Spartans other than that they're a good offensive team and not as great defensively. They've played a tough Big 10 schedule though and could be a tough second-round game. As for Iowa State, Texas Basketball readers should know about the Cyclones, who upset Baylor earlier in the year. Iowa State's a good offensive team, led by Ashley Joens, one of the nation's top scorers. The problem? The Cyclones are 266th in defensive rating.
Texas: No. 6 seed, Hemisfair Region
Alright, here's where the path for Texas teams to move forward gets a lot harder to predict: Vic Schaefer's Longhorns.
Nationally, the story of Texas is the story of Charli Collier, the presumptive top pick in the 2021 WNBA Draft. Collier's a talented player who can dominate on the interior and post some huge stat lines, but she's also tended to get in foul trouble and disappear in some games against strong frontcourts. That's not a great sign for Texas.
Another bad sign: frontcourt depth. There's Collier. There's Lauren Ebo. And then, because of injuries, that's pretty much it.
Texas has some underrated guard play though. Joanne Allen-Taylor, Kyra Lambert, and Audrey Warren all shoot over 34 percent from 3-point. Celeste Taylor has been a great lead defender on the perimeter. Ashley Chevalier has been playing better on both ends lately.
This is a young team. They're recruiting well and are going to compete deep into tournaments soon. But just getting out of the first weekend this year will be tough.
First up, they'll play Bradley. They're a solid team, ranking 64 in Her Hoop Stats Rating, but they're also arguably one of the weaker teams in this field. They aren't a good rebounding team, though they do rank 14th in block rate. This isn't the kind of game that should give Collier trouble.
But that second-round matchup. You get the winner of UCLA and Wyoming. For the sake of time, let's just talk about the Bruins. They've got the 19th-best net rating in the country and a tough defense. They hold opposing teams below-average shooting in the paint, something that isn't a great sign for the Longhorns.
UCLA is 3-2 against teams with top 15 HHS Ratings. Texas is 0-4.
Stephen F. Austin: No. 12 seed, Hemisfair Region
Finally, we have the Ladyjacks, who should probably be seeded higher than 12. Their only losses were against a Pac-12 team and Houston. They just dominated the Southland.
Part of why SFA is successful is because they play such a smart, analytical game. Boasting the country's second-best net rating, SFA ranks among the teams that take the fewest mid-range shots per game at 4.8.
They have the second-best field goal percentage in DI in the paint (non-rim) at 53.5 percent, and have been efficient at the rim as well. They also rank in the 97th percentile in corner threes talent per game.
It's just some smart basketball being played in Nacogdoches. Stephanie Visscher leads the way with her great mix of shooting and passing, but this team isn't just a one-person machine. Aiyana Johnson and Zya Nugent are high-level players, but the biggest story here might just be how deep this team is and how many players are just incredibly efficient. Per CBB Analytics: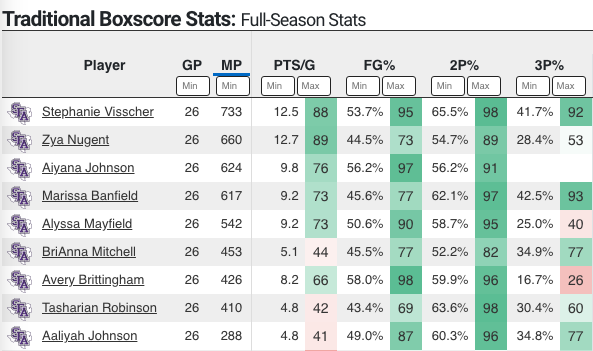 It's no wonder SFA spent much of the regular season looking unbeatable. They can really make an impact against second units, as this team is almost always able to have five efficient scorers on the court at once.
As for their tournament path, being a lower seed complicates things. They face Georgia Tech in the first round, who are led on the inside by Lorela Cubaj. Stopping Cubaj will need to be the main focus for the Ladyjacks, especially because the Yellow Jackets aren't the best 3-point shooting team. Focus on Cubaj and make your own shots and SFA could be heading for the second round, where West Virginia likely awaits.
The Mountaineers were the second-best team in the Big 12. A good scoring team, they only have a 52nd-percentile defensive rating. They'll have the best player on the floor in guard Kysre Gondrezick, but SFA has an offense that can keep up with WVU. If the Ladyjacks make it to the second round, they have a good shot of making it to the Sweet 16. (Where South Carolina likely awaits, but hey — a Sweet 16 run would be a great success for this program!)