Multiple reports indicate that Texas men's basketball head coach Shaka Smart will be hired as Marquette's next men's basketball coach.
Smart went 109-86 in six seasons in Austin and won a Big 12 Conference Tournament title this past season but went 0-3 in the NCAA Tournament. With the 43-year-old reportedly leaving the Forty Acres, Texas becomes one of two marquee jobs open this off-season along with Indiana. The breakup seems mutually beneficial when you look at the disappointing end to the 2020-21 season and the bleak future the Longhorns have with their anticipated roster depletion and lack of recruiting momentum.
With the job opening up, we've put together a list of potential candidates that we feel would be a good fit for the Texas job. This is purely based off opinion and isn't a reported indication of where the search is headed.
Dream Hire: Texas Tech head coach Chris Beard

This one's not hard.
Before making any other move, Texas athletic director Chris Del Conte will most certainly gauge the interest of current Texas Tech head coach and Longhorn alum Chris Beard. The 48-year-old has been arguably the fastest rising head coach of the last five years taking the Red Raiders from a middling .500 program to one of the recent national powerhouses. He's only missed one tournament as a Division I head coach and has never lost in the first round.
But the question is, does Beard want to move? He's currently the fourth-highest paid head coach in the nation only behind Jay Wright, Mike Krzyzewski and John Calipari making roughly $6 million per year base salary and has a $15 million buyout thanks to the extension he signed in 2019. Texas could probably up that but there's also more to be considered. Do they want to pay the men's basketball head coach the same or more than its football head coach? Steve Sarkisian currently makes $5.2 million.
Despite being a Texas alum, Beard was also a longtime assistant at Texas Tech under Bob Knight and is a godsend in Lubbock. Is that enough to dissuade him from a job where he'll always be chasing expectations?
Realistic Hire: North Texas head coach Grant McCasland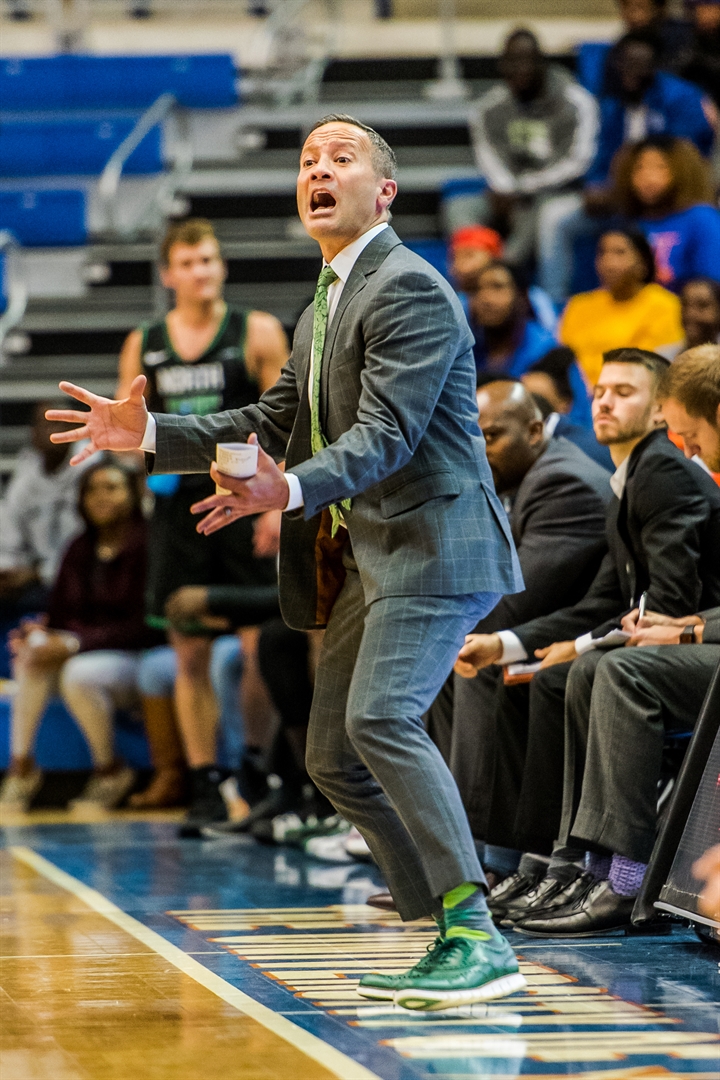 This one won't send shockwaves, but it'd be impossible not to call it a good hire.
In four years, Grant McCasland's turned the Mean Green into a mid-major force with stellar and aggressive defensive play. The past two seasons, North Texas has ranked in the Top 80 in Kenpom and this year ranked in the Top 50 in defense. His brief, but successful stint at Arkansas State showed he's not a flash in the pan as a head coach. He's a Baylor grad and a Scott Drew prodigy which means he has Big 12 Conference and Lone Star State credibility.
He'd be an easy target for the Longhorns if Beard falls through, but would Del Conte be able to sell him to a fanbase that's looking for more of a transcendent figure? There's also what I'd like to call the "Shaka Smart Dilemma". Would McCasland feel free to coach the same defense that's garnered his success at North Texas while also pursuing high-level recruits? Smart notoriously scrapped his 'Havoc' press defense when he took the Texas job because he felt that high-level recruits wouldn't want to play in that system.
DCTB Pick: Brooklyn Nets assistant coach Royal Ivey

Do the Longhorns go with a homecoming hire that would garner some sentimental favor with the fans and some added allure of the NBA? Although Royal Ivey has never been a head coach, he's been an NBA assistant since 2016 with the Thunder, Knicks and now Steve Nash's Brooklyn Nets.
The former Texas star would likely be given more time than any other potential hire to both get his footing and rebuild the program in his image, knowing exactly the level of expectation the job would have. There's also the possibility of hiring a veteran head coach for his bench and for added recruiting acumen.
How fast does Texas want to move? Ivey probably won't leave now with the Nets in the middle of an NBA Title hunt, but would Texas want to wait until the summer as the playoffs progress to make a move? It'd no doubt be a dream job for Ivey, who has kept tabs with the program from afar, but the ball is more in Texas' court. Is he a top priority or a backup's backup option?

Wildcard Hire: Loyola Chicago head coach Porter Moser

Let's get fun.
Shaka Smart's hire showed that Texas isn't against hiring someone from out of state if their resume is good enough. Moser's now in his second deep NCAA Tournament run in three years with the Ramblers and would be a very sellable snag. Loyola Chicago's two tournament teams were ranked 31st and now ninth in Kenpom nationally with currently the second-highest rated defense in the country, hardly a Cinderella team punching above their weight. Plus, his high-post and ball-screen-heavy offense would be a fan's dream to see at the highest level.
He's a former assistant under Texas A&M's Tony Barone and was the head coach of Arkansas-Little Rock in the early 2000s so he knows the region in terms of recruiting perhaps more than one would expect.
But he's a born Midwesterner, been at Loyola Chicago for 10 years and currently has the Ramblers as the top mid-major of the last few seasons. Does Moser have his sights set on more or is he content in his home state?
Another potential wildcard could be Dayton's Anthony Grant, but does Texas want to dip back into the A-10 after Smart, especially since Grant's Alabama stint went less-than-stellar. Brad Underwood is also another big-time option if Texas wants to flex its pockets and nab him away from Illinois.