On Thursday, the WNBA held its annual draft. The Dallas Wings held the first and second picks in the draft, and with that first pick they picked a Texas player, grabbing Longhorns center Charli Collier.
It was a good night for Texas schools. A&M was the only school with three players drafted. Baylor continued their streak of player selections to six years.
So now that the dust has cleared,
No.1 Overall: Charli Collier - Dallas Wings
In what was probably the least surprising move in this year's draft, the Dallas Wings took Texas center Charli Collier with the No. 1 overall pick.
We've known this was happening for a while at this point. Dallas had one huge weakness last year, which was the center position. They had to play small ball way too often, and the center they gave big money to before the season, Astou Ndour, was such a disappointment that the team bought her out this offseason.
So, Dallas was always taking a center, and the center who projects to be the most WNBA ready and have the most long-term upside as a two-way player with scoring potential was Collier. They also took Finland's Awak Kuier second overall, bolstering the frontcourt even more. But it's Collier who is more likely to make an impact in 2021.
Yes, we've already talked about how Collier has sometimes had some struggles against elite competition. Some of that seems overblown when you consider that Collier will almost never face the same level of defensive pressure on a Wings team that has Arike Ogunbowale and Satou Sabally. You won't be able to throw doubles or triples at Collier inside. Get her working one-on-one in the post, and you'll get to see the great touch she has on her shot.
Of every Texas prospect in the draft, Collier's the one who is certain to be on an opening day roster. I'm not sure she'll start over Izzy Harrison at the five, but the Wings will give her — and No. 2 pick Kuier, provided she comes over from Europe — plenty of minutes. This is a Wings team that has one of the top young cores in the league; they're going to need to give those young players minutes so they can eventually go from a promising young team to contenders.
No. 12 Overall: Aaliyah Wilson - Seattle Storm (Traded to Indiana Fever)
Here was one of the biggest surprises of the draft, though it made more sense after Seattle traded Wilson to the Fever.
I don't know any mock drafts that had Wilson going above 20th or so. I don't think I saw any mocks where she was the first Aggie player taken. But both of those things happened.
I like Wilson. She averaged 12.7 points , 4.5 rebounds, and 1.8 steals per game for A&M last year. Per CBB Analytics, she was at above average efficiency at every level offensively: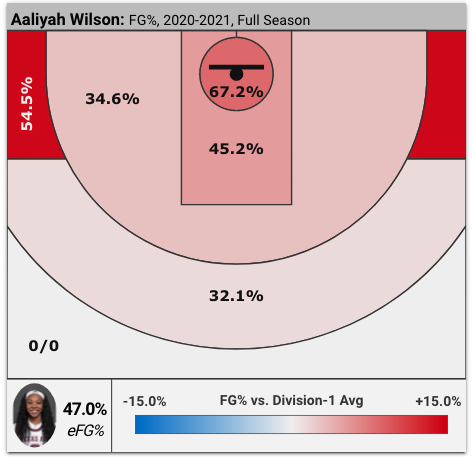 The Fever need scoring. They let a couple key players from last year leave in free agency and are unlikely to have Julie Allemand for most of this year because she's expected to stay in Europe. The team used the No. 4 pick on Kysre Gondrezick, West Virginia's leading scorer, and now add an above-average scorer in Wilson.
By trading Kennedy Burke's contract for Wilson, Indiana opens up room for Wilson to make the final roster, though there's no guarantee that happens. One thing working in her favor is that the wing is the shallowest part of this Fever team, and that Wilson's ability to contribute on offense and defense should earn her playing time.
Indiana might have been an ideal spot for Wilson. It was hard to see a path to a roster spot for Wilson if she'd been drafted in the range we all expected. That she went to this particular team that's in a transition phase right now means not only can she make a roster, but she can get consistent run.
No. 17 Overall: DiDi Richards - New York Liberty
The Liberty seem to be preaching two things with their current coaching staff: defense and shooting. DiDi Richards might not bring you that second part, but she sure brings the first one.
New York is in a bit of a pickle right now. They've got a lot of international players on the roster. They have a key prospect, Asia Durr, recovering from long-term COVID, with her playing status up in the air. They've got a lot of second-year players who flashed potential last year, but who might not be locks to make the roster, like former Texas Longhorn forward Joyner Holmes.
Where does that leave Richards? I don't know. There's a definite need for a backup ball-handler, so if New York believed that Richards one-year run as Baylor's point guard was a sign that she can play the position permanently, there's likely a role for her. If they expect her to be more of a wing like she was before her senior season, it gets harder to see her place on a roster like needs shooting from positions two through five. They can get away with a non-shooting point guard — Layshia Clarendon is a talented player, but they've been inconsistent from three their whole career — so if head coach Walt Hopkins views Richards as an option at the point, her tenacious defense and ability to make smart passes will help her crack the roster.
(Seriously, we don't talk enough about Richards' basketball IQ. It's through the roof.)
No. 20 Overall: Dijonai Carrington - Connecticut Sun
Lots of people thought Carrington would be a late first rounder, with a team like Vegas being an obvious option, as they like their guards big. Maybe it was some 3-point inefficiency that made Carrington drop to the Sun at pick 20, but this is a pretty good landing spot for the former Lady Bear.
Connecticut only has seven players on real contracts right now. There are a lot of talented players on training camp deals for them, but only two of them — Natisha Hiedeman and Beatrice Mompremier — seem like players who are locks to make the roster. Maybe Kamiah Smalls too, but that would still leave room for more additions to the roster. Connecticut didn't have a first round pick, so Carrington will likely have a real shot to crack this roster. Her biggest competition will be Micaela Kelly, who the Sun took at pick 21.
That battle might come down to what head coach Curt Miller values more. Kelly can score in bunches, something this team could use on the perimeter, but Carrington offers much more potential on the defensive end and was an excellent interior scorer for Baylor last year, shooting 73 percent at the rim. If only one of them makes the roster, I think it'll be Carrington. She won't get a ton of minutes off the bat, but if Miller can start to trust her on both ends as the season goes along, she can be in the rotation by the middle of the 2021 season.
No. 23 Overall: N'dea Jones - Seattle Storm
Here's where the outlooks get bleaker.
I love watching N'dea Jones play basketball. She knows how to work inside, shooting 66.9 percent at the rim this season. She was in the 97th percentile in paint points per game and the 95th percentile in second chance points per game. Her ability to crash the offensive glass and generate additional looks for the Aggies helped them have such a strong regular season.
But the Storm just don't have roster space. They have room for one more player on the current roster. Two veteran players, Stephanie Talbot and Tamera Young, are on training camp deals and are fighting for that final spot. They also traded for Kennedy Burke on Thursday and drafted Kiana Williams with the 18th pick.
It's just hard to see the path to Jones getting a spot, though it is there if they realize in training camp that they need an additional body inside more than they need players on the wing and in the backcourt. In that case, her rebounding prowess could get her a spot on the Storm bench.
Still, it's a convoluted path. Jones' best bet might be an impressive training camp that results in her being cut by Seattle, but then signed somewhere else later in the year if a team has frontcourt injuries.
No. 32 Overall: Ciera Johnson - Phoenix Mercury
Like Jones, Johnson had a great career for the Aggies. The former Duncanville product ranked in the 96th percentile in paint points per game and 96th in second-chance points per game last year. She shot 68.8 percent at the rim. At 6-foot-4, she'd add some solid size to the Mercury frontcourt.
But it's a numbers game. Phoenix has room for one minimum contract right now, with the huge deals they owe to Diana Taurasi, Skylar Diggins-Smith, and Brittney Griner putting them in a tight spot where they'll probably have just 11 players.
That 11th player could be Johnson, but she'd need to have a huge training camp. They have Marta Xargay, Sara Bilcavs, and Shey Peddy all under TC deals already. Johnson was their only draft pick, but this is a veteran-heavy team that's looking to compete for a title. I just don't see that final roster spot going to a third-round rookie, no matter how talented Johnson is. She's another player whose path to a WNBA career might depend on injuries and on showing back up on a training camp deal next year.