Two seasons ago, Stephen F. Austin players and coaches vividly recall how they found out their year was done. It was in a similar fashion to how many teams found out – suddenly.
Kayla Scott, the team's director of basketball operations, headed down the stairs of William R. Johnson Coliseum toward the court to where the team was, and everyone could sense that something was wrong. They were in the middle of practice before heading off to the Southland Tournament in Katy, Texas. SFA had just finished second in the regular season but were feeling confident of making a title run.
Head coach Mark Kellogg presumed that athletic director Ryan Ivey tried to get a hold of him but couldn't, so Scott broke the news to the team in the middle of the last practice: the tournament was canceled.
"We didn't know what that meant because we would have gone to the WNIT if that was the case, it was almost wait-and-see," Kellogg recalled. "We met with them a couple hours later, met again with them. And then I think by the next morning, they had just kind of shut the whole thing down."
And that was it.
The Lady Jacks never got the chance to avenge their loss in the SLC title game the year prior, and just like that, the careers of seniors Kennedy Harris and Riley Harvey were over.
"I just saw them in tears," junior all-conference guard Stephanie Visscher said. "And that just broke me because I know how much they wanted it, especially for the last year and how much we wanted to put them there last year."
Visscher's father, in all the way from their home in Sweden and ready to travel with the team, looked on from the stands. Having him there was a comfort for Visscher, but also bittersweet that his trip was now seemingly in vain.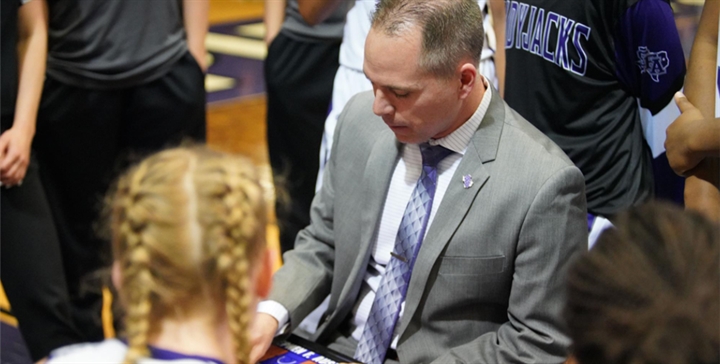 SFA finished second for three consecutive years in the conference regular season race and finished as tournament runner-up and semifinalists the two seasons leading up to 2020, respectively. Many thought that year was the team to solidify what Kellogg had been building.
"Losing in the final like, that's devastating, too, but at least you get a shot at it…," Visscher recalled before pausing and moving on to a new thought.
Since 2016-17, Kellogg's second season, the Lady Jacks are one of just nine programs to win 23 games in each of the last five years. But they hadn't received the validation from the outside, likely due to the lack of postseason accolades and an NCAA Tournament drought that stretched back to 2006. Most of the players knew that elusive conference title and the resulting national exposure would bring the spotlight.
Reeling from the missed opportunity in 2020, SFA hit last season effortlessly with seven of the top nine minutes-earners and all five top scorers returning. Expectations were sky-high, and they didn't disappoint. SFA overwhelmed nearly every opponent it faced.
The team ranked second in the nation in margin of victory, winning games by an average of 27.5 points, over 15 points more than the previous year. The Lady Jacks ranked fifth in field goal percentage (48.2 percent), first in turnovers forced (23.7 per game) and eighth in total assists (518).
"It felt like we were just having fun out there. It wasn't a chore or task. We were just going out there and having fun each other and playing with our chemistry and we were just unstoppable. And we fed off that." – Aiyana Johnson
The ball movement and perimeter defense were second-to-none among mid-majors often measured up to the likes of national powers UConn and Baylor.
"All of it clicked," Kellogg said. "I mean, honestly, I thought we had been really close the previous years we just never found ways to finish it off. We kept knocking on the door, knocking on the door, we just never could quite punch through.
"We had a complete team. We could play fast, we could slow it down, we could win multiple ways. And I think you ought to be versatile enough to do that. Especially if you're going to be a mid-major type of team. I just think you have to have options, and we had it all. It just all came together last year."
Two early-season losses to Arizona State and Houston, two noticeably disappointing defeats, were the only blemishes from the regular season. The margins were so in small previous years, finishing one or two games behind the champion in the regular season conference race, that slip-ups weren't an option. SFA ended the year on a 19-game win streak to finish the regular season 22-2.
"We had to make sure we kept rolling, we got to keep this momentum and we can't let up," Visscher said. "And I think that's also why we just kept winning because like we never really got content and just kept working and the coaches kept challenging us in practice."
At that point, many of the players had been playing together for multiple seasons. The only newcomer who contributed to a major capacity, freshman forward Avery Brittingham, was a missing piece in the frontcourt that added much needed depth and another instant scoring option averaging 8.4 points per game and 6.4 rebounds in just over 16 minutes.
"It felt like we were just having fun out there wasn't a chore or task," senior forward Aiyana Johnson said. "We were just going out there and having fun each other and playing with our chemistry and we were just unstoppable. And we fed
off that."
The team was roughly 10 deep, no one averaged over 13 points per game or played over 28 minutes. They echoed Kellogg's sentiments to perfection – One extra pass.
Consider it death by a thousand cuts. Every given night was someone else's chance. Just four times did an SFA player lead the team in scoring in back-to-back games – Visscher three times and Brittingham once.
"We're playing like one player out there together," Johnson said. "We're playing against one thing and we're all guarding the ball, we're all guarding the basket so we're always just on that same mindset of achieving a win."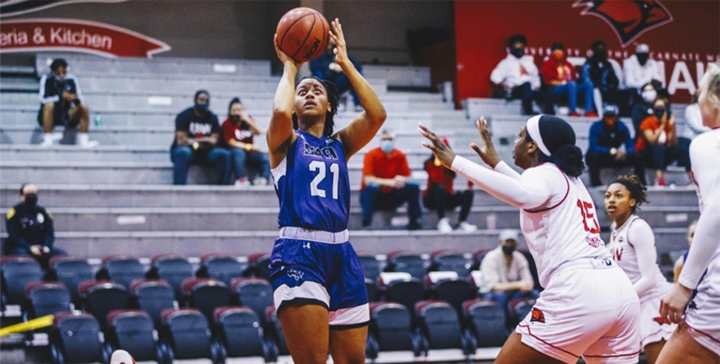 When the Southland Tournament came around, the Lady Jacks had to just win two, which they did over Central Arkansas and Sam Houston, winning the title game by 11. On Selection Monday, they learned of their NCAA Tournament fate as a 12-seed against Georgia Tech. Under-seeded? Perhaps. You'd be hard-pressed to see another team with SFA's resume earn anything less than an eight or nine seed, but Kellogg knew that was the reality of being a close-but-not-close-enough mid-major for several seasons.
"I thought we beat teams the way you should beat them," Kellogg said. "That should account for something, and I think that's why the metrics were the way they were."
But the chance to showcase the team's progress against a team that finished third in the ACC was still too good of an opportunity.
The rest, unfortunately, is still fresh in the memory of SFA. The team played essentially flawless in the first half, shooting 45 percent from the field and went into the locker room up 14. Lady Jack Basketball was on full display with constant backdoor cuts, in-sync ball movement and stingy half-court defense. Of course, the second half was a different story. The Yellow Jackets erased the deficit and despite two clean looks at the end of regulation and overtime, SFA lost, 54-52.
That game, that near upset, got people talking — SFA is worth paying notice to. But although the long-deserved national attention was welcomed, it wasn't what the players wanted. That first-round game was a result that got away in their eyes.
"When you think back, it really hurts because SFA has been to the NCAA Tournament before, even though it was a really long time ago, but it has happened," Visscher said. "But we don't want to go there and participate, we want to win. We want to win a game or two and see where we can go."
The loss stings, but it's also fuel. Alyssa Mayfield and Marissa Banfield, the team's reliable point guard, are gone but in steps the likes of Bree Mitchell and Tasharian Robinson who are both known contributors playing over 15 minutes per game. Visscher, Brittingham, second-leading scorer Zya Nugent return as does Aiyana Johnson and her sister, Aaliyah. Transfers like former LSU guard Destini Lombard and Portland transfer Tyler McCliment-Call and increased minutes for Rebekah Crane and Brionna Scott will add more to the depth and likely sustain the 10-deep rotation heading into this year.
"This is by far the most talented team we've had," Kellogg said. "Now, that doesn't equate to wins, necessarily, I'm not saying that. But what I know today from what I have seen so far, is that I've seen there's a lot of talent out there."
The blueprint is there. Kellogg admits the process took about two years longer than he anticipated – after all, he reached the national tournament at both West Texas A&M and Fort Lewis within two years. Now entering his sixth season in Nacogdoches, he has a program he knows SFA can be proud of.
"For those first couple of years, it was just trying to piece that (vision) together to figure out where those players were going to come from that fit what we do."
Kellogg got creative in recruiting and found international success with Visscher, out-of-state success with the Johnsons out of Missouri and pieced around them Texans from powers like Mt. Pleasant Chapel Hill (Crane) and Crowley (Brittingham) who were perhaps underrecruited.
"You knew some of that but you kind of had to get in it right and insulate yourself with it," Kellogg said. "And then you really get it but even what basketball means that SFA including Lumberjack Basketball, right? There's just this pride, there's this tradition."
Something's brewing in Nacogdoches and it's time everyone recognized it.
"We're not we're not gonna lower standards this year, we're gonna keep going," Visscher said. The Georgia Tech loss still stings because they know it's a game they should've won.