It's only been two games, but former Argyle star and SMU transfer Rhyle McKinney is proving why Texas Tech head coach Krista Gerlich was right to take a chance on a player who had just six games of collegiate experience heading into this season.
McKinney originally committed to SMU, where she averaged 28 minutes per game in the team's six games before the program. She averaged 8.0 points per game over that span, which ranked third on the team behind Kayla White and Amber Bacon.
You could see some semblance of the McKinney that led Argyle to four state title appearances, but things didn't fully come together for her in University Park.
But this offseason, McKinney entered the transfer portal, ultimately winding up in Lubbock on a new-look team for second-year head coach Krista Gerlich. There, she joined another former Argyle star, Vivian Gray.
What McKinney is bringing offensively to Tech
Through two games, McKinney appears so far to have morphed into the offensive star that she was in high school, showing off her lethal shooting for the Red Raiders.
The sample size is too small for CBB Analytics to have color-coded her shot chart yet, but here's a quick look at what McKinney has done in two games: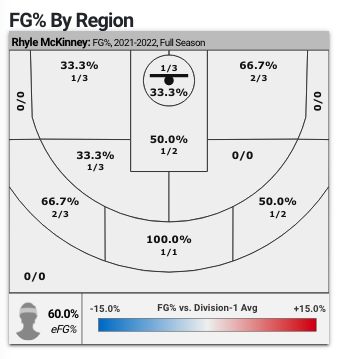 As you can see, McKinney is making things happen from beyond the arc.
Which is good, because Texas Tech's top three players in 3-point attempts last year have left the program. The team needs someone to step into that role and to help open the rest of the floor up for Vivian Gray once Gray is back.
McKinney has a quick release from deep, so when defenders sag off of her like they do on the play above, watch out. Tech overloads things on the left side while McKinney is out on the right wing, which draws her defender away to protect against a drive. While Tech is running some pick plays on the right, McKinney is just patiently waiting, and then the rolling player meets resistance at the hoop, she's able to identify the open McKinney sitting out there. Ball: passed. Shot: up. Three points, Texas Tech.
Here's another similar look. Weber State gives McKinney so space. She responds with another three.
And McKinney isn't just a 3-point shooter. She can score in more ways than just as a catch-and-shoot option:
On the play above, McKinney curls around to get the ball at the top of the arc. From there, she puts the ball on the floor, driving up the middle, sliding between a couple of defenders, and then stopping at the top of the paint and putting up this tough shot. There's not a ton of space here, but McKinney finds a spot where she's comfortable and is able to score over her defender.
What's the ceiling at Tech this year?
We're seeing a lot of things out of McKinney in two games that looks a lot like what we saw at Argyle. She's been the team's best perimeter shooter, averaging a team-high 18.0 points per game.
Of course, that's with Vivian Gray having missed the first two games. Gray's return likely takes away some of McKinney's 31.3 percent usage rate.
But it won't take it all away. Gerlich will find a way to get her best perimeter shooter on the floor and with Gray there as well, this team could be really good offensively.
But how good?
I was relatively high on Texas Tech this offseason, picking the team to finish seventh in the Big 12 while the conference had the team tied for the 8/9 spot with Kansas State.
I feel a little bit better about Tech now, even if the team hasn't faced tough competition. Gerlich's team isn't ready to contend for a Big 12 title or even an at-large tournament bid, but she's put together a fun team, and McKinney has the look of someone who can be that future scoring engine for the Lady Raiders over the next four years.
This season, the Gray/McKinney/Lexy Hightower trio's ceiling is probably finishing around .500 in conference play and maybe stealing a game against one of the top three of Baylor/Iowa State/Texas.
And hey, that's fine. It takes time to build a program. But Rhyle McKinney is playing like one of those building blocks that a coach needs. With some young bigs in Khadija Faye and Chantae Embry on the roster too, there are the makings of something in Lubbock. It might not be the makings of a return to the glory days of Texas Tech as a national title contender, but Gerlich's team is going to surprise some people, especially once Gray is back in the lineup.