Last season, no player for UT Arlington averaged more than Shyia Smith, who scored 11.1 points per game. The team as a whole ranked 269th in points per game per Her Hoop Stats, but the team was 10th in scoring defense, in large part because the team played slow, ranking 260th in pace.
With Bre Wickware — second on the Mavs in scoring last year — gone, the 2021-22 Mavs entered this year in need of a scoring threat.
Enter Starr Jacobs.
Through six games, Jacobs is averaging 21.3 points per game on 60.6 percent shooting. She's looking to be UTA's first 20 PPG scorer ever — the program's single-season leader is Tracy Burr, who averaged 19.6 per game in the 1986-87 season.
Who is Starr Jacobs?
The redshirt junior out of Duncanville was ESPN's No. 14 wing in the 2018 class and won consecutive state titles with the Pantherettes.
Jacobs initially committed to Houston, but redshirt her first year and landed at Temple College.
In her first year there, Jacobs averaged 18.0 points and 8.5 rebounds per game on 56.1% shooting. She followed that up last season by averaging 23.6 points per game, second among all JuCo players, and 10.6 rebounds per game. She was a WBCA All-American and scored 40 points in a game against Weatherford.
Now, Jacobs is in Arlington, where she's started all six games for the team.
What Jacobs brings to UTA
Scoring.
As mentioned above, the Mavs didn't have a scorer like Jacobs in the past, which meant the team has had to slow games down and win with defense.
This year has been different.
After ranking 10th in scoring defense last year, the team is 286th so far, though two overtime games and contests against Baylor and Kansas City have negatively impacted that.
But even with the defense looking worse on paper, the Mavs are 4-2. One of those two losses saw the team play a tight first half against Baylor, while the other was a shootout loss against Kansas City. (The team faces No. 13 South Florida on Thursday night, which could be bad for some of these numbers.)
Jacobs' ability to put the ball in the bucket is giving UTA a chance every night.
Let's dig into some specific stats, starting with some team comparisons between this year and last year.
This season, UTA is still shooting below average in most spots on the floor. Per CBB Analytics: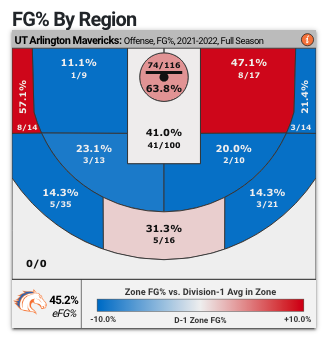 As for how that compares to last year, here was the FG% By Region map for last season.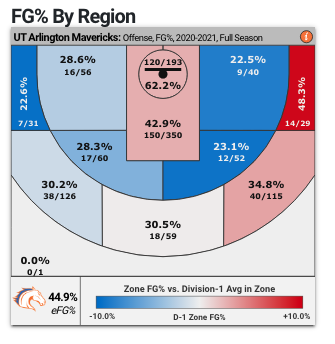 The team is shooting worse from the outside, but better on the inside and the mid-range.
But field goal percentage itself isn't really accounting for the change on this team. The Mavs are shooting 41.9 percent this year after shooting 38.7 percent last year, but a bigger reason for the increased offense is an increase in attempts, as the team is attempting about five more shots per game. Better efficiency and more shots...hmm, wonder what's changed that's led to those things?
Oh, yeah:
Starr Jacobs.
As you can see on the play above, Jacobs is a really fluid finisher at the hoop. As soon as she gets this pass from Katie Ferrell, she's turning, lifting and putting the ball in over the KC defender.
Jacobs has been incredibly efficient in the paint this season, and the Mavs are working hard to get her the ball down there: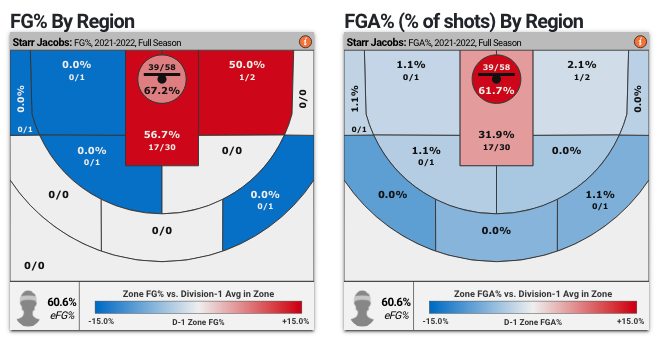 Jacobs ranks 46th in all of Division I in usage rate at 32.6 percent. This team is already realizing that the key to the offense is to work the ball inside to Jacobs and to let her do her thing.
And UTA having someone with the court-awareness of Katie Ferrell to get the ball to Jacobs is also a huge plus:
The defense clearly wasn't ready for Ferrell to throw this long pass into Jacobs here and it results in an easy two points for the Mavs.
Her ability to come up clutch is on display in the play above, which sent the game against UNT to overtime. She establishes position outside of the paint here, using her strength to create space for the pass to be delivered to her.
Once she gets the ball, Jacobs immediately puts it on the floor and just powers inside. She's just unstoppable when she gets that kind of momentum going. Like...how was UNT supposed to stop that? Double her? Triple her? It's like Jacobs is one side of a magnet and the other side is the basket — she gets the ball and she's just instantly drawn towards it.
Jacobs also has a good eye for passing:
The defense doubles her here because she's UTA's best offensive player and doubling someone who can score that expertly inside can be smart, but then the team loses Emma Halverson, which means Jacobs can just toss the ball over the defense and find the cutting Halverson at the hoop. Despite her high usage rate and 15.7 field goal attempts per game, she is averaging 1.5 assists per game, which ranks in the 64th percentile. She won't be a pass-first player, but she's able to make the right pass when needed.
And we haven't even talked about defense. Jacobs is averaging 3.3 steals per game, which ranks 20th in Division I. In addition to her ability to work the ball inside and score easy buckets on one end of the floor, she can go on the other end and get some stops.
Here, Jacobs jumps the passing lane and then takes the ball coast-to-coast for two points. Her ability to guard out to the arc and swipe passes away coupled with her size and finishing ability on the other end...
Let's just say that I wouldn't want to be a basketball team that's trying to stop Starr Jacobs.