On Thursday night, Texas State defeated Lousiana-Monroe 58-50, ending a five-game losing streak for the Bobcats.
While the team now has six wins on the season, just three of those wins have come against Division I opponents. And those three wins came against UTSA, Houston Baptist and the aforementioned ULM victory, which...well, it isn't the best grouping of teams. Per Her Hoop Stats, those teams all have a Her Hoop Stats rating of 299th or worse.
The Warhawks have the lowest of those ratings, sitting 348th in the country in the metric. So while Thursday's win ended the losing streak for the Bobcats, it doesn't necessarily signal that Texas State has fixed the issues that led to the losing streak.
So, what are those issues?
What's wrong with Texas State?
Heading into this season, the Bobcats were expected to be competitive in the Sun Belt. The team was fourth in the conference preseason poll behind Troy, Louisiana and UT Arlington.
Last year, the Bobcats made some major leaps. The team went 11-11 against Division I opponents, its best winning percentage since the 2017-18 season. The team posted an 82nd percentile defensive rating after two years sitting below the 30th percentile.
And, well, it's happening again.
The defensive rating is in the 28th percentile this season, putting it back in line with where things were during the 2018-19 and 2019-20 campaigns.
Last year, the team allowed 0.75 points per possession, which ranked 80th in Division I. This year, it's up to 0.82 points per possession. And while that doesn't sound like much of a change, it is — the team ranked 272nd in that category.
On a possession-to-possession basis, the Texas State defense just isn't playing at the same level, which has allowed teams to take advantage.
As for the offensive side of the ball, last year's team wasn't necessarily good on that end, ranking 189th in offensive rating, but that's dropped down to 241st in the country this season when taking out the games against non-DI schools.
The team is struggling from deep, shooting 24.9 percent from three while taking almost two per game more than last year, when the team shot 28.8 percent from three. Shooting more threes is a viable offensive strategy — look at Baylor — but when you're not able to make those shots, it really lowers the floor for what you can do offensively.
Kennedy Taylor, a preseason candidate for "best point guard in Texas," has been a pretty big part of the three-point issues, as she went from shooting 37.6 percent from three last year to just 23.3 percent this year. While she remains one of top assist-makers in the country, she's also turning the ball over 3.4 times per game.
And Da'Nasia Hood is struggling offensively as well. Per CBB Analytics, Hood is struggling all over the floor: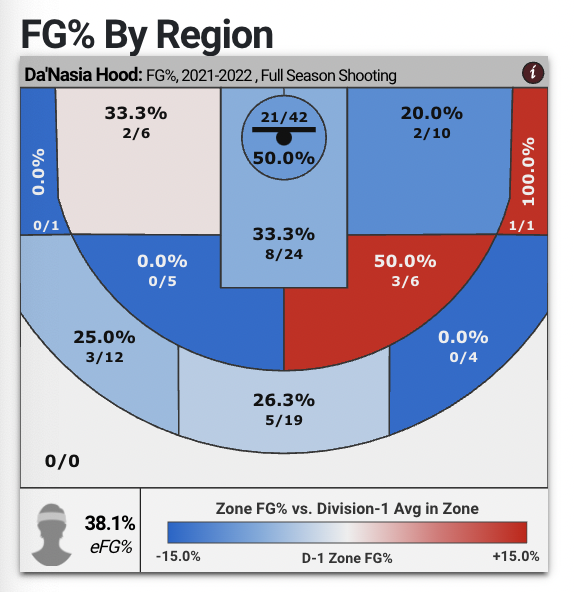 Having your two best players struggling to score in the ways they've scored in the past is, uhh, not great.
Can Texas State bounce back?
Sure.
This is a team that looks a lot like last year's team. The Bobcats returned 11 players from last season, making it the Sun Belt team with the most returning talent.
So, we've seen this team. And we've seen it play better than it has this season, on both sides of the ball.
In theory, that should be an encouraging sign. Consistency in an ever-changing college basketball landscape should mean that a team that's already gone through that gelling process while mature quicker and will play with a lot more cohesion, allowing it to play better basketball.
Now, that doesn't necessarily mean that will happen. Texas State could slide back into the muck at the bottom of the Sun. Belt. A 58-50 win over ULM doesn't necessarily prove this team has turned things around — sure, Hood scored 19 off the bench on 7-for-14 shooting and Taylor had eight assists, but the offense only put up 58 points against a team that allows 73.9 points per game against Division I teams. And while it held the Warhawks to 50, the team only averages 55.6 against DI teams and had games against Alcorn, Northwestern State and Mississippi Valley to inflate that number.
The good thing is that we did see the peak version of this Texas State team to open the season, in the 77-70 loss to Baylor.
Taylor had nine assists. Hood scored 20. Jo'Nah Johnson added 11 points, with her and Hood combining to go 7-for-20 from three.
Defensively, the team allowed 77 points, but it was 77 points to a Big 12 school. The Bobcats forced 16 turnovers and applied some good pressure, holding Baylor to 8-for-21 shooting in the first quarter and 5-for-14 shooting in the fourth.
If Texas State can play at that level, this is a team that can still get back to that projected fourth spot in the conference.
But if the team doesn't find a way to fix things on both sides of the ball, these losses are going to continue.