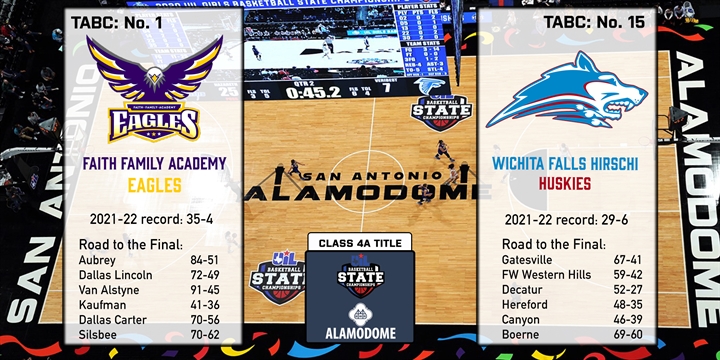 4A Final: Oak Cliff Faith Family 76, Wichita Falls Hirschi 50
Faith Family went out with a bang.
All year, the top-ranked team in 4A had made the most of its impressively difficult schedule. With the likes of Dallas Kimball, Lancaster, Bishop Gorman (NV) and Minnesota Prep on the docket, with wins over all except Kimball and Gorman, the powerhouse Eagles were battle-ready for their fourth trip to San Antonio in four years.
After a formidable clash with fellow 4A power Silsbee in the semifinal, FFA rolled Wichita Falls Hirschi 76-50 in the championship game to pick up the program's second title in four years.
"They did a good job tonight of carrying our gameplan and they shot the ball like I've never seen them shoot it all season," head coach Brandon Thomas said "They definitely saved their best performance for last, and they went out the right way."
The Eagles shot 48 percent from the floor including 50 percent from 3-point range on 26 attempts and dominated the inside with their overwhelming size. FFA put up 33 points in the paint and recorded 20 second-chance points off 14 offensive boards. But even with how successful the Eagles had been, this night was easily their most complete performance of the season. Even their head coach noticed it too.
"It's a testament to the program, talent, commitment to winning, commitment to excellence and the grind," Thomas said. "The competition we play prepares us for the state tournament. When we make it to the state tournament, there's no style of basketball that we haven't seen, and the guys just understand it."
Ole Miss signee TJ Caldwell finished with a team-high 20 points and was named game MVP while Isaiah Jones and JT Toppin combined for 27 and 12 boards.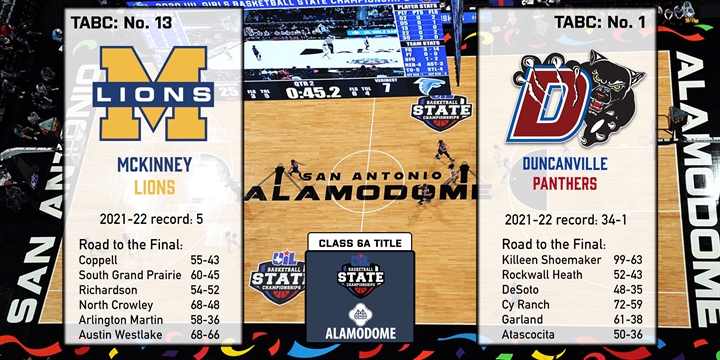 6A Final: Duncanville 69, McKinney 49
Duncanville's run to a three-peat 6A title actually began during the second half of the semifinal against Humble Atascocita. If anyone was going to catch the powerhouse Panthers sleeping, that was the moment. And it came and went Friday night.
When the Panthers trailed by 20 during the first half of that game, it was the wake-up call they needed and last time they trailed in the state tournament. David Peavy's squad stifled the Eagles holding them to four points during the entire second half in a dominant effort. In a way, Duncanville got its scare out of the way paving the way for an equally dominant 69-49 win over McKinney Saturday night in the 6A championship.
"I think because of what happened (against Atascocita) these guys might've been more locked-in and they saw what we had to do," Peavy said postgame. "We came out from the start just really contesting everything they wanted to do."
This team will naturally get compared to some of the best Texas has produced, and rightfully so. It's the goal they had in mind, the highest standard. A 6A title was obviously on their mind, but they aimed higher, they wanted national recognition. One close loss to Richardson is the lone blemish on Duncanville's record that included wins over perennial national powers like Montverde Academy and Sierra Canyon. Peavy admits that this may be the best of all of his Duncanville teams thus far. Twenty-six playoff wins in a row speaks for itself and the stability he's built in Duncanville.
"We got a lot of talent and a lot of people believe it's just easy but we take everybody's best shot and to do it the way were doing it is just special," Peavy said. "…There's levels to things we're doing right now. It doesn't happen if we don't have special kids and special families."
The Panthers opened up an early 13-0 run in the first period that led to a 19-4 lead. Eventually, Duncanville went into the locker room with a 46-21 advantage. McKinney made their run after halftime and valiantly closed the deficit to 14 thanks in part to Jakobe Walter's game-high 23 points, but that was about as close as it would get.
Senior five-star Anthony Black was named the game's MVP following his team-high 17 points. Fellow senior Davion Sykes added 13 points and five rebounds to his total. Sykes was one of the few players to experience all of Duncanville's titles under Peavy. Black joined this year from Coppell and faced eligibility concerns at the beginning of the season before joining the team in the winter.
"It means everything to me because me and my teammates have been through a lot this year and they've had my back," Black said.