PRE-ORDER YOUR DAVE CAMPBELL'S TEXAS BASKETBALL MAGAZINE HERE!
Houston basketball is back, and isn't going anywhere under Kelvin Sampson. The Coogs arguably have their best shot at a national title since the famed Phi Slama Jama days. And they're doing it with a style of play that embodies the grind lifestyle of the Third Ward. Also, for Sampson, the program's resurgence is a re-validation of a legendary career that was once marred by NCAA violation.
This is the first time the University of Houston has graced the cover of Dave Campbell's Texas Basketball Magazine. The photo was taken by Mansfield-based John Hamilton shooting his third cover for the magazine.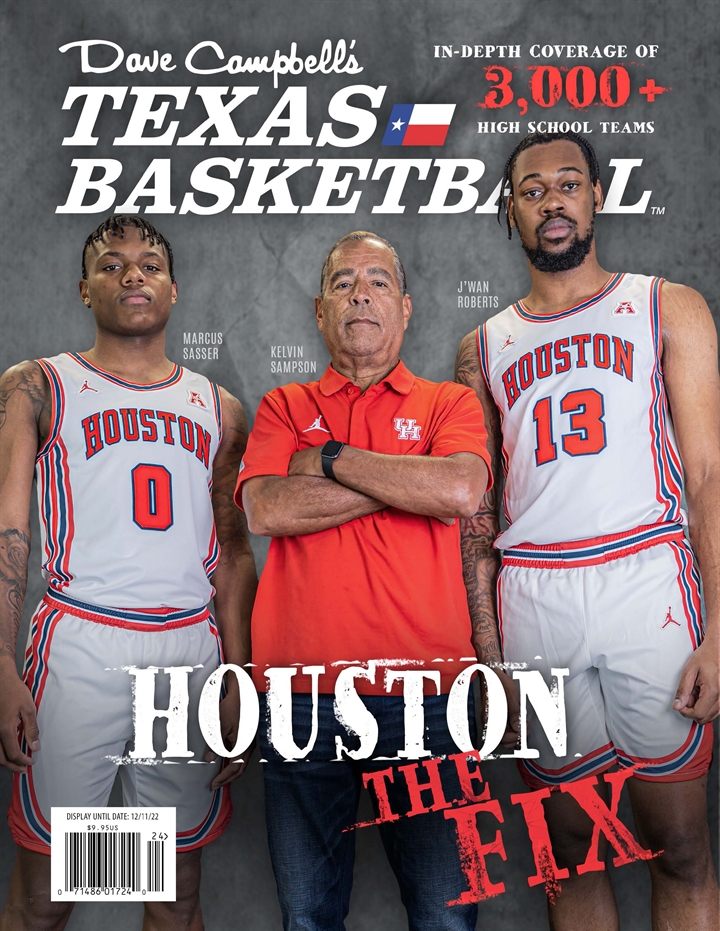 Houston: The Fix takes inspiration from Houston-rapper Scarface and his seventh album, "The Fix". The headline is an homage to the Third Ward artist and a representation of the job Sampson and the players have done in repairing the program's reputation as a basketball power in the Lone Star State.
"We're overdo in terms of properly capturing this moment in Houston men's basketball," managing editor Ishmael Johnson said. "The appeal of this team is not only the quality of play they've displayed since Kelvin Sampson's taken over, but the intense and high-octane style that's predicated on hustle points and offensive rebounding. The icing on the cake is that we're looking at a legitimate national title contender this season with the return of All-American Marcus Sasser.
"A huge thanks to Jeff Conrad and the Houston staff for helping make this happen."
For the first time ever, Texas Basketball also revealed its high school gatefold cover featuring Fairfield seniors McKinna and Shadasia Brackens. The duo become the first-ever high school basketball players to appear on the cover of Dave Campbell's Texas Basketball Magazine. The photo was taken by San Antonio-based photographer Aaron Meullion shooting his first cover for the magazine.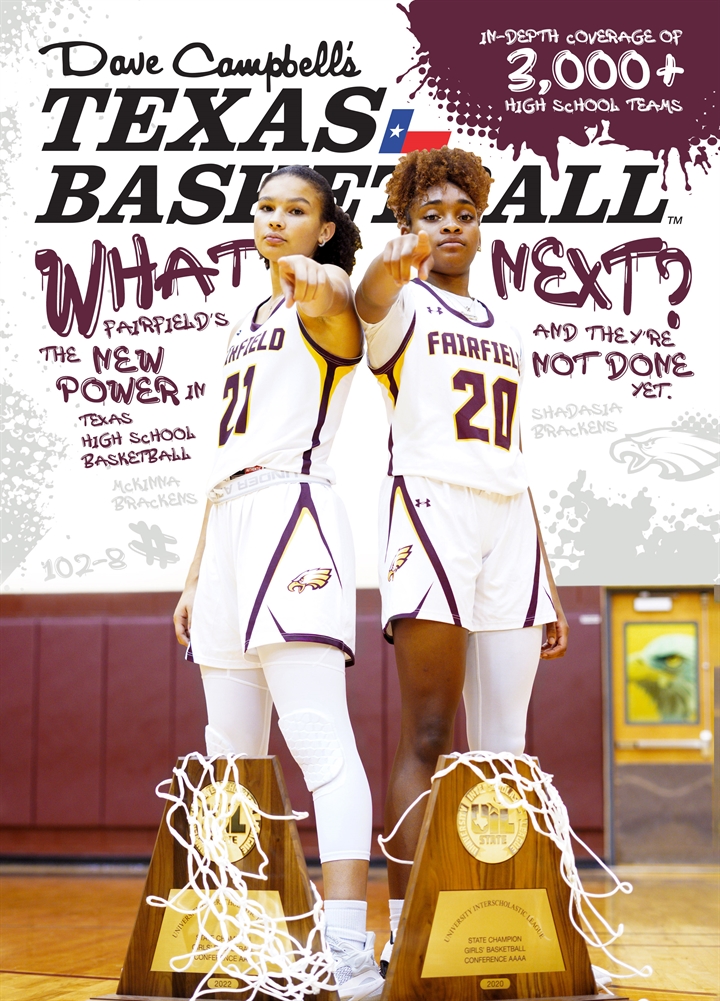 The newest power in Texas high school girls basketball goes for its third title in four years. The Brackens family name is already legendary in the small town of Fairfield with NFL player Tony Brackens bringing notoriety to the central Texas town east of Waco. Cousins McKinna and Shadasia have been integral to the Eagles' run since they were underclassmen and now enter as the odds-on favorite to come out on top of Class 3A once again.
"Fairfield's historic upset over Argyle in 2020 was one of the greatest games I've ever seen in person," Johnson said. "Seeing that team full of underclassmen knock off the biggest dynasty in the sport at the time showed that Sally Whitaker's program was here to stay. Dropping down to Class 3A only cemented Fairfield as its own dynasty and it was only right to capture the program's historic run in our first-ever high school cover.
"Thank you to head coach Sally Whitaker for help making this happen."