The first day of second grade is an unforgettable memory for cousins McKinna and Shadasia Brackens. That's because it's the day that the two first met.
McKinna, now entering her senior year of high school at Fairfield, was sitting quietly when her teacher called out for another Brackens. McKinna approached Shadasia, also now a senior at Fairfield, at recess and told her that since they were cousins, they were friends. And since they were friends, they were playing at recess that day.
The duo never stopped playing. And that's great news for the town of Fairfield. The Brackens family is big. McKinna's dad, Tony, was an All-American at Texas and a defensive lineman in the NFL for the Jacksonville Jaguars. Even he says he doesn't know the whole Brackens clan, and he's a native of Fairfield.
"I went home and told my mom that there was another Brackens in my second grade class," McKinna remembers. "They weren't shocked. She was like, 'Oh, I know.' That's how big our family is."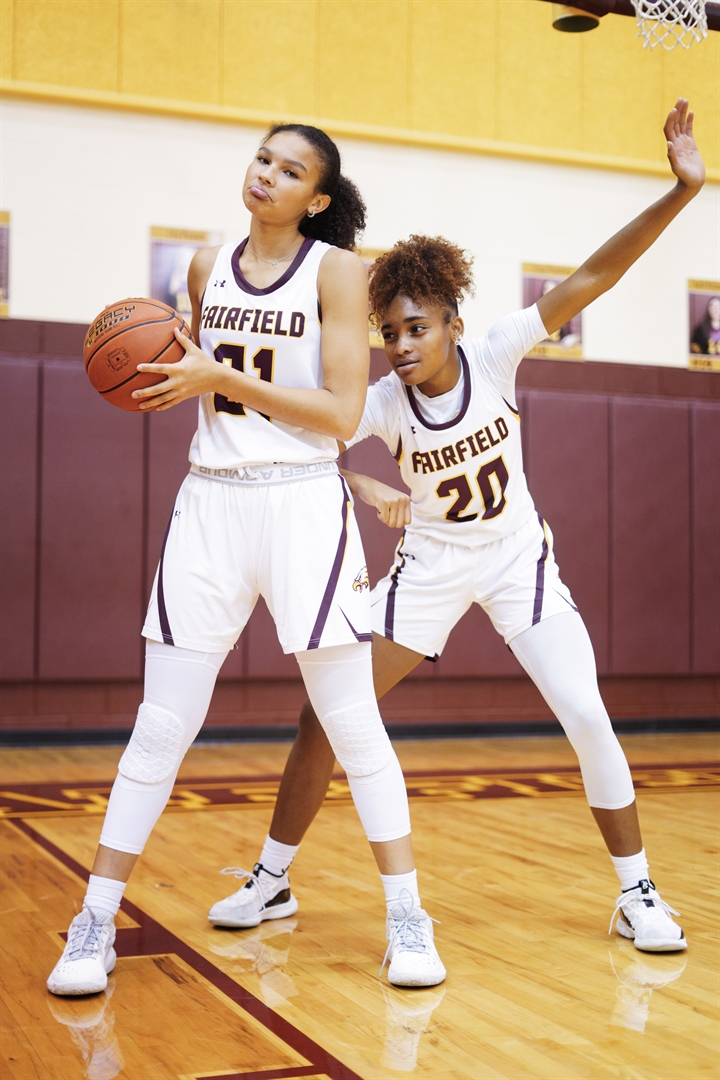 The cousins were introduced to each other in second grade. They introduced themselves to the Texas basketball community as freshmen at Fairfield. The Eagles went 35-4 with the Brackens cousins helping off the bench in the 2019-20 season. Fairfield eventually reached the Class 4A state title game and entered the contest as a big underdog against reigning five-time state champions. Argyle was hoping to become only the second basketball team in Texas to win six straight state championships.
No one outside of the Fairfield locker room gave the Eagles a chance on May 7, 2020, in the Alamodome. Argyle jumped out to a 18-3 lead in the first half and eventually went into the break with a 25-11 advantage. Hope began to fade, even for then-freshman McKinna. Argyle was Goliath, and they were about to knock out David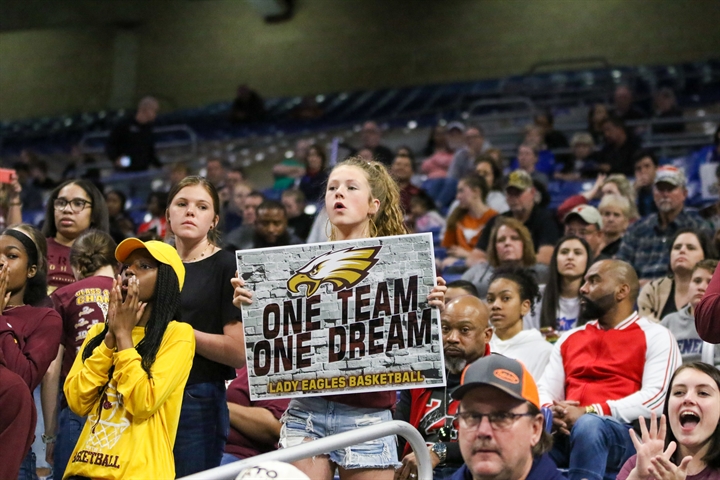 "I definitely lost belief," she admitted. "But the seniors kept us up and were rallying us at halftime. They were saying 'we're still in this' but I didn't think so. We were down by a lot at halftime, and I remember thinking 'at least we got second place' but I also wasn't going to lay down. I was going to try hard."
There's no quit in Fairfield. The small Texas town off I-45 between Dallas and Houston is 63 miles east of Waco. Dallas is 82 miles north. Houston is south another 152 miles. The 2020 census recorded the population of Fairfield at 2,850 people, down from 3,094 in 2020.
It was founded in 1851 and the lady's basketball team had only reached the state finals once, and that was in 2011. It's a town known for football talent, however. Tony Brackens wasn't the only professional football player to call Fairfield home. There was also Louis Cheek and Winfred Tubbs and Larry Rose III. Former Olympic sprinter Nanceen Perry also grew up in Fairfield.
The third quarter proved pivotal for Fairfield. Argyle began to stall, and the Eagles began to score. Fairfield outscored the five-time defending champions 11-2 in the third quarter. As the deficit shrank, Fairfield's confidence grew.
"After the third quarter was over, I thought we had a chance," McKinna said. "I thought Argyle was going to win it until they started stalling."
The game was also McKinna's coming out party to the entire state.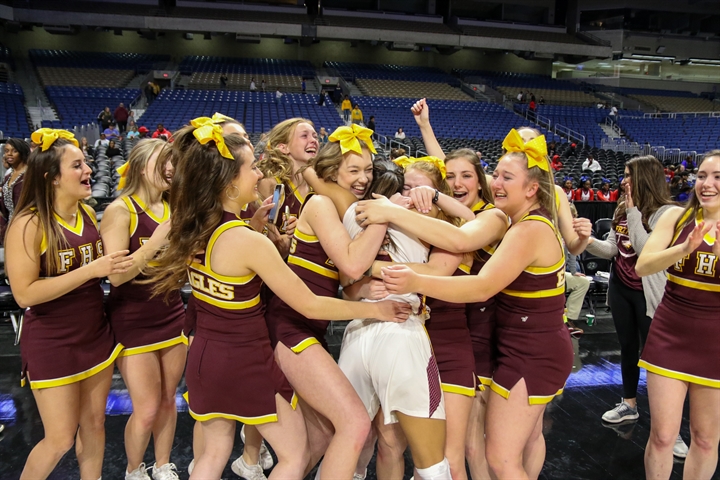 She scored a layup as time expired in the fourth quarter to complete the comebacker and send the game into overtime tied at 34. She scored 15 points, collected 10 rebounds, and created three steals off the bench. She also guarded Argyle star Rhyle McKinney, now playing at Texas Tech, towards the end of the game.
"There were nerves because it was Argyle," McKinna said. "Everybody is scared of Argyle because they have the best players, but I asked to guard McKinney. I felt like I could shut her down, or at least slow her down, because she's a good player. I wasn't nervous guarding her."
Fairfield won the game, 40-39, in overtime to claim the program's first state championship in girls' basketball. The town is no longer known for just its football talent, and even Tony is okay with that. He helped mold the new group of basketball stars in Fairfield, including McKinna and Shadasia, during Little Dribblers. He spoke these moments into existence back when those girls were in fifth and sixth grade, he said.
"We were working towards winning a state title, and getting scholarships, and giving them reasons to get out of Fairfield to go do something with their lives," he said. "Let's pave the way for other people by making Fairfield a place that college recruiters know they can find talent."
THE COMEDOWN
Fairfield was poised to win its second consecutive state championship in girls' basketball the following year with the return of the Brackens cousins and multiple other starters from a team that upset Argyle in the Class 4A final the year before. The Lady Eagles dropped down to Class 3A for the 2020-21 season, and their path to the state championship game felt easy because it was easy.
Fairfield went 27-3 that year. The only two losses in the regular season came in non-district play to Class 4A Brownsboro by six points in December of 2020 and to Class 5A Bryan Rudder by eight points later in the same month. The Lady Eagles wouldn't be challenged again until the state championship game against Brownfield on March 10, 2021.
With only one game separating Fairfield from another state title, the confidence level was at an all-time high for the Lady Eagles. Maybe too high as the Brackens cousins look back at what would be the most crushing defeat of their high school career – a 68-64 overtime loss to Brownfield in the state championship game.
"We played a bunch of easy games, and we thought the championship game was going to be the same," Shadasia admitted. "Our confidence was too high, and we weren't focused enough."
The Lady Eagles entered that 2021 Class 3A state title game on a 20-game winning streak. Fairfield hadn't lost since December, and the Lady Eagles' closest district contest was a 38-point win over Teague, a school it beat the second time around that same season by 59. They won the first six playoff games of that campaign by an average score of 77-36.
"The loss was a wakeup call and a reality check," McKinna said. "We realized that we weren't unbeatable. Nobody had heard of Brownfield, and I think our heads were too big. We beat Argyle in Class 4A the year before so we thought 3A would be easy. We walked through the whole playoff season blowing everyone out, and by the time we realized that we needed to turn it on, it was too late."
THE REBOUND
Fairfield entered the 2021-2022 season with renewed energy and a large chip on its shoulder following the upset loss to Brownfield in the previous year's Class 3A state championship game. The Brackens cousins, now juniors, were determined to right any wrongs. The only way to eliminate the bad taste was to add another ring to the collection. The Lady Eagles did exactly that.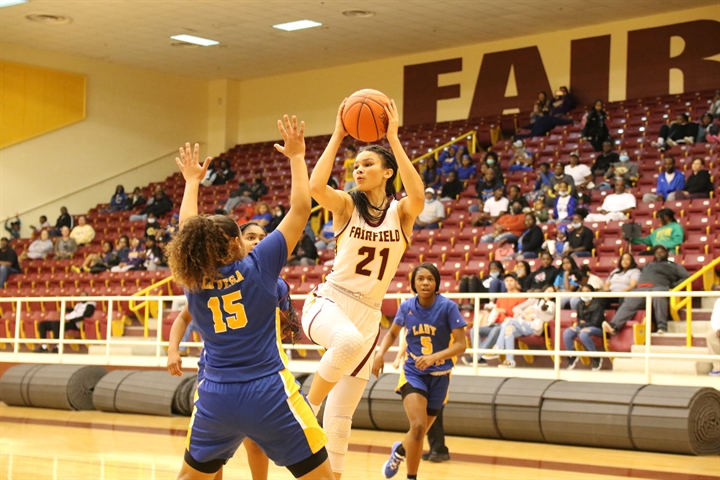 The squad started the season 2-0 before a hiccup against powerful La Vega – a Class 4A program that ranked fourth in the state at the time of the meeting – losing by four points in a non-district game. Fairfield wouldn't taste defeat again. The Lady Eagles closed the 2021-22 season on a 38-game winning streak that they'll carry into the new season. Fairfield won those games by an average score of 73-28.
"That loss (to Brownfield the year before) served as motivation for us," Shadasia said. "We knew we couldn't get too confident. We remained humble throughout the season."
Fairfield clinched its second title in three seasons with a 60-54 victory over Winnsboro on March 5, nearly a year to the date of the heart-breaking loss to Brownfield. Shadasia scored 16 points. McKinna filled the stat sheet with eight points, six rebounds, four assists, and two blocks. Fairfield built a 34-28 first-half lead that provided enough cushion in the second half.
McKinna took the 2021 state championship loss to Brownfield personally. She views herself as one of the leaders of the team, and she felt like she disappointed her teammates and her community. Those feelings propelled her throughout her junior campaign.
"I can still see everybody's face in the locker room and all the tears shed as a team," she said. "I didn't want to be crying again on the bus ride home feeling like it was my fault we lost. I felt like I could've played better the year before. I didn't want any more ifs."
NEW STAKES
The Brackens cousins weren't a two-person band that dominated the state of Texas. The entire Fairfield team was loaded with talent for the previous three seasons. They were part of the machine, not the entire mechanism. That changes entering the 2022-23 season as the Lady Eagles lose most of their experience outside of McKinna and Shadasia. The duo knows that the expectations rise inside their own locker room. To win a third state title in four seasons, they'll need to be stars. Leaders. Friends. Maybe even assistant coach and counselor.
"It must be scary to come into a team that's won two championships in three years, so our job is to show them that there isn't anything to fear," McKinna said about her new, young teammates. "They need to know that we're confident in them and that we're in this together as a team, not as a bunch of individuals."
Shadasia echoed those statements.
"We'll need to motivate and help the incoming players," she said. "We've been there, but not everyone on the team has. We'll need to keep that in mind, especially early in the season."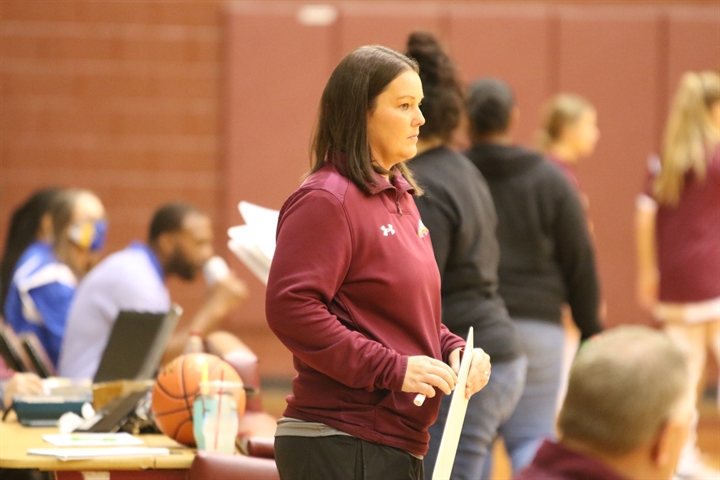 The on-court expectations won't change. Fairfield is 102-8 with McKinna and Shadasia on the court over the past three years. They're also talented in other ways. Shadasia, a 5'11" guard, won the gold medal in the high jump for Class 3A with a jump of five feet, 10 inches and a silver in 2021. McKinna won a bronze medal in the discus with a school-record throw of 134 feet, 3 inches. The duo was on the 400-meter relay team that won a silver in 2022. Shadasia was also on the 1600-meter relay team that also claimed a silver. McKinna is also on the volleyball team, played softball, and is in the top-five of her graduating class.
"The thing about them is that they're not just talented basketball players," head coach Sally Whitaker said about her star pupils. "They're great people, and that's what I'm in the business to help mold. High school coaches don't get into it for the banners, it is for the relationships."
And no matter the results of the 2022-23 season, the Brackens cousins left their mark on Fairfield and the Lady Eagles' athletics programs.
"To watch how they've grown the last six years through junior high has been a pleasure," Whitaker said. "They've made this program better, and they've made Fairfield better."