Now that conference play has arrived, we can finally start to get a sense of what women's basketball in the Southland conference will look like in 2023. Much of the non-conference games involving Southland teams either find them beating non-Division I opponents, or losing to major conference foes, so it can be hard to really make sense of the conference before conference play.
For example, Texas A&M Corpus is currently 2-0 in Southland play. But the Islanders went just 5-6 in non-conference, which featured four losses against power conference schools, and wins over non-DI teams Texas Lutheran and St. Thomas. But now that we're starting to get into some actual Southland contests, we should soon get a sense of where things are headed.
But before that sense solidifies and we know for sure who the contenders are, let's just take a kind of overarching look at how the Southland might end up going.
Preseason expectations vs. reality
Between the conference's own preseason poll and Cory Hogue's preseason rankings in Dave Campbell's Texas Basketball, we can get a good sense of what the Southland was expected to look like, and then we can compare that to where we're at now.
And those two rankings look fairly similar. Texas A&M-Corpus Christi was picked to win in both projects. The conference poll had Houston Christian second and Southeastern third, while Cory had the order of those two reverse. Lamar was fourth in both. Incarnate Word was seventh in both. The only notable difference between the conference poll and Cory's rankings was that the Southland poll had Texas A&M-Commerce picked fifth, while DCTB had them eighth.
Overall though, four of the five Texas schools in the Southland were picked within one spot in both, which means that we have a pretty definitive hierarchy of what we should have expected, minus the mystery that is Commerce, since that team just transitioned to Division I, so there was a wider range of outcomes.
It's far too early to really read into the one or two-game sample of Southland results, but if we were to project forward based on the standings now, it's notable that the three Texas teams picked to finish in the top four are all either 1-0 or 2-0 in conference play, while UIW is 0-2, and A&M-Commerce is 1-0.
But again, I don't want to get too caught up on one or two-game samples. Let's consider the team's overall bodies of work going forward in this piece.
Is TAMU-CC still the favorite?
Looking at the full body of work for every Southland team requires a little bit of work.
For example, if we look at the net rating of every team in the conference, we see that the Islanders are second in that stat, but that they're a good bit behind Southeastern Louisiana.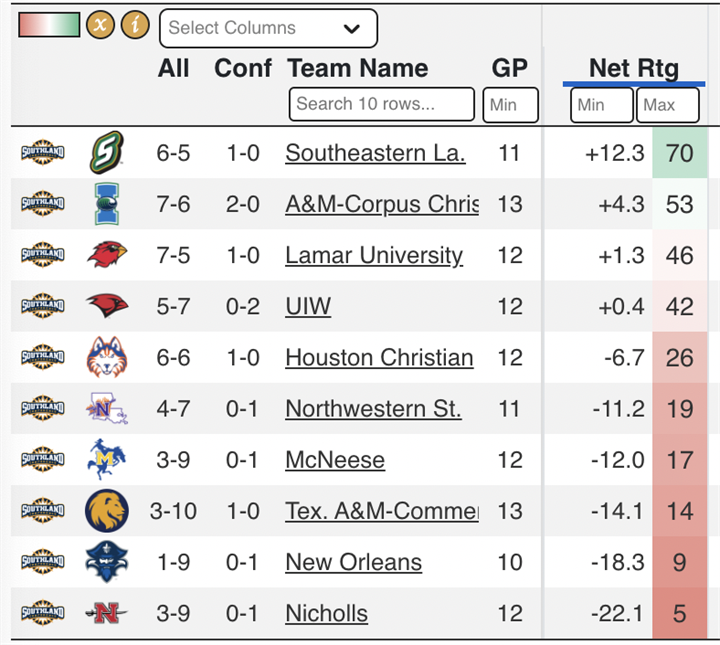 chart from CBB Analytics
If we dig in more, we can add a little context to that. Her Hoops Stats, which filters out games against non-Division I opponents, has the Lions with a -0.5 net rating against Division I teams, while the Islanders are at -9.9, which makes Southeastern look even better. And if we look at strength of schedule, HHS has A&M Corpus's opponent's average win percentage ranked 181st in the country, while Southeastern is at 126th.
Factoring in non-conference play, I think we can kind of recharacterize the Southland race. Before the season, the Islanders seemed to be the clear favorite, but now this feels like more of a toss-up, or even leaning slightly in Southeastern's direction.
Still, the Islanders have a chance every night because of the talent of Alecia Westbrook and Makinna Serrata, plus they have the best shooter in the conference right now: Jaeda Whitner leads the Southland in true shooting percentage and effective field goal percentage, and she's shooting 41.9 percent from three on 2.4 attempts per game.
Can any other Texas teams come away with a Southland title?
Let's go ahead and put UIW and A&M Commerce to the side here. The Cardinals are already 0-2 in conference play, which is going to be tough to dig out of, while the Lions, in their first year in Division I, have had some ups and downs and have the top scorer in the conference, Dyani Robinson, but also probably still need some time to really compete in this conference.
That leaves us with Houston Christian and Lamar. Could either team find a way to get past A&M Corpus or SELA?
Heading back to Her Hoop Stats, where we can filter out non-DI results, we find that Lamar actually has a better net rating right now against DI teams than TAMU-CC does, sitting at -4.7 vs. -9.9 for the Islanders. We also find HCU sitting ninth in the conference in net rating at -29.5.
Let's start with the Huskies. That net rating's bad, but the team also played Nebraska, LSU, Baylor and Texas in non-conference. Their opponent's average winning percentage of 56.8 percent ranks 70th in the country. The numbers look pretty bad, but strength of schedule has really hurt this team, and maybe it's prepared them to make a run in conference play—playing really good teams can help you prepare for conference play better than beating up on NAIA schools, right?
The Huskies have also shot the ball well. They rank in the 78th percentile nationally in three-point field goal percentage, shooting 34.0 percent on those looks. And digging into their defense, there are encouraging signs there when it comes to rim protection, as they're in the 76th percentile in block rate. The Huskies' opponents shoot 56.1 percent at the rim, which is 2.2 percent below the Division I average. I don't ultimately think the Huskies win this conference, but they're definitely a top-four team, just like the preseason polls say.
As for Lamar, I'm more inclined to say that the Cardinals could be a surprise Southland champion. Only one Southland school—A&M Corpus—has a win over a team ranked in Quads 1 through 3, but Lamar has done really well against Quad 4 schools, going 4-0 against them. SELA is the only other Southland school to be undefeated against Quad 4 schools. What that means, to me: the Cardinals beat the teams that they're supposed to beat. And that's what the bottom of the Southland is: teams that a team like Lamar should beat.
Lamar also has been the conference's best offense. They lead the Southland in effective field goal percentage and true shooting percentage and are the only Southland school with a TS% over 50 percent. They're also shooting 38.3 percent trom deep, which is one of the best marks in the country, ranking in the 97th percentile.
With talented players like Sabria Dean and Portia Adams, the Cardinals offense might just be able to go out and outscore everyone in the Southland. They're second to SELA in offensive rating, and that's mainly because of the big gap between the two in turnovers, which has helped the Lions take better advantage of their possessions: Southeastern has a 15.4 percent turnover rate, while Lamar is at 23.5 percent. If the Cardinals can take better care of the ball going forward, then...well, anything could happen.
And I think that's the real joy of the Southland this year. There are four pretty good teams to watch, and then there's also the story of how Commerce will build something. And while UIW is 0-2 in conference play, Jeff Dow's team has played some pretty good defense this year, ranking in the 79th percentile in defensive rating. This'll be a fun conference to keep up with as conference play continues.