The list of underrated players in Texas is long, but any such list should include Prairie View A&M star Diana Rosenthal near the top of that list. Now in her fourth season with the Panthers, Rosenthal has her team sitting at 3-1 in SWAC play so far. Could this Panthers team make a run at SWAC power Jackson State?
We'll cover that final question at the end of this piece. For now, let's focus on how crucial Rosenthal is for Prairie View.
Background
Rosenthal arrived in Prairie View in 2019 after a high school career in Florida, where she played at Lakewood High School in St. Petersburg. According to Prairie View's biography of Rosenthal, she "was a first and second team All-Pinellas, state runner up, player of the month and she made hotshot of the week twice, Lakewood High School MVP and two times All Tampa Bay."
As a freshman at PVAMU, she started 19 games, and while her numbers that year don't necessarily stand out, it was an important season for her, as she got accustomed to playing at the collegiate level. She really blossomed as a sophomore, averaging 12.3 points per game and adding 2.2 steals per game. She boosted that scoring to 16.7 points per game last year, and currently sits at 14.9 per game this year.
What Diana Rosenthal does well for Prairie View
What's Diana Rosenthal good at? Scoring.
Per CBB Analytics, her 28.9 points per 40 minutes rank in the 99th percentile nationally, and that's not the only thing that shows up as bright green on the site: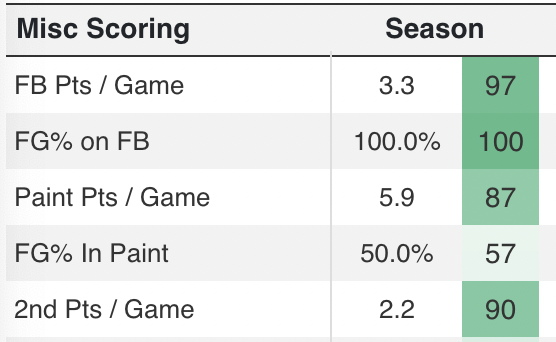 Rosenthal has been elite on fastbreaks this season, with CBB Analytics showing her at 100 percent shooting on the break. She's one of 14 players that the site logs as shooting perfect on fast breaks while averaging at least three points per game on fast break attempts.
In addition, she's been good at following up on her misses and creating additional opportunities. The one thing on the above list that stands out in a bad way is that she's shooting 50 percent in the paint, but she makes up for that by ranking in the 90th percentile in second-chance points per game. She shoots slightly better—53.3 percent—on those second looks.
Another crucial thing is her ability to score all over the court. Rosenthal shoots 37.5 percent on above-the-break threes, which is the best mark on the Panthers team.
She's a smooth shooter with a knack for hitting big shots. In the team's 55-52 win over Southern, Rosenthal had 28 points, and the above shot was one of the biggest, as she hit a three with about a minute left in the fourth quarter to put the Panthers up. The game would wind up going to overtime, where Rosenthal scored four points while Southern scored just three as a team.
But scoring isn't the only thing Rosenthal excels at. She's also been a good on-ball defender, with her 2.1 steals per game this season ranking in the 96th percentile. She's so good at getting steals that her Hakeem Percentage—a number that combines steal and block rate—is in the 74th percentile nationally despite the fact that she's blocked a total of one shot this season.
She's also been a consistent ball handler. While her total number of turnovers per game (2.0) ranks in just the 30th percentile, things look a lot better when we factor in just how much Rosenthal has the ball, as her 10.7 percent turnover rate ranks in the 94th percentile. For being such a high-volume player—her usage percentage of 35.3% ranks in the 99th percentile—she does a good job holding onto the basketball.
On/Off Impact
One way to measure Rosenthal's impact is to look at how she's impacted the team's play when she's been on the floor, which we can do thanks to CBB Analytics.
Prairie View played a tough non-conference schedule, losing five games to power conference teams. That kind of skews the overall numbers, but we can still get some sense of Rosenthal's importance.
In her 349 minutes on the floor, the Panthers have a net rating of -0.1. In the 259 minutes with her off the floor, that number plummets to -6.1. So, the Panthers are six points per 100 possessions worse when Rosenthal isn't on the court.
Meanwhile, we get an even better sense of how things go when Rosenthal is paired with the team's other top player, TaMiracle Taylor. When those two share the floor, the team has a net rating of +5.9.
Prairie View's ceiling
The Panthers are currently 3-1 in SWAC play. Just two seasons ago, the team finished conference play with a 2-11 record.
Prairie View has been building something over the past couple of seasons. They went from 3-13 overall and 2-11 in the SWAC in 2020/21 to 13-16 overall and 9-8 in the SWAC last year. Can this season be the culmination of that improvement?
Sure...as long as we make sure we talk about exactly what the SWAC is right now, which is a conference that's been utterly dominated by Jackson State. Honestly, it's tough to really talk about what to expect in the SWAC, because it's hard to see anyone that isn't Jackson State winning it. As I wrote a couple of weeks ago: "Jackson State is Jackson State. The team went 18-0 in conference play last year and the year before they were 14-1. The SWAC hasn't always been a one-team race, but it's turned into that over the past few years."
The Tigers are 3-0 in SWAC play, winning by the following scores: 59-49, 90-48, 63-35. It's just...really hard to fathom that any SWAC program can slow down Jackson State.
But if we reconsider this conversation as "can Prairie View be the best non-Jackson State team in the SWAC," I think I'm going with yes. Having a player as good as Diana Rosenthal makes it so that the Panthers will very often have the best player on the floor, and there's plenty of good talent around her.
And, of course, there's the whole Sandy Pugh advantage. The Prairie View head coach has a long history of success in the SWAC, winning seven SWAC regular season titles in 18 years at Southern. She's building something at Prairie View, and with her coaching plus this team's talent, the Panthers are well-positioned to win a lot of conference games this season.