For years, Texas A&M was one of the state's most consistent programs. Gary Blair's team won an NCAA title in 2011 and made it to the tournament 15 times in his 19 seasons—and one of those misses was the COVID year, when the Aggies would have advanced after going 22-8.
But Blair's final season saw the team finish 14-15, the first under .500 season in College Station since Blair's first campaign in 2004. It was a mess last year—with the team's best bigs from the previous season gone, A&M rolled out a lot of undersized, four-guard lineups, and nothing really meshed.
Coming into this season, it was hard to know what to expect from A&M. The program had a new head coach hiring Joni Taylor away from Georgia. Taylor's a good coach—she won 20 or more games four times at Georgia and never finished under .500—but the results at A&M this year aren't good, as the team currently sits at 5-11 on the year and 0-6 in conference play.
What's going on with A&M? Let's start by going back to last year's roster.
Last year's Aggies
A&M wasn't very good last year, but they were at least fun. Per Her Hoop Stats, they ranked in the 79th percentile in scoring offense and 74th in offensive rating, and relying heavily on Kayla Wells, Qadashah Hoppie, Jordan Nixon and Destiny Pitts might have been why the team ranked just 250th in scoring defense, but it's also what made the team so watchable. Blair took a really limited roster and he did his best with it.
But last year's team really did depend almost entirely on those four players. Each played at least 29 minutes per night and they were the only players on the team to average double-figure points. And this year, they're all gone. Hoppie, Pitts and Wells were seniors, while Nixon left basketball in September:
So, when a team that was already coming off of a rough campaign ends up losing the four best players from that team...well, it can mean you get a year like this one, where there's just a pretty big talent drain. That's not to say A&M doesn't have some good players now, but those good players are a lot younger and more inexperienced.
Which leads us to the next point...
Playing an inexperienced roster
Eight A&M players average 20 or more minutes per game, but only three of those players—Sydney Bowles, Jada Malone, and Aaliyah Patty—have played in every contest.
Of those eight players, two—Bowles and Janiah Barker—are true freshmen, while a lot of the others aren't that much more experienced. Sahara Jones is in her third year, but she barely played as a freshman and then averaged just 12.8 minutes per game last year. Kay Kay Green is similar: her minutes per game over her three seasons in College Station go 3.7 to 4.1 to 27.7. McKinzie Green is in her fourth season with the Aggies, but had topped out at 12.2 minutes per game before this year.
It's not necessarily that A&M's a younger team now; it's that the Aggies are playing players who just don't have a lot of experience at this level. And in a conference as strong as the SEC, that's a recipe for disaster.
A&M's also dealt with injury issues. Janiah Barker—the third-ranked player in the Class of 2022 per ESPN—has played just seven games with a wrist injury, while Georgia transfer Tineya Hylton has played eight games.
Offensive woes
Going beyond roster construction, the most glaring issue for the Aggies this year is that they can't score.
The team's 51.5 points per game ranks 345th in the country. No power conference team in the country scores less than that, and UIW is the only team in Texas that scores fewer points per game. Even factoring in the team's slow pace doesn't make things look much better, because the Aggies are 337th in points per 100 possessions. And the team shooting numbers...well, take a look: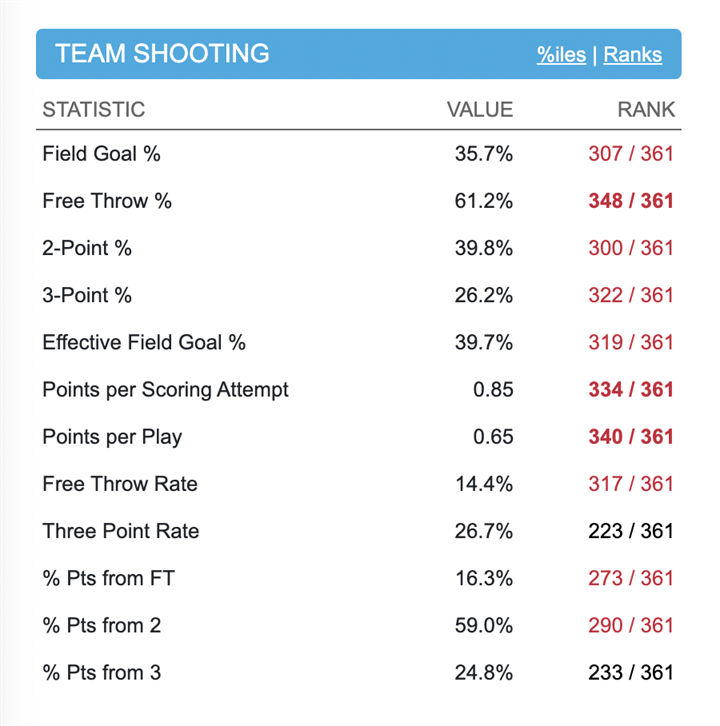 Just some of the worst offensive numbers in the country. On an individual level, no one on the team shoots better than Aaliyah Patty's 31.3 percent mark from three, and Janiah Barker and Jada Malone are the only rotation players shooting over 40 percent from the floor.
Using CBB Analytics, we can break these offensive woes down even more. The team shoots under the Division I average in every major zone: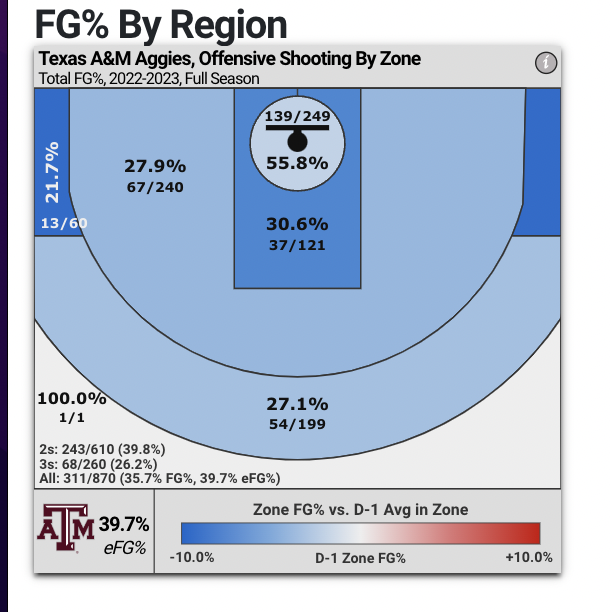 There are some bright spots, though. Guard Sahara Jones has done a good job scoring at the rim, shooting 69.2% there, which ranks in the 83rd percentile. Jada Malone's 33.3% mark on mid range twos ranks in the 63rd percentile. But these encouraging signs are few and far between.
Is the future bright in College Station?
Here's the thing, though: things should get better. The first year under a new head coach can always go a little sideways, but Joni Taylor is a good coach, and there's talent at A&M. Barker and Bowles are both top 50 recruits with a lot of good basketball still ahead of them, and we haven't seen much of another top 100 recruit from the 2022 class, Mya Petticord.
And then the 2023 class has three more top 100 players in it: Kylie Marshall (#35), Sole Williams (#51) and Erica Moon (#76).
This season will go down as one of the worst in program history. If things don't improve, A&M's looking at its first single-digit win season since Blair won nine games in his first campaign, and it could win up as bad as 98-99, when the Aggies won seven games in Peggie Gillom's first season.
But by year three of the Blair era, the Aggies were contenders. If A&M has patience with Taylor, you can see how this program can get back there: good recruiting and an emphasis on defense, which has been the one thing that A&M's done well this season. It's just going to be a long couple months still to end this season first.