LEWISVILLE – Dave Campbell's Texas Basketball, the leading publication for all things basketball in Texas, proudly announces the top 20 total finalists for the Mr. and Miss Texas Basketball High School Player of the Year Award presented by Chicken Express.
Chicken Express is a proud supporter of Texas high school basketball and is teaming up with Texas Basketball for the second consecutive year as the presenting sponsor.
Mr. and Miss Texas Basketball annually recognizes the most outstanding high school basketball players in the state of Texas in both boys and girls basketball. Each week, fans are given a chance to vote for the player of the week on TexasBasketball.com. Voting begins February 24th and runs through March 11th. Last year, the first-ever winners of the Mr. and Miss Texas Basketball Player of the Year awards were former Crosby star PJ Haggerty, now at TCU, and former Gruver star Bailey Maupin, now at Texas Tech.
The winners will be named on March 13, the Monday following the conclusion of the boys state championships in San Antonio.
For more information on the Mr. and Miss Texas Basketball Award presented by Chicken Express, visit Texasbasketball.com.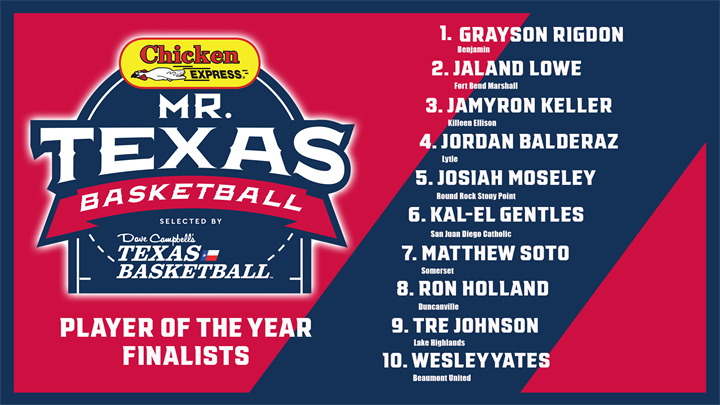 2022-23 Mr. Texas Basketball Finalists
Grayson Rigdon – Benjamin
Jaland Lowe – Fort Bend Marshall
Jamyron Keller – Killeen Ellison
Jordan Balderaz – Lytle
Josiah Moseley – Round Rock Stony Point
Kal-El Gentles – San Juan Diego Catholic
Matthew Soto – Somerset
Ron Holland – Duncanville
Tre Johnson – Lake Highlands
Wesley Yates – Beaumont United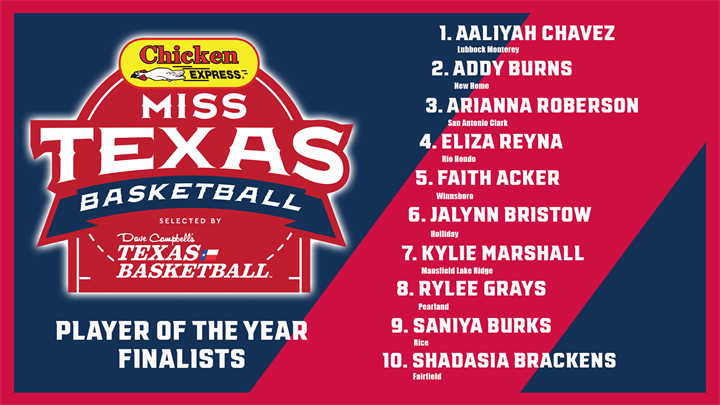 2022-23 Miss Texas Basketball Finalists
Aaliyah Chavez – Lubbock Monterey
Addy Burns – New Home
Arianna Roberson – San Antonio Clark
Eliza Reyna – Rio Hondo
Faith Acker – Winnsboro
Jalynn Bristow – Holliday
Kylie Marshall – Mansfield Lake Ridge
RyLee Grays - Pearland
Saniya Burks – Rice
Shadasia Brackens – Fairfield
About Dave Campbell's Texas Basketball
TexasBasketball.com is the online home of Dave Campbell's Texas Basketball, covering high school basketball, college basketball and recruiting all across the Lone Star State. From thought-provoking commentary to videos to podcasts to its daily live show, nobody covers basketball in Texas like TexasBasketball.com.