1A: Nazareth 30, Huckabay 20
Nazareth head coach Eric Schilling made sure every member of his state championship squad stood on the podium after defeating Huckabay 30-20.
"It's moments like today where we need everybody," Schilling said. "No matter how many minutes they played or didn't play, everybody had a huge hand in it."
That's because even though the Swiftettes earned their second state title in four seasons, Saturday's matchup was no cake walk.
In the early minutes of the second quarter, Schilling was forced to call a timeout before the game slipped away. Nazareth hadn't scored a point yet, shooting 0-for-9 from the field, and trailed Huckabay 10-0 while committing 10 turnovers.
But the moment wasn't too big for Nazareth. This was the program's 29th time in the state championship game. The Alamodome wasn't unfamiliar territory, and neither was a shooting slump. Nazareth captured its 25th title in program history Saturday.
"It's actually a tradition of ours now where we score zero or one or two points in a quarter," Schilling. "I don't know if you'd call that good experience, but we've been there before."
After the regrouping in the timeout, Nazareth got a quick layup from senior forward Iris Schilderink to break the scoring drought before finishing out the half on 3-for-6 shooting and only two turnovers.
And with the deficit cut down to five points, Presley Wheeler took over.
The junior guard scored 8 points in the third quarter, energizing the Swiftettes offense with two three-pointers while adding a layup. She shot 50 percent from long range on the day and added three assists, earning the game's MVP honors. Fellow junior Brooklyn Decker knocked in another pair of triples as Nazareth took the lead and never looked back.
Huckabay managed a measly six points in the second half, half coming on a half-court buzzer beater to end the third by junior Chayni Chamberlain and the other half by Rion Baccus in the waning minutes of the fourth quarter.
Baccus, who poured in 23 points with eight rebounds in the semifinals, couldn't ever find a groove against the tenacious Nazareth defense, struggling for much of the game with foul trouble. She finished with a team-high of seven points as senior guard Caroline Myrick hounded her all game.
As a team, Huckabay turned the ball over 16 times and shot a measly 6-for-31 from the field.
"Every loose ball and every rebound is ours," Schilling said. "I would hate to go against us."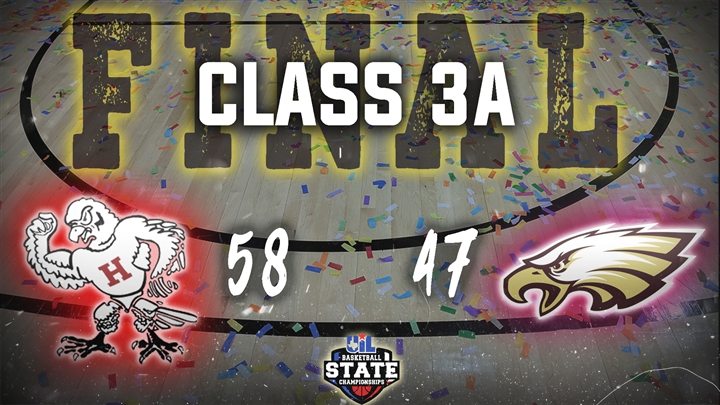 3A: Holliday 58, Fairfield 47
As the seconds ticked off the clock, Holliday's team gathered arm-in-arm and swayed back and forth in sync with the bevy of students who made the trip to support them.
It felt like an impromptu, carefree pep rally, not the waning minutes before the program's first ever championship game appearance against Fairfield.
"As soon as that music comes on, we're all in our circle, we're all one," senior Jalynn Bristow said. "Once we hit the court, it's my family, my sisters. No words have to be said."
The Lady Eagles fed off the raucous energy to take a 19-7 lead in the first quarter. Holliday's three guards combined for just six turnovers on the day despite having to navigate Fairfield's tenacious full court press.
It was the defense, however, that propelled Holliday to a 58-47 state championship victory.
Sitting in a 2-3 zone for the entirety of the game, with the 6-foot-3-inch Bristow at the center of the paint, Holliday forced Fairfield to shoot 30% on the day, including a 4-for-26 mark in the first half.
Bristow, the game's MVP, was especially impressive. The Iowa State signee scored 21 points at an efficient 8-for-11 from the field and added 14 rebounds. She also notched three blocks and three steals while playing every minute of the game.
"It always starts on the defensive end, especially for us," Bristow said. "I feel like we have a solid defense and not every team sees a 2-3 zone."
But Fairfield refused to back down.
In their final high school game, sisters Shadasia and McKinna Brackens combined to score 42 of Fairfield's 47 points, consistently keeping their team within striking distance. Shadasia, who will play at North Texas, ran the point and poured in 20 points with six rebounds.
While McKinna, a UNLV commit, started off slowly from the offensive end, at one point shooting 4-for-18, she came alive in the second half. When Shadasia was forced to sit for roughly four minutes at the beginning of the fourth quarter after committing her fourth personal foul, McKinna piled on eight points to make up for her sister's absence.
Fairfield even took a 43-42 lead with 4:12 left in the fourth quarter, their first since being up 2-0 in the opening minutes of the first period.
"These two have played with pressure on them for four years, and they've done it beautifully," Fairfield head coach Sally Whitaker said. "This year, they were the seniors, and they led a team with relatively little experience overall to the championship game."
But the Brackens sisters, who have played in the state championship every year, wouldn't finish their careers with a victory.
Holliday responded to their blown lead by going on a 15-3 run to close out the game. Bristow, guarded by McKinna Brackens all game, scored eight points of her own in the quarter and stuffed two shots as the game slipped out of Fairfield's reach.