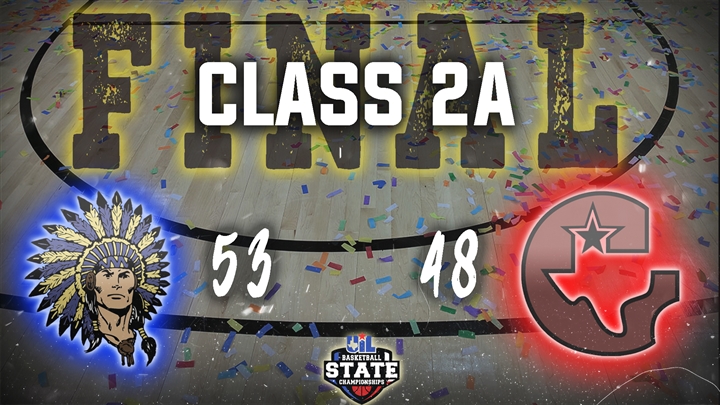 2A: Lipan 53, Gruver 48
It'd be difficult for Lipan senior Chelsea Lott to think of a better 18th birthday present, even if her MVP trophy from the Class 2A state championship game came one day late.
Lott, who has started for Lipan since she was a freshman, ended her high school career on Saturday at the Alamodome by scoring 11 of her 16 points in the fourth quarter to propel her team to a 53-48 win over Gruver.
With the score tied at 34-34 and six minutes remaining in the fourth quarter, the Hardin-Simmons signee nailed her first long ball to push Lipan's lead to 37-34. But later, down 39-37 with three minutes to go, she hesitated ever so slightly when her defender backed off once again.
"I looked up at the score and was like, 'Well, why not? Let it fly,'" Lott said.
Once the second three-ball fell, the flood gates opened. After Gruver's Allie Sparks hit a three-pointer of her own to take a 42-40 lead, Lott grabbed a steal with 2:15 left and got fouled in the process. She hit both free throws and then scored her final triple to take a 45-44 lead with 1:30 left in the game.
Lott had actually struggled shooting the ball throughout the playoffs, but the offensive explosion in her final quarter with Lipan proved she'd never lost faith, said head coach Amber Branson.
"The testament to Chelsea is that she doesn't quit," Branson said. "Shooters shoot. I'm just unbelievably proud of her for not giving up."
While Gruver didn't make any shots in the last 3:13 of action, the game was far from sealed after Lott's final three. As Gruver desperately fouled in hopes of getting back in the game with missed free throws, Hannah Gaylor showed remarkable poise for an underclassman. The sophomore nailed all six of her free throw attempts in the final two minutes.
As the Lipan girls sprinted onto the court to celebrate when the final buzzer sounded, Branson hugged her daughter, Taylor. Not only had the junior point guard tallied 12 points, most of which came in the first half before Lott caught fire, but she'd guarded Gruver's explosive guard, Brenna Butler, for 32 minutes. Butler, who will play at Oklahoma State next year, could only manage to put up six shots on the day.
And the Branson mother-daughter duo couldn't manage to hold back the tears.
"Sometimes it's hard being a coach and a mom," Branson said. "Because in the moment, it's Coach. But then afterwards I'm just emotional because then you can be Mom."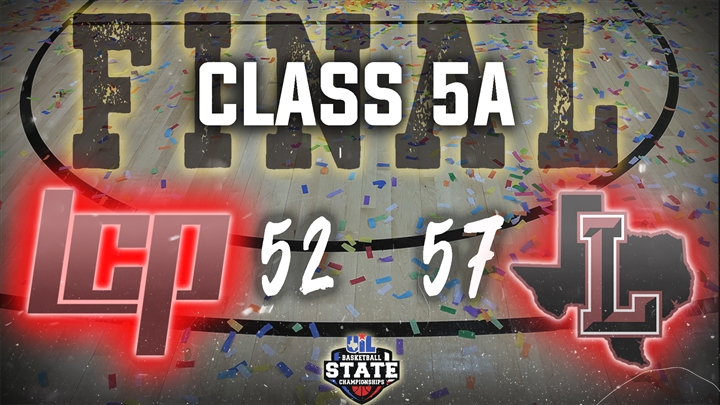 5A: Frisco Liberty 57, Lubbock Cooper 52
Frisco Liberty named their team group chat 'Ring Getters' when the season started. They never expected their season to end any other way than at the Alamodome with gold medals around their necks.
"We knew this is where we wanted to be," senior guard Journee Harris said. "And we got here… and won."
The Redhawks players, like freshman guard Jacy Abii, have never lacked confidence. That confidence stood out to head coach Ross Reedy when he first met Abii when she was in fourth grade. The pair played a pickup basketball game, and while Reedy maintains that he dominated, Abii wouldn't stop talking trash to him the moment she got a layup that day.
And on Saturday, Reedy needed that swagger to come back out. Lubbock Cooper surged out of the gates with an 11-2 lead as junior guard Majik Esquival nailed two three pointers. Frisco Liberty kept getting caught helping on Lubbock Cooper's post players, forgetting that Lubbock Cooper had the ability to hit 26-footers like layups.
So Reedy grabbed Abii on the sidelines and gave her a little reminder of who she was.
"We had a little chat and I was like, 'Hey, you know what kind of player you are. Step into the moment,'" Reedy said. "Clearly, she did. And it helped us out."
That's why in the final two minutes of the state championship leading Lubbock Cooper by as little as one point, Abii scored six consecutive points and tallied a steal to secure the 57-52 victory.
"I was trying not to think about the score," Abii said. "I was trying to get stops and continue to extend the lead."
Frisco Liberty's defense settled in after a porous first quarter in which Lubbock Cooper shot 50 percent from the field. Knowing Lubbock Cooper wanted to get out and run in transition with their quick guard play in Esquival and senior Peyton North, they emphasized getting two players back on defense when a shot went up. The Pirates shot 37.5 percent the rest of the night.
The Redhawks were already the lone Frisco school to have won a state championship in girls basketball before Saturday, but Reedy still takes pride in representing the school district his father, Rick, once served as the superintendent of.
"A town that I grew up in that was a one school town and now it's obviously a 12-school town," Reedy said. "For us to be that representation, it means a heck of a lot to us because we respect the quality that's across the state and also in our area."