The sun beamed down, warming what was an unusually cool day on the Frio river – a spring-fed river flowing southwest at a slow pace until it empties into the Nueces River near Three Rivers just outside of San Antonio.
The water, clear as the blue skies above, provide a relaxing hymn as a group of tubers float down the river and enjoy a healthy amount of liquid beverages — ice cold, of course.
In so many ways, Chris Beard was in his own little piece of heaven — one that does not include a hardwood court and a round ball. Instead, it was the Texas Hill Country.
"First of all, it's the people that you're with," Beard said of the tranquility of floating a river. "I don't go float rivers with people I don't like. It's just the idea that you can't even have a cell phone out there. There's no phone, no distractions. And we've been known to have an adult beverage or two over the years out there.
"To me, really, it's about being with people that I love like my three daughters, or my girlfriend Randi, friends in coaching or out of coaching. … Just always loved the Texas Hill country and I just have a lot of fun escaping."
The third-year Texas Tech head coach uses the time in the sun, with close friends, to unwind while they let the gentle currents guide them along.
" (I) had a good summer, put off the knee surgery until August so I could get out and have some fun," said Beard, who underwent surgery the first week of August and is undergoing rehabilitation before the start of the 2018 season. "We got the Comal, the Guadalupe and the Frio done in the summer."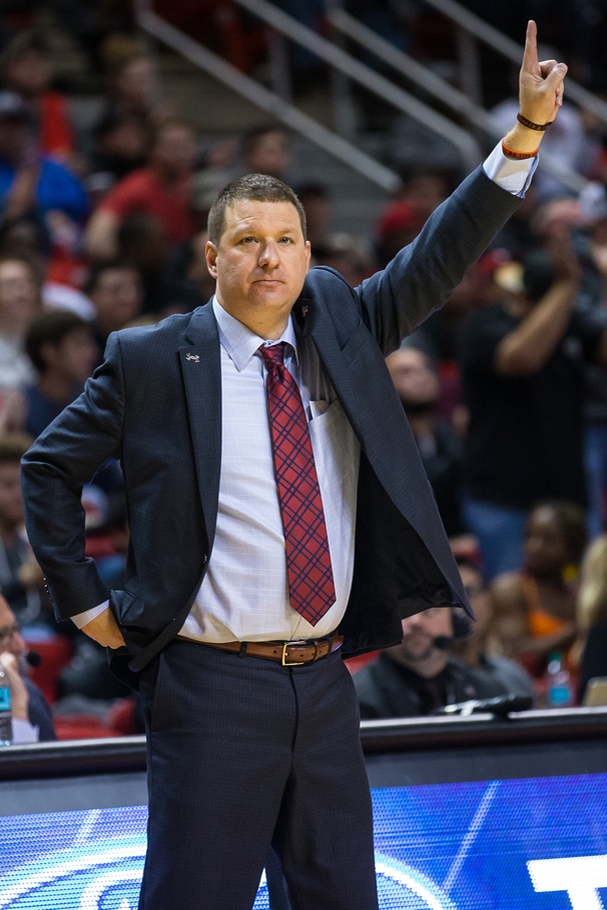 Moving on up
But, even while on a vacation, his mind never strays too far away from basketball.
That's just not how he's wired.
"He's just a passionate dude," said Angelo State head coach Cinco Boone, who's been an assistant with Beard at Angelo State and McMurry University. "You hear and see the stories about him breaking his hand on a whiteboard and tearing his ACL trying to perform a screen. It's all true because he is involved and passionate about what he does."
Boone would certainly know as he was a key part during Beard's rise up in the head coaching profession.
Beard and Boone developed into a successful coaching tandem during their almost decade-long relationship, which started back around 2009. Boone, an assistant turned head coach at Jacksonville College in East Texas, was still learning the ropes after finishing up as a graduate assistant at Hardin Simmons University a Division III program in Abilene.
"When he was in Myrtle Beach with South Carolina, it was literally something you see in the movie 'Semi-Pro,'" Boone said. "I mean, he hustled and found a way to win. So credit to him because I could already see the type of work ethic he had, having to find players and other things to keep things going.
"It helped us at McMurry, too, because we were literally making phone calls and getting transcripts of kids to try and build that program up."
One of those players turned out to be Thomas Brandsma, a key a 6-foot-5 forward out of Colleyville Heritage High School.
"I wasn't highly recruited, never really given a chance, and was pretty set on walking on at any college," Brandsma recalled of his recruiting process. "And then I get a call from coach Beard and, literally, in five minutes talking with him I knew I was going to play for him.
"He was just genuine and gave me a chance to earn minutes and become a starter if I earned it. More than anything, he's a truth teller. Everything he told me during my recruitment happened."
Boone, who's traveled his fair share on the recruiting trail, felt that Beard's ability to connect with players was his biggest asset and reason for his success at all his coaching stops.
Then, once he got the players on campus, Beard found a way to unite 15 different individuals into one cohesive team. Boone saw the process firsthand.
That formula has worked throughout his head coaching stints at Fort Scott Community College, Seminole State College, South Carolina Warriors, McMurry University, Angelo State University, Arkansas-Little Rock and now in his third year at Texas Tech following the program's first appearance in the Elite Eight.
"It just came down to the fact that he had my back, and I had his back," Brandsma said as to why he followed Beard from McMurry to Angelo State to Arkansas-Little Rock and finally Texas Tech. "He always found a spot for me, and he didn't have to. I wasn't averaging 20 points per game or anything like that.
"But he put me in a good situation and by the third or fourth move I didn't have to think about it. I felt like I was climbing the ladder with him because I went from Division III to Division I basketball. Not sure I can ever repay him for that experience."
A giving personality
While he can remember plenty of times he was chided for a missed screen, rebound or assignment on a defensive play, Brandsma is also quick to point out Beard would be just as passionate about providing a helping hand at any time of his playing, and now, non-playing career.
After he graduated from Texas Tech, Brandsma chose to work in the oil field in Pecos. The money was good, but after seven months something did not feel good about his current situation.
So, he made a quick call to Beard, who did some homework.
"He got me back to Lubbock, again," Brandsma said, chuckling. "He got me in touch with the right people. He's always had my back and is always willing to help his former players. He means what he says."
Boone can also vouch.
"Brandsma is one of the neatest stories I've been a part of," Boone said. "He went to every stop with Beard, no questions asked. I mean, that tells you a lot about the loyalty and that what Beard preaches about loyalty because it gets reciprocated back to him.
No telling how many meals or cold beers he's bought for me since I've known him. But he's just always been very generous. Even when he takes trips, I remember he'd always bring back gifts for his people. Just small things like that make an impact."
Beard continues to have a presence at Angelo State, even though the photo may not look exactly like him. But his demeanor lives on forever inside the men's basketball locker room along with a few notable quotes.
"He was The Duke," Boone said, chuckling. "He's West Texas. He always wore boots and jeans. He's the type of guy that says yes sir and no sir. And no ma'am, yes ma'am. He's also big on relationships, which is something valued in west Texas and made him successful in coaching and life."
A perfect fit for Lubbock
After hearing the buzzer, Kirby Hocutt felt the pain and anguish.
Texas Tech's athletic director watched in person as a magical run to the Elite Eight — the first in program history — was ended in the form of a 71-59 loss to top-seeded Villanova — which went on to win the National Championship.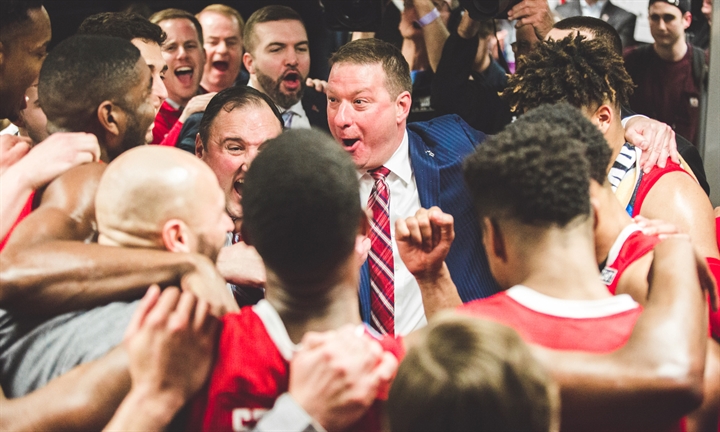 "We played Villanova better than anyone in the country," Hocutt recalled of the March 25 loss.
But, there was one person to pick him up and provide some words of encouragement.
"Chris came up to me and told me, 'Don't you think this will define where we can get as a program," Hocutt recalled while inside the TD Garden in Boston. "His passion for winning burns so deep. … He won't be satisfied until he brings homes a trophy."
Two years ago, Hocutt was conducting a search for a men's basketball coach following the departure of Tubby Smith — who elected to leave for Memphis.
Hocutt, who has worked at Texas Tech since 2011, always smiles when he talks about the interview process with Beard. The No. 1 candidate validated his ranking by displaying an urgency to be great and elite soon.
"The first call I made to Chris, we spoke around 5:30 one evening, seeing if he had any interest," Hocutt recalled. "I knew he'd only been at UNLV for a short time, but that we'd love to talk to him face to face and were prepared to get to Las Vegas the next morning. And he said, 'Could you be here tonight?' He has a sense of getting things done today."
More so, as Hocutt noticed a trend as he looked into Beard's coaching resume.
"He displayed the values that are so important to us in West Texas," Hocutt said. "The grit that Chris Beard shows is impressive. Nothing that he's accomplished was given to him. Nothing has come easy. He's worked for every opportunity he's gotten. When you talk about passion, desire and wanting to achieve a goal — he's endured a lot to reach his."
Feels like home.
For Beard, a chance to return to Texas — a state he's spent a majority of his life in — was a no-brainer. He also had a few extra-special reasons: his daughters Avery, Ella and Margo.
"Sometimes life throws you some special breaks, and I've always felt that way about my daughters," said Beard, who was born in Marietta, Ga. before being raised in Irving. "I didn't come back to Texas Tech to be closer to them. I came here to compete for championships and to graduate every player. But the fact that they were close is just special."
Lubbock, Texas, also represents a special place to Beard, who spent 10 years in the Hub City while he learned from legendary head coach Bob Knight and his son Pat.


"It's basically like getting a PhD in coaching every day," Beard said of working for coach Bob Knight. "The idea of preparation was the No. 1 thing I learned. Everybody in college basketball wants to win, but there are only a few people that want to prepare for that. Coach had an uncanny desire to prepare. And I think No. 2 is the simplicity of what we did. We're going to play man-to-man defense, we're going to run motion offense, we're going to have discipline and there's about four or five things we got done every day."
Brandsma, who was part of the day-to-day process and knows why it's successful, feels as though Beard made a commitment to the program in another way.
"I mean, it's the first time during any of my stops over the last five years that he's bought a house," Brandsma said. "It's his longest stop of his head coaching career, and I feel like he's taking a lot of pride in building a winner."
Beard agreed with Brandsma's assessment of wanting to build a winner in the South Plains.
"I'm so proud of my association with my home state of Texas, West Texas and Lubbock," Beard said. "It means something to me, it's important — it's real. … If I thought that we could win a national championship in Egypt, easier than we could in Lubbock, than I would probably be an Egypt guy.
"But, I am convinced that we can win at the highest level here at Texas Tech, I'm convinced that we can compete for a Big 12 Championship, we can compete for a national championship. And the fact that it is in my home state and in West Texas — a place that I love – makes it extra special."