When J.J. Culver was in high school at Lubbock Coronado, Wayland Baptist basketball coach Ty Harrelson was hesitant to offer him because of his offensive ability.
Now, four short years later, Culver became just the second player in NAIA history to score 100 points in a basketball game, joining Furman's Frank Selvy in 1954. Culver reached the century mark in a 124-60 win over USCAA opponent Southwestern Adventist.
"I think I'm a little bit speechless still," Wayland Baptist coach Ty Harrelson told Texas Basketball. "We normally set up a couple plays to start the game and we try to get him somewhere to get the ball. We set up the first couple of plays and he scored on all of them. It happened really fast."
Harrelson isn't kidding. Culver came into the game as the reigning Sooner Athletic Conference Player of the Year and first-team All-American averaging more than 28 points on the young season. However, things got spicier than normal quickly.
Culver knocked down his first six shots and his first five free throws to get to 21 points barely five minutes into the game. Things just escalated from there. Culver scored the Pioneers' first 42 points in 12 minutes on 24 shots. The school record, by the way, was 50. Culver had 51 at halftime.
"My teammates noticed and just kept saying to keep going, so I told them I would," Culver said.
Culver isn't an isolation player. He got most of his shots within the confines of the offense, running off screens and using cuts to find open opportunities. SWAU threw man-to-man at him before switching to zone, box-and-one, diamond-and-one, straight ball denial and double-teams. Nothing worked.
"They threw every defense at him that an individual player could possibly see and he still managed to do what he did," Harrelson said. "Some of it still leaves me scratching my head. It was an unbelievable performance."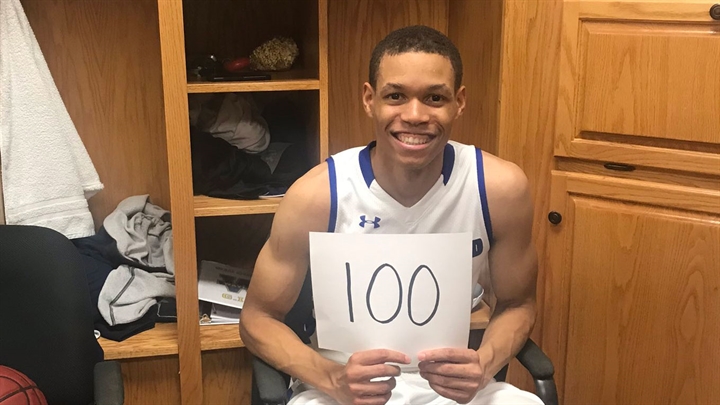 Harrelson figured that he would keep him in until he got the school record. That was gone in a second. Then, he decided to play Culver until he reached 66 points, which would give him 1,500 for his career. There were still more than 14 minutes left in the game at that point. At a certain point, when the PA announced 84 points, Harrelson just decided to let it happen. He didn't want to be the one who prevented his guy from reaching the vaunted 100-point plateau, which Culver reached on a back-cut with 50 seconds left.
Culver comes with quite the athletic pedigree. His older brother, Trey, was a two-time NCAA high jump champion and is an Olympic hopeful on Team USA. His younger brother, Jarrett, led Texas Tech basketball to the national championship game and was the No. 6 NBA Draft pick by the Minnesota Timberwolves.
Trey was in attendance to see one of the best scoring performances of all time. Jarrett was in Minnesota preparing for a game against the Utah Jazz on Wednesday. J.J. gave him a call after his performance, and Jarrett just screamed into the phone for a few seconds before acknowledging he had no idea what to say.
Neither Trey nor Jarrett have scored 100 points in a basketball game.
"It's just a dream come true," Culver said. "I put in a lot of work over the summer, ran a lot trying to prepare. It was a dream come true, I was just trying to do my best. I've just got to thank God and my coaches and teammates."
Culver finished the game with 100 points, nine rebounds, five steals and two blocks. He shot 34-of-62 from the field, 12-of-33 from the three-point line and 20-of-27 from the free throw line. After the game, one of his friends handed him a piece of paper with "100" written on it, and Harrelson suggested he sit in his locker to replicate the famous Wilt Chamberlain photo.
"I know about the Wilt Chamberlain game. I know there's a school in Iowa where they score a lot of points. I just never thought I would be a part of it and it's special to me," Harrelson said. "I think it's bringing little national recognition to our little small school here in Plainview, Texas, and it's pretty cool for us.
"It's something I'll never forget. I'll probably be old and gray and telling some kid somewhere about the time J.J. Culver scored 100 points in a game."