You don't always get to see something like this.
The reigning national champion Baylor Lady Bears are 11-1 on the year and are No. 6 in the nation. The UConn Huskies are 12-0 and ranked No. 1 in the country. And on Thursday, the two teams will face off in one of the biggest college basketball games of the season.
Baylor entered this season down an important player, as Kalani Brown's graduation left an important hole in the front court, and it quickly went down another important player, with last year's Big 12 Defensive Player of the Year Lauren Cox going down with a foot injury that sidelined her for almost two months.
Cox is back, though, and Baylor had strong contributions during her absence from a number of players, including sophomore bigs NaLyssa Smith and Queen Egbo. Add in the addition of grad transfer Te'a Cooper and the strong play of Juicy Landrum and the Lady Bears managed to mostly sustain their success with their star sidelined, though a 74-59 loss to South Carolina kept the Lady Bears from having an undefeated non-conference record.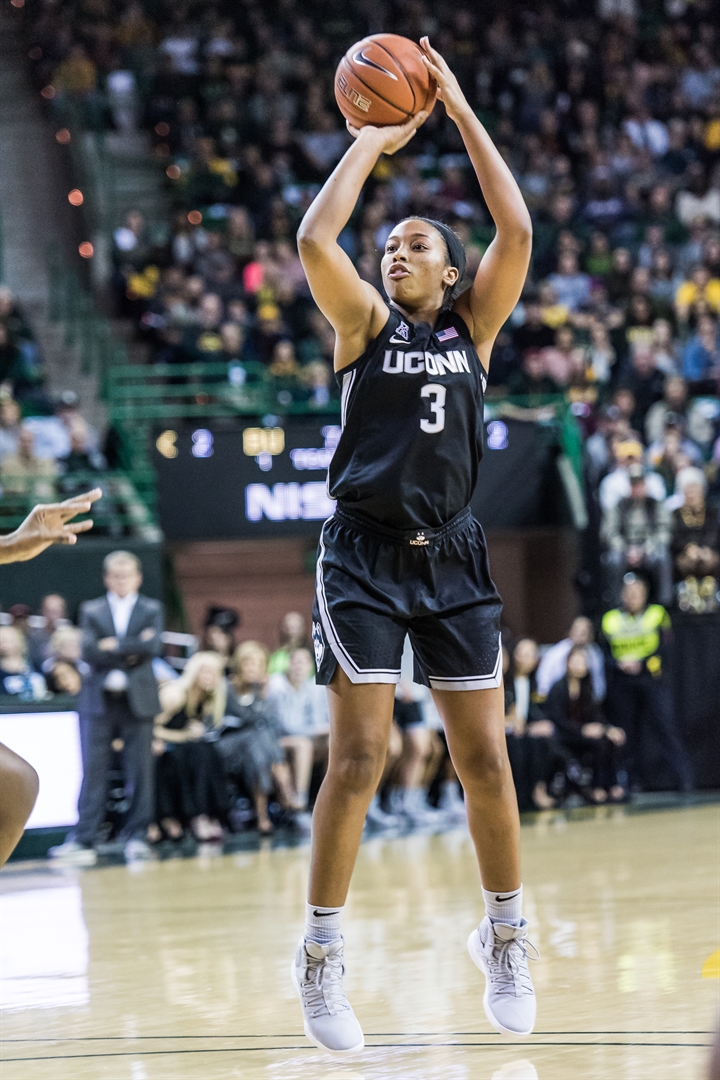 Meanwhile, UConn wasn't supposed to be this good. With team leaders Napheesa Collier and Katie Lou Samuelson graduating, the Huskies were supposed to be good, but maybe not No. 1 in the nation good. But players like Megan Walker, Christyn Williams and Olivia Nelson-Ododa have stepped up in expanded roles, and the Huskies are fourth in DI in points per 100 possessions this year, the exact spot they ranked last season.
Because Baylor was without Cox in their matchup against South Carolina, it's hard to get a read on what exactly this Baylor team looks like when it's fully healthy and facing a strong opponent. The closest we got to that was on Saturday against Oklahoma, a game that the Lady Bears won by 21 points. Baylor played its starters heavy minutes in that one as a tune-up for the UConn game, with Te'a Cooper playing 39 minutes and Cox getting 34 minutes of run. Cooper's 32 points were a season high and the team mainly relied on Cooper, Cox, and Landrum as their sources of offense.
To beat a UConn team that also ranks highly in both points scored and points allowed this year, Baylor will need those three to be the team's leaders, but also need to get offense from somewhere else as well. Maybe Smith or Egbo step up, Smith had all 12 of Baylor's bench points a year ago. Maybe DiDi Richards has a strong game.
But it still starts with those first three names. Against South Carolina, Landrum and Cooper were a combined 8-for-27 from the floor as the Gamecocks put pressure on them and forced NaLyssa Smith to be the team's leader in shot attempts. Thursday's game should go better for the Lady Bears because of the presence of Lauren Cox, but you've got to be on your game inside and out to beat a team like UConn.
This game will tell us a lot about Baylor's chances of repeating as national champions. Despite the 11 wins already, questions remain about how this team will handle these marquee matchups after a fairly soft non-conference schedule. By the end of Thursday, we'll have a better sense of how the Lady Bears keep up with the UConn's of the world.
Other Games To Watch
THURSDAY
North Texas @ Florida International
LSU at No. 10 Texas A&M
SATURDAY
Houston at No. 1 UConn
Texas A&M Corpus Christian at Abilene Christian
Kansas State at Texas Tech
SUNDAY
Texas at No. 19 West Virginia
Oklahoma State at No. 6 Baylor