Saturday night's 6A finale featured a pair of big-name guards, as Duncanville and senior Deja Kelly took on Cypress Creek and junior Kyndall Hunter. While the game itself ended up going Duncanville's way in fairly comfortable fashion, 63-47, both players showed up huge for their teams.
Earlier this weekend, I looked at standout performances from the first four state title games. Right now, I want to focus solely on the standout performances of Kelly and Hunter in the 6A game. What they did, what we learned about them, and — in Hunter's case — what can we learn about her team's chances of making it back here next season.
Deja Kelly — Duncanville
Let's start with Kelly.
This was the final game of Kelly's high school career and her first appearance in the state championship game. Kelly left San Antonio with the 6A title game MVP award, and her play on Saturday shows why.
Kelly got off to a bit of a slow start, but the senior — who head coach LaJeanna Howard called "Mamba Princess" after the game — finished with 23 points on 5-for-16 shooting. She seemed to always be drawing a foul, finishing 12-for-15 from the line, and she added five rebounds and a pair of assists.
One thing you notice when you watch Deja Kelly play is how she seems to do everything within the flow of Duncanville's offense. In the two games that I watched her in during the tournament, Kelly managed to do a ton of impressive things, but all of those impressive things felt like they existed inside some kind of structure. Kelly was methodical about her play, even when she was pushing forward on the fastbreak. She knows where she needs to be and where the ball needs to be, and maybe more importantly knows when the Pantherettes need her and the ball to simultaneously be together.
Kelly's ability to play with the ball in her hands and not in her hands should help her succeed in Chapel Hill next year.
On this play, for instance, we see Kelly bring the ball up the floor and snake her way in for the contested floater. Kelly isn't Duncanville's point guard, but her skillset means that she can get out on the run on plays like this, and she's able to find space in the defense and make things happen. Saturday saw Kelly miss a few of these kinds of looks near the basket, but you can probably chalk a lot of that up to the tenacious defense that Kyndall Hunter played on Kelly, as Cy Creek wanted to put its best player on Duncanville's best player. (It's probably worth noting that Kelly didn't guard Hunter on the other end, with Duncanville instead letting Kelly conserve some energy on that end of the floor, which likely contributed to Kelly's ability to keep a fairly consistent energy level on offense throughout this game.)
Kelly can also shoot, by the way:
I love this kind of play. Kelly is the inbounder here, and Cy Creek isn't really guarding the inbounder like they should, so Kelly is able to sneak around, get the ball back from Hope LeMelle, and then lift up for the three-pointer. Great play. Great result.
The Pantherettes will have a tough time replacing Deja Kelly next year, but the rest of Duncanville's rotation will return, and on Saturday night we might have witnessed a new star in the making, with freshman guard Tristen Taylor finishing second on the team in scoring with 13 points. And Kelly will have to figure out how to adjust to the college level, but she'll have a good chance to play a key role for UNC right off the bat.
Kyndall Hunter — Cypress Creek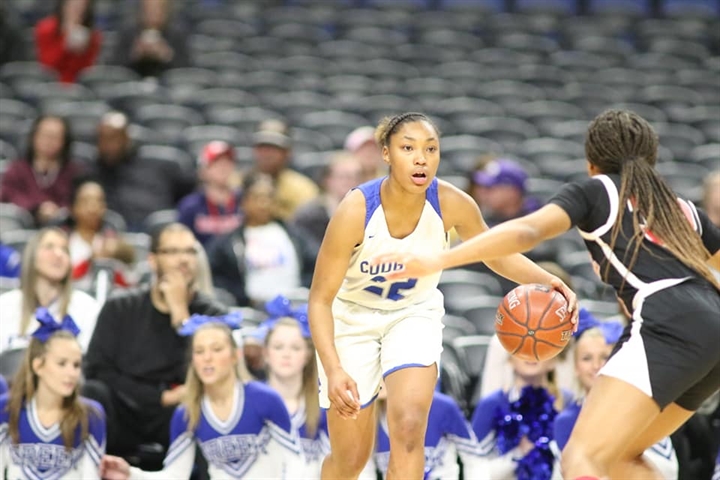 I had the great luck of stumbling across a livestream of a Cy Creek game earlier in the year, so Kyndall Hunter's performance didn't come as a surprise to me.
The junior is ranked by ESPN was the No. 2 junior in Texas, behind only teammate Rori Harmon. But Harmon was out for this game — head coach Jennifer Alexander referred to the reason as a team violation — and Hunter had to take the lead for the Cougars.
And, well...the Cougars couldn't get over the hump and defeat Duncanville, but it's hard to fault Hunter — or, really, to fault anyone, because Duncanville is just that good — for the loss, especially when you factor in that Lousiana Monroe signee Morgan Hill was injured early in the game and was visibly affected by the leg injury once she returned to the court.
Hunter is very much that freestyling ball-handler who likes to push things in transition. It's impossible to not notice Hunter on the floor, as she asserts her presence on both the offensive and defensive ends of the floor. Hunter is in every play. She's hustling back to try to contest shots that she probably won't be able to reach. She's poking away passes and starting breaks. Cy Creek plays fast, and Hunter is a key reason why.
Now, playing like Hunter does against a team as good defensively as Duncanville isn't always going to work, and she did have eight turnovers, but Hunter did so much well in this game. She scored 24 points on 7-for-14 shooting. She shot 50 percent from three on eight attempts. She took full control of this team without Harmon, posting a usage rate of 43.5 percent.
One of the most important things about Kyndall Hunter, though? That she's just so much fun to watch:
There's some Jewell Loyd in a play like this. Hunter does such a great job weaving and stepping through the defense, then finishing at the hoop. She's just...fun to watch.
I mean:
Great dribble moves. Creates space. Lifts for three. Bam.
And while Cy Creek losing this one has to sting, especially since it was their first loss of the year, they should still be positioned well for next season. Assuming Harmon is back with the team, the Cougars have arguably the best backcourt in the nation, and wile they lose some key seniors in Morgan Hill and Ally Haman, this team is still on track to show back up in San Antonio next season, with Kyndall Hunter leading the way.