1A STATE CHAMPIONSHIP: NAZARETH 44, LIPAN 31
The best dynasty in Texas high school sports is just south of Amarillo and north of Lubbock.
There isn't much of a debate either. Nazareth girls basketball has been the standard for state championships for some time and Saturday morning, they added to the legacy. The Swiftettes added an historic 24th title to their trophy case beating Lipan in the 1A state championship Saturday morning, 44-31. The matchup was a rematch of the 2015-16 game in which the Lady Indians prevailed.
"People expect us just to do it and they make it look easy. It's not easy," Nazareth head coach Eric Schilling said. "The fight, the adversity that they've overcome not just to get here, but to win this thing, you can't explain it.
"I'm just super blessed to be a part of it. I call myself an extremely small part of it right now. There are so many people who came before us who laid the foundation, the tradition and everything out there."
The game MVP, junior guard Emma Kleman, tallied a game-high 11 points on 3-of-5 shooting and added five rebounds too. The Swiftettes' go-to player all year, Cambrie Heiman, missed the semifinal on Thursday while she recovered from an ankle injury suffered in the regional final. Although not at 100 percent, the senior post returned for the championship and contributed off the bench for 15 critical minutes and collected a game-high seven rebounds and recorded two blocks.
"People stepped up to give us a chance," Schilling said of the team getting to this point with Heiman's absence.
Lipan forced 21 turnovers but couldn't capitalize turning them into just 11 points. Freshman Chelsea Lott finished with a team-high 10 points for the Lady Indians. A young Lipan team loses just two seniors and should me a formidable contender in 1A again next season.
3A STATE CHAMPIONSHIP: SHALLOWATER 61, WOODVILLE 43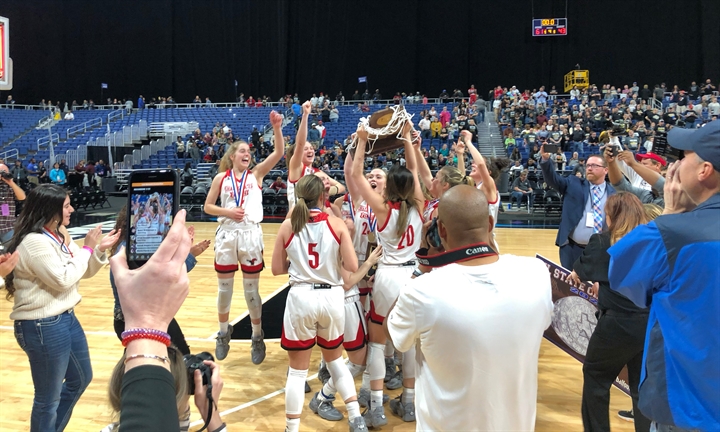 Sixteen years in the making, coach Chuck Darden took it all in after the buzzer sounded.
It'd been since 2004 since Shallowater lifted its last state title under the 42-year veteran coach with over 900 career wins. Toward the end of the game, the traveling student section loudly chanted, "DARDEN! DARDEN! DARDEN!". When the score margin was finally well in-hand, he looked toward the end of the crowd and gave them a rowdy fist pump. After the game, he walked by the stands giving the Shallowater faithful in attendance a high-five.
"To this old coach right here it means a lot," Darden said. "I'm getting pretty old, and I'm not retiring, but when you kind of know there's not too many chances, it maybe means a little bit more."
This go around, Darden leaned on his team's defensive prowess to stifle a very high-octane Woodville team that thrives in transition and scoring bursts. The Eagles shot just 33.3 percent from the floor to the Fillies' 46.8. Then whenever they needed it, sophomore Bree Brattain was there with every key basket. Driving the lane, in the post or popping out from three, the Alamodome lights weren't too bright for Shallowater's star underclassmen who finished with 29 points, six rebounds and won the game's MVP honors. She had 21 points and 12 rebounds in the semifinal as well.
"It's my job to finish and I just wanted to get that win for my girls," Brattain said after the game.
"Our kids are great at getting (Brattain) the ball and this team is totally unselfish," Darden added.
The Fillies' key battle was inside. Stopping Woodville's Jordyn Beaty was a priority and they did just that, holding the senior post to 4-of-12 from the floor. Beaty finished with 13 points total. But with Brattain helping to space the floor, it freed up lanes for the team to score 39 points in the pain to the Eagles' 14. Sophomore Jenna Willer added 14 points for the team's second highest.
"We knew their post was going to get some points," Darden said of Beaty. "If we could defend those guards and kind of shut them down, we had a chance to win."
Shallowater also narrowly won the rebounding battle, 36-30.
"We just knew even though we were outsized, if we rebounded and dominated in that part of the game, we'd win the game," junior Taylor Moravcik said.