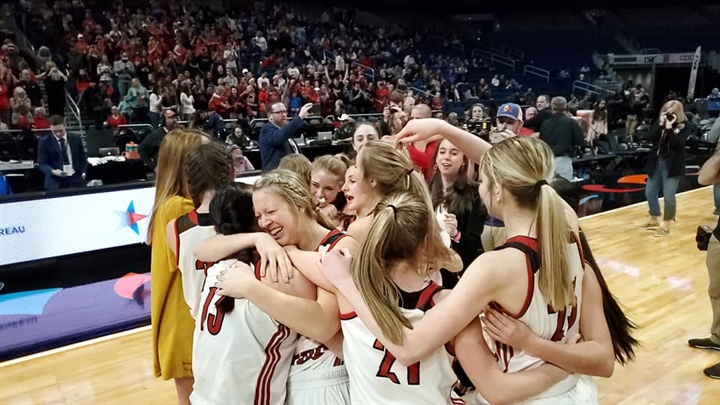 2A STATE CHAMPIONSHIP: GRUVER 42, MUENSTER 39
Camryn Armes and Kami Whitehead hit the biggest shots of their lives Saturday afternoon.
It perhaps wasn't the flashiest way they could've imagined state championship-winning shots happening, but the pair's free throw shooting down the stretch on Saturday were needed to give the Lady Hounds their first-ever 2A state championship over Muenster Saturday afternoon, 42-39.
After Muenster's Martie McCoy tied the game at 37 with just under two minutes to go, Armes stepped to the line with a chance to give her team the lead, she did.
Moments later, Sarah Monday tied the game again at 39. Whitehead then stepped to the line and missed the front end of a one-and-one. She was fouled again with a chance to go to the line and give her team the lead as redemption. She sank both with six seconds left.
After Gruver forced another turnover, Armes was back at the line with a chance to push the lead again and split two free throws.
For a game that prided itself on defensive tenacity, it were those calm moments that delivered the championship.
"I was just doing my role, being the shooter that I've been and trying to pick up the win for my team," Armes said after being named the game MVP with 16 points that included going 3-of-9 from 3-point range. "It hasn't really hit me yet, but when we see this trophy, I bet it will."
Both teams shot below 40 percent from the field in a defensive struggle, but each erupted for 16 points in the final period and shot over 70 percent from the floor.
"It was a defensive battle, they did a great job with their defensive gameplan and I feel like we did a pretty good job with ours in our execution," Gruver head coach Shannon Fisher said. "They hit some big shots. I felt like we had to come down and hit some big shots and we stepped up."
After the game, Fisher was asked what it meant to bring Gruver its first state title, especially after being here before back in 2015.
"To be here before and not be able to finish it off and take home the gold, this means the world to not just the girls up here or in the dressing room, but their little brothers and sisters, their parents and grandparents and their community as well," Fisher said.
5A STATE CHAMPIONSHIP: FRISCO LIBERTY 35, SAN ANTONIO VETERANS MEMORIAL 26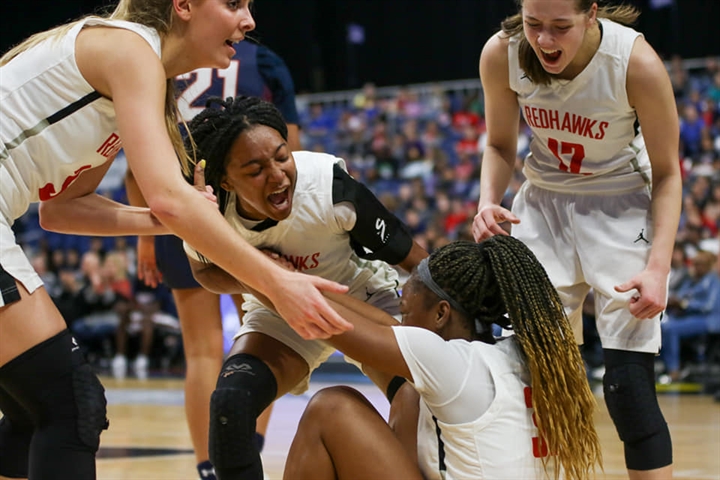 Frisco Liberty's first state championship was dictated from wire-to-wire on their own terms.
The Redhawks knew that the key to slowing down San Antonio Veterans Memorial and star senior guard Sahara Jones was literally slowing the game to a crawl and controlling the tempo of the game. Liberty's methodical offense and suffocating defense eventually paid off in its 35-26 win over the Patriots in the Alamodome.
On Thursday in the semifinal against Mansfield Timberview, SA Vets took 42 total shots. On Saturday, Liberty held them to 12 less than that and to just 30 percent shooting from the floor.
"It does prevent rhythm and that was the thing today," Liberty head coach Ross Reedy said. "The game had to be played at a pace that we wanted and wanted that half-court pace.
"It takes a mental fortitude and competitive stamina and takes breaking it down, rep-by-rep and possession-by-possession."
Sophomore Jazzy Owens-Barnett's 14 points won't jump off the stat sheet but her one turnover while controlling the offense in the half-court should. And it was enough to earn her MVP honors. After coming so close to the title last season, the Redhawks weren't letting the moment pass them by again.
"Once we really started rolling we realized that we're going to do this again but we're going to be on the good side of things and have everybody locked in for easy games and hard games," Owens-Barnett said.
SA Vets' Jones finished 5-of-16 for a game-high 15 points and eight rebounds. The senior is signed to Texas A&M.