One of the biggest shocks of the offseason happened at Texas Tech, and this time we aren't talking about the coaching change there that brought former Lady Raiders star Krista Gerlich back to Lubbock.
Instead, I'm talking about Tech's addition of one of the top players in the Big 12, as former Oklahoma State star Vivian Gray transferred to the school, along with fellow Cowgirl Bryn Gerlich.
This is supposed to be the start of a rebuilding era for Texas Tech that eventually results in Krista Gerlich leading them to Big 12 contention. But could Gray help them write a different narrative and have the Lady Raiders as dark horses to sneak into the NCAA Tournament?
Background
Vivian Gray comes to Texas Tech courtesy of fellow Big 12 school Oklahoma State, but this isn't her first experience with the state of Texas.
Gray is from Argyle, where she won three state titles for Argyle High School, part of its huge recent run of success that also saw players like Gabby Standifer and Rhyle McKinney wind up at Division I schools as well. She was the Class 4A Player of the Year twice while playing for the Eagles, and ended her time in Argyle as a Top 50 recruit.
Gray spent her freshman season at Fort Lewis College before transferring to Oklahoma State, where she was named the Big 12 Newcomer of the Year in 2018-19, averaging 20 points per game. She was a unanimous pick for First Team All-Big 12 in both of her seasons in Stillwater.
But Gray decided to transfer before this season, and she wound up in Lubbock. Gerlich called Gray "one of the best guards in women's basketball" when announcing she'd joined the program, adding that "she's a high-volume scorer with a high basketball IQ that enables her to elevate the play of those around her."
The early results for Gray in a Texas Tech jersey seem to be bearing out that assessment from Gerlich.
Vivian Gray's 2020 Performance
Through Texas Tech's first two games, Gray is playing 35.9 minutes per contest, averaging 24 points per game on 42.4 percent shooting. She's also done a great job drawing contact and getting to the free throw line; her nine made free throws per game rank seventh in the country.
She's doing all this while ranking in the 92nd percentile in usgae rate, which is essentially where she ranked last year. That Gray's been able to step into a Tech jersey and immediately play a huge role despite playing in a new system with new teammates is another impressive notch in her early resume.
Gray is scoring 1.021 points per possession so far. One of the more interesting features of her game this year has been how she's been used in such a variety of ways. Per Synergy, Gray's play type breakdown looks like this: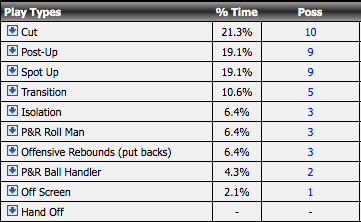 Gray's been posting up about as much as she's been cutting and exactly as much as she's been getting spot up looks. She's getting her looks from all over the floor, which makes it really tough for opposing teams to defend her.
For example, on this play, we see Gray make easy work of the Houston Baptist defense. She starts this play off on the right arc, and she's got an HBU defender all over her. Teammate Khyla Wade-Warren comes over to set the screen to free Gray from that initial defender, and then Gray starts driving.
The problem is that the Huskies know how good Gray is, so her initial defender goes over the screen to prevent Gray from pulling up, while another HBU defender drops back as well, leaving Wade-Warren. So now, Vivian Gray is driving into two players, and there's also another defender who has sagged off her woman by a lot who is also down there near the paint to account for Gray. And then a fourth defender is guarding the post player. It's that defender who ends up having to challenge Gray at the rim as she just perfectly works her way past those first two defenders.
The player in the post isn't able to do much either, except for commit the foul and send Gray to the charity stripe for the and-1 attempt.
She's just so hard to stop when she gets a head of steam. At 6-foot-1, she's one of the biggest players on this team, which is going to create a ton of mismatches game after game after game. The phrase "big guard" gets thrown around a lot these days to describe players with size who can run the offense and take the ball down the floor and all of that, but it's an appropriate way to think of Gray right now.
Of course, we have to see her keep it up. She's been finishing well in all areas through two games, but last year Gray ranked in the 23rd percentile in points per possession on non-post ups near the basket, which Synergy rates as "below average." And when we see Gray against teams that can defend better inside, we'll see if she's able to still get as deep on these drives.
But even if she starts to struggle some when it comes to finishing, Gray's jump shooting and her ability to make plays in transition still puts the Lady Raiders in a much better position than they might have been without her.
What Now For Texas Tech?
A series of canceled games means that as of right now, Tech only has one more non-conference game before they start Big 12 play, a Saturday contest in Lubbock against Rice and its dominant center, Nancy Mulkey. Beyond that, the Red Raiders only have three other non-conference games scheduled.
I bring up non-conference because last year's team used an 11-0 non-conference mark to bolster their win/loss record before things got tough in Big 12 play. Without those easier wins, the Lady Raiders face an even more uphill battle to get in position for a postseason spot.
That's not to say Gray can't lead the there. She's an exceptional talent, but she's not the only talent on this team. They still have Chrislyn Carr and Lexi Gordon. Bryn Gerlich is playing well. There's a lot of youth on this team that could continue to develop.
But it's going to be tough, especially against elite schools like Baylor. Last year with the Cowgirls, Gray shot 25 percent in a road game against the Lady Bears that saw Baylor win 94-48. They put the clamps on Gray, and the team couldn't find a way to keep it close.
Tech played Baylor a lot closer last year, but it's hard to compare this Tech team and last year's much, since that one was anchored by a top post player in Brittany Brewer.
More than likely, Tech is going to have trouble with the Big 12's elite teams. But maybe, with how Vivian Gray has looked to start the season, they'll beat the teams they should beat and fight it out for a spot in the mid-tier of the conference. And who knows, really: beyond Baylor, Texas, and Iowa State, this is a pretty wide open battle, and if Gerlich's coaching and Gray's exceptionl play can be the catalyst for some strong performances from this team, they can battle for that fourth spot.