Last year, the Southland Conference saw a wild four-team battle for first place throughout the season, but for the 2020-21 season, non-conference results seem to suggest we'll be watching a two-team fight between Abilene Christian (7-2) and Stephen F. Austin (8-2), with Sam Houston State (4-2) acting as the team that could play spoiler.
Let's put the Bearkats aside for the purposes of this. Between the Wildcats and the Ladyjacks, which team is better positioned to come out ahead at the end of the conference schedule?
Let's compare some resumes and dig into some data and see if we can come up with a clear favorite out of the two.
Who they've played
A simple place to start is to look at the quality of the opponents that the teams have faced and how they've played against those opponents.
Let's start with the two losses for each squad.
SFA has lost games against Arizona State (56-47) and the University of Houston (61-59). So, two relatively close ones against teams who play in conferences that are considered stronger than the Southland.
ACU has lost to Texas A&M (77-59) and UAB (81-73). Similar in terms of the kinds of teams that they and SFA lost to, although the Wildcats had the misfortune of playing an elite Aggies team. And hey, 77-59 against an undefeated, Top 10 program isn't bad. The UAB loss is a little tougher to digest, as UAB probably isn't as good as Houston, but they are a strong Conference USA team whose only loss was in overtime to Mercer. Essentially, comparing losses for both teams doesn't really end up with us going anywhere. It's not like one of the teams was blown out by a mediocre opponent or anything.
So, the next step is to look at those wins. This is where the Ladyjacks seem to have a bit of an advantage.
Even discounting the fact they have an extra win than ACU — that's mainly just because it played an extra game — we can see that SFA's wins have definitely been more impressive.
For starters, SFA has two wins over non-Division I opponents. The Wildcats have five. They've won those games in impressive fashion, but they're also just 2-2 against Division I schools, with wins Northern Colorado (81-61) and Stetson (70-55). If who you've beaten matters when it comes to making projections, SFA has the edge.
The Ladyjacks' six wins over DI opponents include a win over Auburn (67-54) and VCU (71-66). They also handled in-state programs UT Arlington (79-57) and Texas Southern (100-61) with ease. They have a 10-point win over St. Mary's.
The teams have a common opponent — UT Tyler — who ACU did beat by more than SFA did, but it's, uhh, hard to really know what to make of games against Division II opponents and to figure out how to weight those things. If you want to give ACU an edge for having a better win over the Patriots, go ahead.
Digging Into The Metrics
Now let's get into the fun stuff: numbers!
A quick glance at both team's core metrics shows that both teams are doing a lot of things well in the early going. Per CBB Analytics:
Abilene Christian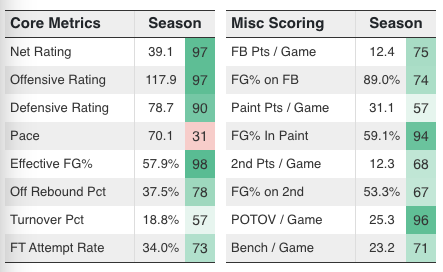 Stephen F. Austin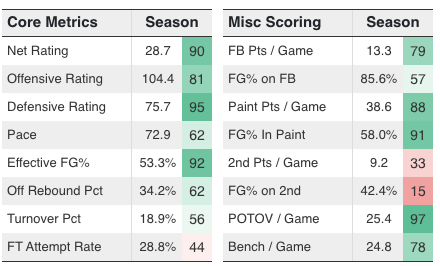 So far, both squads have done a lot of things well, especially offensively, where ACU's 117.9 offensive rating is in the 97th percentile and SFA's 104.4 is in the 81st percentile.
The Wildcats lead all Southland teams in offensive rating, net rating, and effective field goal percentage, plus have the third-best defensive rating. The schedule has contributed to that, but overall this ACU team is just really tough to slow down.
Maybe the biggest part of why is Anna McLeod. Averaging 17 points per game, McLeod's 47.5 percent mark from three is one of the highest percentages in the country.
The Wildcats offensive approach has also been one that's thrived this year due to its focus on the perimeter: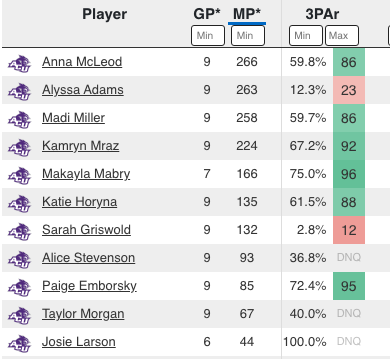 Of the six players to play the most minutes for ACU, five have a 3-point attempt rate of at least 59.7 percent, meaning that percentage of their shot attempts when on the floor are threes. The team has done a great job of putting shooters around either Alyssa Adams or Sarah Griswold, and it's a big reason why this offense has been humming along. Teams in Southland play will need to figure out how to stop this. Against UT Tyler, for instance, the Wildcats made a school-record 19 threes:
Watching all of these shots, I'm struck by the variety of these threes. There's the catch-and-shoot looks you'd expect. There's threes coming with the Wildcats running a four-out offense and threes when there are two players on the inside. There's a really fun transition three when the Wildcats get deep in the paint on the drive and then kick the ball out to Madi Miller for the open shot. And there's this insane pass:
KAMRYN MRAZ.
Mraz drives in here and just has some almost-supernatural vision on this to see McLeod out there at the 3-point line.
So, that's the offensive approach for ACU. They aren't a fast-paced team — they're in the 31st percentile there — but they're incredibly efficient on the attempts they get and make a ton of threes.
As for the Ladyjacks, things are a little more balanced there. While 50.5 percent of ACU's attempts are from there, 38.8 percent of SFA's are. That's still a lot — 79th percentile in Division I and the fourth-highest mark in the Southland — but the Ladyjacks have also shown they can score in a variety of ways.
For example, SFA's non-rim paint shots. They attempt 17.9 of them per 40 minutes and make 54.7 percent of those attempts. ACU attempts 5.2 — which ranks in the zero percentile — and makes 31.9 percent of them. SFA isn't so reliant on the Morey Ball threes and rim attempts system that the Wildcats are. They have some more versatility.
Both teams smartly avoid the mid-range game, with SFA taking 4.4 attempts per 40 minutes and Abilene Christian taking 2.7 attempts per 40. That's a nice path to winning basketball.
SFA has been led by the trio of Stephanie Visscher, Aiyana Johnson, and Zya Nugent. Visscher has been incredible, shooting 80 percent at the rim and 65 percent on non-rim paint shots. She hasn't found her 3-point stroke yet, but they've gotten solid shooting from Marissa Banfield, Alyssa Mayfield, and BriAnna Mitchell.
Defensively, both teams compare well, though ACU has allowed opponents to convert on a slightly higher percentage of shots, while SFA has sometimes struggled to keep opponents off the offensive glass. Both rank in the 94th percentile or better in opponent turnover rate. Both have high steal percentages, decent block rates, and do a good job of avoid fouls while collecting steals and blocks.
So, who wins the Southland?
This is tough, but I teased in the title of this piece that I'd be making a prediction, so let's make it.
The Wildcats have played like the better team from a statistical perspective this season, but SFA's tougher schedule helps to even things up. Ultimately, I think we're going to see a tough battle down to the wire between these teams, but the Ladyjacks have a little more versatility and a little more experience winning against tougher opponents this season.
Ultimately, I'll go with Stephen F. Austin to win the Southland. But things might just come down to which team wins the head-to-heads and which is able to survive against Sam Houston State, who should be in the hunt this season as well.