The University of North Texas women's basketball team got some national attention earlier this season, but not for a good reason.
On November 29, the Mean Green went down to Austin to face off against Texas. It was a game that North Texas was pretty clearly not going to win, but it seemed like the kind of game that would happen and then everyone around the country would just quickly forget about.
But then, UNT let Texas center Charli Collier explode. Collier finished with 44 points and 16 rebounds, igniting talks around the basketball world that she might be the top pick in the 2021 WNBA Draft should she declare early.
"But it was just against North Texas," some critics said, deriding the performance because they perceived UNT as an inferior opponent.
Well, since that game, UNT is 7-2 on the year. They played a much closer game against Big 12 opponent Oklahoma State, and while their star big Natasha Mack had 31 points and 14 rebounds, the Mean Green managed to limit the damage from the rest of the Cowgirls roster. The Mean Green then started conference play 5-0 before dropping a close one to a really good UTEP squad.
So, UNT — who finished 12-19 last season and had arguably their best player, Anisha George, graduate — appears to be good this season. What's been the key to this unexpected performance?
How the Mean Green have turned things around
If I had to sum up how UNT has improved in two words, those words would be Quincy Noble.
The sophomore guard from McKinney originally committed to New Mexico, but after one season there transferred to UNT. She sat out last year due to the transfer rules, but has stormed out of the gates this year. The 28th ranked guard by ESPN in the class of 2018, Noble is providing some key outside shooting for this Mean Green team.
Noble has been an incredibly strong scorer this season for UNT. Her 54.5 effective field goal percentage — a number that takes the value of 3-pointers into account — ranks in the 83rd percentile nationally. Her 18.4 points per game rank in the 98th percentile.
When we talk about guards who are shooting the ball as well as Noble, we often talk about guards who are able to snake their way to the basket. But getting into the paint isn't really part of Noble's game. For example, here is her FGA frequency breakdown per CBB Analytics: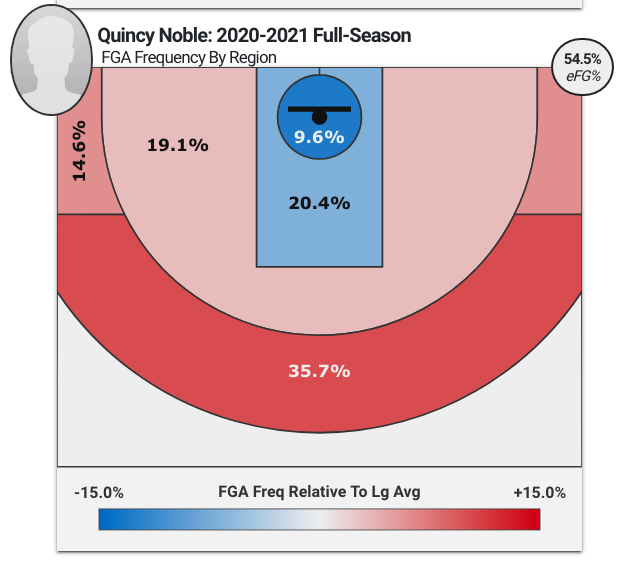 Noble takes just 9.6 percent of her shots at the rim. That's 13.6 percent below average.
See, Noble's efficiency is even more impressive to me because her efficiency is built around jump shots.
Per Synergy, 62.9 percent of Noble's shot attempts in the half-court offense come via jumpers. She's scoring 1.051 points per possession on those attempts, which ranks in the 82nd percentile.
Above is an attempt from Noble from the UTEP game. While I'm usually a big fan of off-ball movement, I really love the patience here from Noble, who seems to know that the best chance for her to make a play once she passes the ball is to just hang back in the corner. UTEP sees the ball in the hands of a taller player along the baseline and decides to double, which means that Noble doesn't even have to move here. The ball is tapped right back out to her in that left corner and she lifts up and drains the three.
And while we've talked about how Noble isn't scoring at the rim, she is shooting 50 percent in the paint on attempts that aren't at the rim. It's not that she isn't driving — it's that she's pulling up or putting up a floater when she gets into the paint instead of trying to force things at the rim.
Of course, one player doesn't make a team. UNT has also gotten some key production from some returning players.
Joining Noble on the 3-point brigade is Jazion Jackson. The sophomore from Dallas Skyline had a solid freshman campaign but is going above and beyond this year when it comes to scoring. After averaging 5.9 points per game and going 2-for-29 from deep last year, Jackson is up to 8.3 points per game and is 10-for-23 from downtown so far.
Like Noble, not a ton of Jackson's production comes at the rim, with just 15.1 percent of her attempts there. But unlike Noble, Jackson was been finishing well inside:
Here, for example, she runs the floor in transition and shows no fear when it comes to getting contact inside. That leads to a free-throw trip for Jackson.
Another key player is point guard N'Yah Boyd, who isn't the same kind of shooter as the other two guards, but who makes up for that by avoiding turnovers, dishing out assists, and getting to the basket. Second on this team in scoring, Boyd is definitely your driving guard.
Boyd shows a willingness to muck it up inside. On this play, there are three UTEP players under the basket, but Boyd drives inside anyway, confident enough in her finishing ability to see what happens. And what happens? A bucket!
Boyd also can stop and fire the ball up at a moment's notice. On this play, she gets into the paint and it looks like she realizes that UTEP is well-positioned to take the rim area away from her, so she ends up putting up the floater. The defense wasn't ready for that, and the Mean Green were on the board with their first points of the game.
But all this talk of guards. What about the inside game. After all, this team has struggled against bigger players like Collier and Mack. What happens next week when they have to face Rice and its dominant center, Nancy Mulkey?
This is where some question marks really come into play. As confident as I am that UNT's outside game has improved this year and is playing high-level basketball at a sustainable level, I'm less confident in their interior game.
A big reason is a lack of size. Rochelle Lee has started six games inside for UNT, but is averaging just 13.6 minutes per contest. Freshman Tommisha Lampkin is 6-foot-2 and was a highly rated recruit, but her minutes and usage have remained low so far.
The task of playing heavy minutes upfront has mostly fallen to Madison Townley. And while Townley has responded well to that job, the 6-foot senior out of Duncanville has had a couple of her worst games against Texas and Oklahoma State, where UNT's lack of size became an issue.
This isn't a knock on Townley or any individual UNT player. When there's a good matchup, Townley can be dominant, like when she brought down 21 rebounds against UAB. And maybe Rochelle Lee's increased playing time since conference play began means that the Mean Green will have a better chance on the inside against Mulkey and the other top centers in the conference.
But if I had to pinpoint a worry, it would still be the thing that got UNT its first attention of the year: an inability to limit scoring by top-tier bigs.
Still, if we're talking strictly in terms of conference play, there's not going to be many players who can do what Collier and Mack did. UNT is still in a strong position to have its first winning conference record the 2005-06 team that went 9-6 in the Sun Belt. Jalie Mitchell has built her best team yet, and with plenty of youth on the roster, things are looking up for the Mean Green.