When I dropped several hundred dollars on a ticket and traveled 1,600 miles on two separate 6 a.m. flights to make it to the national championship game at Lucas Oil Stadium, I thought I was prepared for anything. It turns out, even in a battle of titans, sports always finds a way to surprise you.
From the moment the game started, it was obvious – the Baylor Bears were the best team in America. Top-rated Gonzaga had nothing for Baylor's historically great backcourt, had nothing for its attacking defense, had nothing for its legendary 3-point shooting. Just three minutes into the game, with Baylor up 11-1 and Gonzaga wobbling like Nate Robinson in a boxing match, this game was over. "Scrubby little Baylor" was king of March Madness.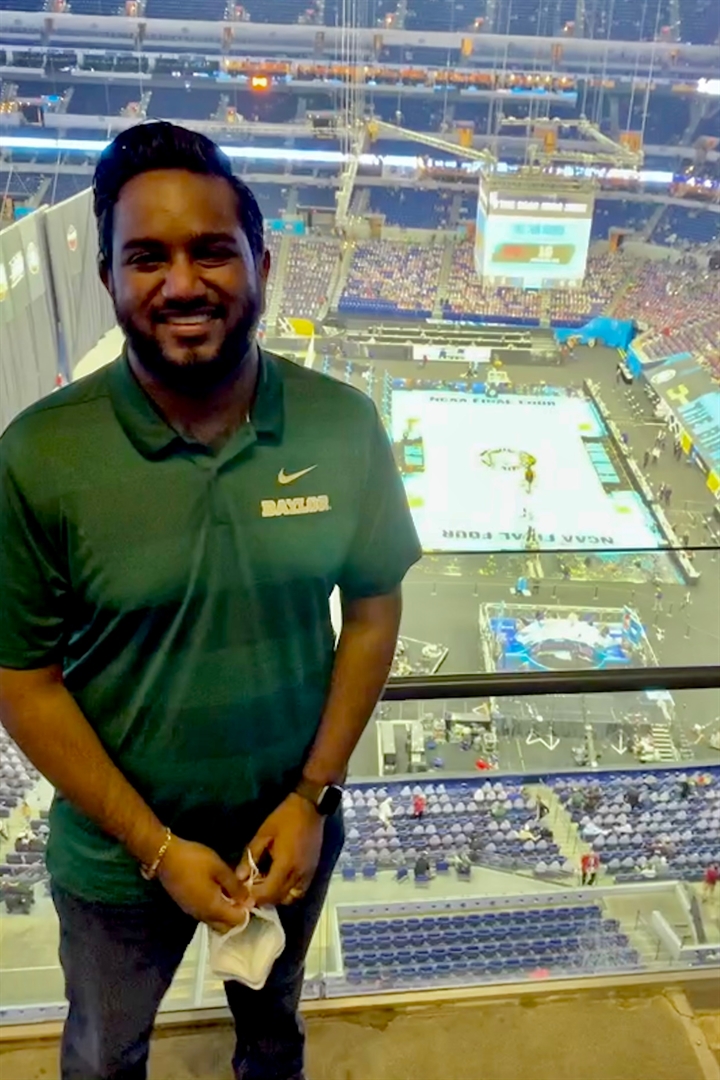 For a Waco and Baylor community used to getting overlooked and ignored in favor of the bigger communities around the state of Texas, it was a moment of pure jubilation. Step aside Duke, Kentucky, Kansas – the best college basketball in America is played in Waco, Texas.
Most of the time, I am able to put aside my loyalties when covering sports. When you write and report for a living as long as me, you find something to love about every program you cover. But I have to admit, watching Baylor men's basketball capture the national championship on Monday meant a little extra.
You see, I would have never ended up at Baylor – maybe would not have even been in this industry – if not for Baylor men's basketball.
Even though I grew up just 90 minutes up the road from the Waco campus, I knew next to nothing about the university, other than they had some young quarterback from Copperas Cove that Matt Mosley talked up on the local drive-time sports radio show. But someone in the admissions department clearly did their homework. A few weeks after being admitted, I was sent a letter in the mail inviting me to come and watch a Baylor basketball game – Feb. 13, 2012, against Royce White's Iowa State.
I wasn't especially interested in attending a private religious school, or even touring. However, I was extremely interested in watching a couple of future NBA players in Perry Jones III, Quincy Miller and Quincy Acy. We made plans to make a day trip on Monday to watch the game, and begrudgingly make a campus tour. The rest, as they say, was history. (Baylor also got 18 points from Jones to beat the Cyclones. They eventually made the Elite Eight and sent three players to the NBA. I still have my ticket from the game.)
When I got on campus, I had the same issues adjusting to college life as many students before me. Quickly, Baylor basketball games became a place of refuge. Sure, I went to the football games and enjoyed myself, but freshman Shehan could give a scouting report from Pierre Jackson down to walk-ons Logan Lowery and Jacob Neubert. I quickly became a member of the "Bear Pit," made some lifelong friends and only missed one conference home game. Baylor basketball games were a place that I knew I could fit in, something that isn't always the easiest thing as a second generation South Asian Texan.
The next year, I decided I wanted to get even closer to the action. I joined the school newspaper and jumped at the opportunity to cover the Bears. Immediately, I was embraced by the Baylor athletic staff, including Scott Drew, Jerome Tang and basketball SID David Kaye – who has served as the primary basketball contact since I started in this field.
Quickly, I realized sports is where I wanted to be. Within a few years, I was blessed with the opportunity to do this work for professional outlets. I wouldn't be here today without that opportunity and the great stories I was able to tell thanks to the openness of Rico Gathers, Royce O'Neale, Kenny Chery and a plethora of other great people.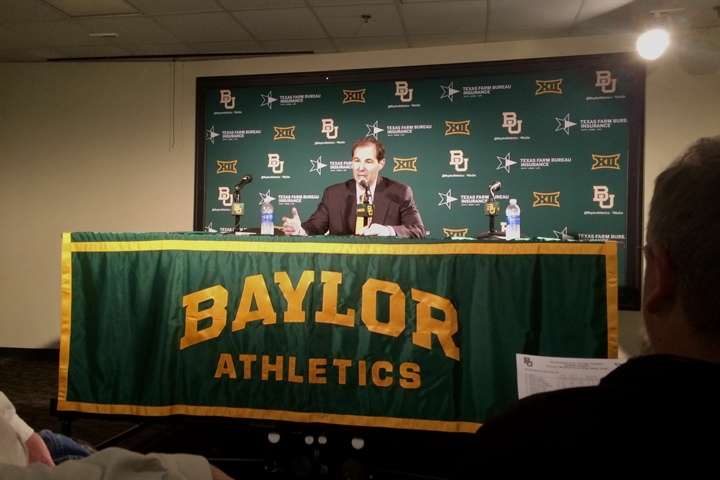 In the years since, I learned the context of exactly how significant Scott Drew's rebuilding job on the Brazos has been. In 2003, basketball player Patrick Dennehy was murdered by another player. It later came out that then-head coach Dave Bliss was illegally paying the tuition of Dennehy and another player under the table to circumvent scholarship rules, along with a boatload of other NCAA violations. Bliss tried to protect himself by claiming the murdered Dennehy was a drug dealer to pay his tuition. The magnitude of the rebuild is no feel-good story. The scandal will always be a black mark on the Baylor athletic department.
Drew was undeterred. After winning the Mid-Continent Conference in his lone season as head coach at Valparaiso, Drew jumped into perhaps the worst situation in the history of college basketball. Baylor had scholarship restrictions and probation for several of Drew's first years. The Bears were given an unprecedented "half-season" penalty, which meant they were not allowed to play any nonconference games during the 2005-06 season.
After clearing the bulk of NCAA penalties and going 36-69 in his first four seasons with limited scholarships, Drew took Baylor to the NCAA Tournament in 2008. By 2010, the Bears won a tournament game for the first time since 1950 and were a Quincy Acy charge call away from maybe playing for a title. Baylor did not deserve Drew's loyalty or perseverance after everything that happened; that likely just makes him more beloved.
Despite always being undervalued, Drew turned Baylor into one of the most consistent basketball programs in the nation. Baylor and Kansas are the only high-major schools in America to win at least 18 games every year since 2008. After winning just three NCAA Tournament games before 2003, Drew has 17 tourney wins to his name. And now, Baylor is just the second men's team in the history of Texas to win the national championship – joining the historic "Glory Road" squad from Texas Western/UTEP in 1966. It's nothing short of the most legendary company.
Back to 2012 for one second. Funnily enough, one of the first games of the season was against Northwestern. When I was applying to colleges out of high school, I applied early-decision to Northwestern in hopes of joining their prestigious sports journalism program. When I got turned down, I put my dreams aside and decided to pursue more practical interests instead. Well, when the Wildcats came to town and Baylor fell just short, a teacher from my high school happened to catch my national television debut, throwing up a half-surrender cobra with just seconds left.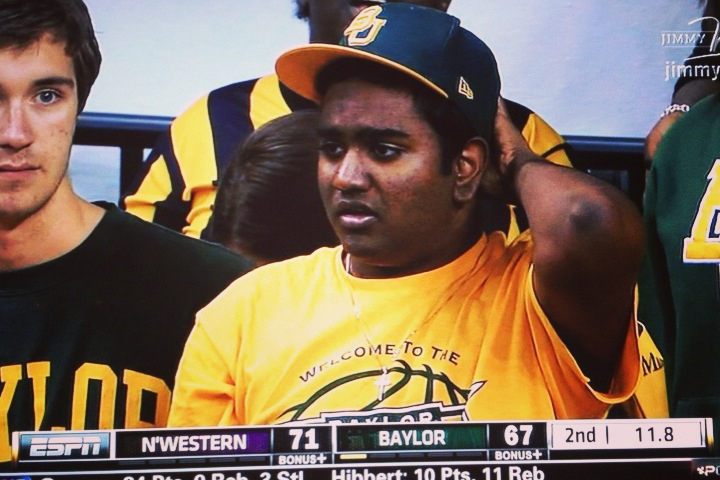 The face you see isn't just the frustration of losing. It had to happen against that school?
Nine years later, I chuckled when a friend showed me the photo. It feels like a full-circle moment. Baylor men's basketball helped me find my way into the sports journalism industry anyway (and zoom past others who were picked for Northwestern over me, mind you). I wrote a cover story on the Bears for Texas Basketball. I'm married to a fellow Baylor University graduate.
I wouldn't be here today without Baylor men's basketball. And now, at long last, Scott Drew and the Baylor Bears are champions of the college basketball world. I was there. It's a moment I will never, ever forget.